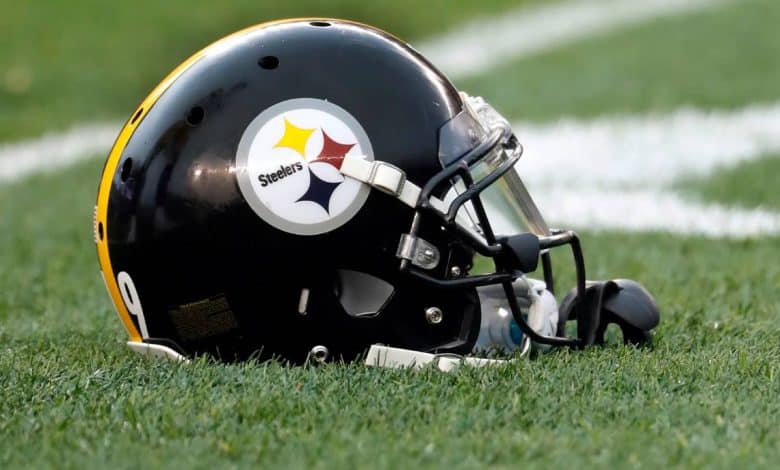 hot news
– Evan Engram (Jaguars): "I needed Jacksonville"
– Raiders: Jimmy Garoppolo had to have foot surgery
[podcast]
A Steelers game in Dublin?
In any case, this is the objective announced by the franchise after it recently obtained the Irish market as part of the NFL's international marketing program.
"Our wish for the long term is to play a game in Ireland," Daniel Rooney, director of business development and strategy for the Steelers, announced via The Associated Press. As we are in full reflection, we are evaluating all options. »
Coincidence or not, the Steelers already played a pre-season game in 1997 at Croke Park in Dublin.
An illegal meeting for the Patriots
Mystery surrounded the NFL's decision to pull two offseason workouts from the Patriots. According to ProFootballTalk, it would be a 15-minute special teams meeting that was deemed irregular.
The meeting in question would have been placed on the internal planning of the franchise. According to the players' union, this would amount to transforming an optional meeting into a mandatory meeting, which was not allowed at this time of year.
On a personal note, head coach Bill Belichick was fined $50,000 following this illegal meeting.
Jameson Williams pleads good faith
The NFL debut is complicated for the former first round of the 2022 draft. After an almost blank first season due to injuries, the receiver will miss the first six games of the 2023 season. He was suspended by the league for having bet on college games from Lions facilities. However, the player did not seem aware of the NFL's very strict betting rules.
"It hit me unexpectedly. It affected other players in the league and on my team in just as unexpected ways. I was not aware of the situation, but it happened, so I took the hit. I was ready to move on. As it is necessary to move forward, I accepted the consequences. That's my whole philosophy, to move forward, just waiting for better days. »
Russell Wilson refined and remotivated
Russell Wilson (QB, Broncos) is present for spring training. It's even slimmed down.
"I feel great. Sharp and motivated, ready. And focused," he told 9NEWS, without specifying how much weight he lost. "I don't look at the numbers. All I know is that I'm happy to play again. »
injuries
– Tony Pollard (RB, Cowboys) was back in training on Thursday after having leg surgery last January. (Pro Football Talk)
– Seriously injured in the knee last October, Javonte Williams (RB, Broncos) participates in a limited way in the training of his franchise. (KUSA)
– Dr. Greenlaw (LB, 49ers) had thumb surgery and is not participating in spring training. The player assures that the procedure was minor and that he is just being careful to avoid a relapse. A priori, no worries about his presence at summer training camp for the moment. (KNBR)
They are placed on the injured list and will miss the 2023 season: Bradlee Anae (DE, Jets), Raekwon McMillan (LB, Patriots)
Transactions
– Brandon McManus (K) rebounds in Jacksonville. Cut off by the Broncos, the kicker didn't even take 24 hours to find a new destination. It will be the Jaguars, who sent Riley Patterson (K) to the Lions side in exchange for a conditional seventh-round pick in the 2026 draft.
The main signings of the day: Anthony Frisker (TE, Patriots), Jerome Kapp (WR, Jets)
The main cuts of the day:
Discipline
–Brandin Echols (CB, Jets) has been suspended for Game 1 of the 2023 season. According to NFL Media, the suspension is under league conduct policy. Echols had been involved in a high-speed road accident in 2022.
In short
– The Jets and Buccaneers will practice together ahead of their preseason game scheduled for Aug. 19. (Tampa Bay Times)
– After nine seasons in the NFL, Tony Jefferson (S) retired at the age of 31. He will join the staff of the Ravens as a scout. (ESPN)
– Antonio Brown will put on his boots again this weekend. Owner of the Albany Empire team in the National Arena League, the former Pittsburgh receiver told reporters that he would take part in his team's game this Sunday. (Pro Football Talk)
–Former Raiders cornerback Damon Arnette has pleaded not guilty to charges brought against him by a Nevada grand jury. As a reminder, he had been indicted for possession of a weapon and assault with a weapon. Arnette is accused of robbing a valet in Las Vegas in January 2022.
– Damar Hamlin's heart attack will at least have had the advantage of raising awareness among the general public of the importance of knowing first aid measures in this situation. On the sidelines of their spring training, the Bills led by example. The players learned life-saving gestures: cardiac massage and the use of a defibrillator.
Justin Field works his game under pressure
Asked by the Bears website about his areas for improvement, Justin Field (QB) said he was working particularly on his game under pressure during this offseason.
"Just being more consistent in my fast game. I feel like I'm pretty accurate on the pitch. I just need to be more consistent in the way I pass the ball faster, be more accurate, giving my receivers, runners and tight ends a better chance of catching the ball and gaining extra yards in the race. I'm very focused on that this offseason. »
DK Metcalf wants to face Tyreek Hill on the track
DK Metcalf isn't afraid to go tartan. If he did not qualify for the Olympics, he would be tempted by the title of fastest player in the NFL. For that, you would have to face Tyreek Hill. A meeting that is very difficult to organize.
"My representatives have contacted his, we still haven't been able to reach an agreement," explained the Seahawks receiver on FS1. "We've been trying to do this for two years. »
Metcalf still admitted that Hill was ready to face him in July 2022. Except that he was the one who refused, fearing an injury just before the preparation for the season.
Travis Kelce finds new kickoff rule 'totally stupid'
After the statements of his coach Andy Reid, it is the turn of Travis Kelce (TE, Chiefs) to express his dissatisfaction following the change in the rule on kick-offs.
"I think that's totally stupid," the player said on the New Heights podcast he hosts with his Eagles brother Jason. "I don't think it's going to make the game any safer. I think it will make it more boring and take away a lot of the excitement when games kick off. »
Darren Waller feels good in New York
Arrived during the offseason with the Giants after five seasons with the Raiders, the tight end does not seem to miss the air of Nevada. And praise the Daboll method.
"Our opinion counts here [aux Giants] Waller told a press conference on Thursday. "As a player, I feel like in a lot of places I've played, you were told to do things a certain way and you enforced them. But here they are more fashionable: you are asked a lot of questions. They want to know what you're thinking, what more you want to do. So to give you feedback, it's a really cool thing because coaches and players have to work together. We are all together, not against each other. We are all heading in the same direction. »
Support DNA of Sports
Don't forget to follow us on social networks by clicking on the links: Twitch – Twitter – Instagram – Facebook – TikTok
You can support us directly on Tipeee.
Or by betting at Unibet.
Or by subscribing to NordVPN via this link