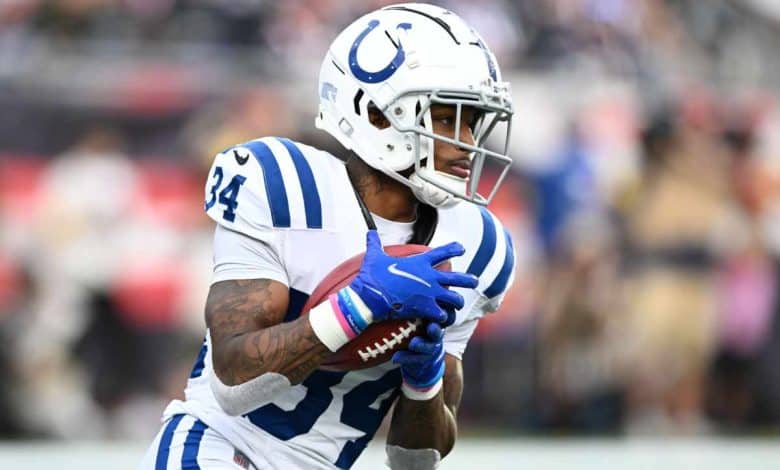 hot news
– Leonard Floyd bolsters Bills rush pass
– Work on the next Buffalo Bills stadium has begun
[podcast]
Online betting: an investigation into Isaiah Rodgers (Colts)
Online betting is becoming a significant issue in the NFL. On Monday, SportsHandle.com reported that a Colts player is under league investigation for "considerable" and "invasive" betting volume. The player in question revealed himself a few hours later on Twitter. This is Isaiah Rodgers (WR).
"I want to take full responsibility for my actions," he said straight away. "I know I made mistakes and I'm ready to do whatever it takes to fix the situation. The last thing I wanted was to be a distraction for the Colts, my coaches and my teammates. I let down people I care about. I made an error in judgment, and I will work hard to make sure those errors are corrected. It's an honor to play in the NFL, and I never took it lightly. I am really sorry. »
Rodgers is said to have placed several hundred bets in 2022 and 2023 from team premises under a loan account, some directly on the Colts. The Indiana Gaming Commission is also reportedly interested in the situation.
Calvin Ridley (WR, Jaguars) had been suspended for an entire year for betting on several games, including some for his then team, the Falcons.
Madden 2024 cover to be revealed this Wednesday
Who says June, says the start of the promotional campaign for the next installment of the Madden video game. As tradition dictates, it will begin with the discovery of the cover of the game. EA Sports has published a video on which appears Rob Gronkowski who wonders:
"Who will be on the cover this year? We'll see. »
According to some rumors, Josh Allen (QB, Bills) and Justin Jefferson (WR, Vikings) would be on pole.
The answer will be given on Wednesday. On the fan side, we hope that the cover won't be the only major change on the new edition of the game.
DeAndre Hopkins: not for the Jaguars or the Cowboys, Buffalo is thinking
DeAndre Hopkins (WR) has been a free agent for almost a week now, and while rumors are circulating about his next destination there is no materialization. To the point that the executives of the NFL clubs prefer to speak up to close the door to the recruitment of the veteran. At the start of the week it was Dallas and Jacksonville who categorically denied a possible arrival of the All-Pro receiver.
"Currently he's not on the team," Stephen Jones (Cowboys president) told the Fort Worth Star-Telegram. "We engaged with Brandin Cooks. We are very satisfied with Cooks. We are happy with our receiving corps. »

"For the moment, there is no concrete recruitment planned," announced Doug Peterson (HC, Jaguars) on the antenna of 1010XL.
And as for one of the announced main contenders, Buffalo continues to consider the situation.
"We're always interested in people who want to come to Buffalo," Brandon Beane (GM, Bills) said on The Pat McAfee Show. "We love it, especially if they fit the team. Obviously DeAndre is a real talent… I have nothing but respect for him. Of course it would have to work in terms of salary and all that. We are not closing any opportunities, we know that he is a good player and that his future contract will be comfortable. »
injuries
– Recovering from his elbow surgery, Brock Purdy (QB, 49ers) started throwing again last week. According to NBC Sports Bay Area he is making notable progress. Enough for John Lynch (GM) to assure SiriusXM that he's the favorite to start the season in San Francisco. The leader, however, relativized by confirming that Sam Darnold and Trey Lance will also have an opportunity.
– Had surgery in January for a labral tear, Justin Herbert (QB, Chargers) was an active participant in Los Angeles spring training in the spring but did not take part in any action on the field. Still, his recovery is progressing and ProFootbalTalk.com reports that the goal is for the young quarterback to take part in 7-on-7 oppositions this week.
Transactions
– With Dak Prescott (QB), CeeDee Lamb (WR), Tony Pollard (RB) or Micah Parsons (LB) in the running for a contract extension, Dallas is busy with its negotiations. However Jerry Jones (owner) explained to the Dallas Morning News that the club has no order of priority in its discussions, and that the urgency is "not necessarily" to re-sign Prescott first. For the manager, the contracts of the Texan playmakers are not linked.
– Dalvin Cook (RB, Vikings) is a very good player, but he seems to cost too much. With a 2023 salary announced at $ 11 million, Minnesota seems to want to cut ties, but may not have any choice but to cut it short. Because there are few candidates to set up an exchange at its current price. Sports Illustrated reveals that Miami almost reached an agreement last March, finally drafting Devon Achane (Texas A&M) in the third round a few weeks later.
– Teair Tart (DT, Titans) has signed his restricted free agent tender. The equivalent offer to a second-round draft pick will be worth $4.3 million for 2023. (ESPN)
The main signings of the day: Ra'Shaun Henry (WR, Browns), Hunter Thedford (OT, Browns), Breshad Perriman (WR, Colts), Tyron Johnson (WR, Cowboys), Breon Borders (CB, Falcons), Ed Lee (WR, Patriots), Laquon Treadwell (WR, Ravens), Jarrid Williams (OL, Steelers), Bobby Price (CB, Cardinals), Dylan Mabin (CB, Cardinals)
The main cups of the day: Joe Haeg (OL, Browns), Tyler Adams (WR, Colts), Antonio Callaway (WR, Cowboys)
In short
– Following the liquidation of the FTX cryptocurrency platform, a court in the Southern District of Florida decided to consolidate the lawsuits against eight defendants. Tom Brady and Trevor Lawrence are among those accused. (Mike Florio for ProFootballTalk)
– Marcus Maye will appear in court on July 25. The Saints' safety is being sued for drunk driving, hit-and-run and drunk driving causing property damage following an incident in February 2021 in Fort Lauderdale. For the moment, the NFL has not sanctioned the player. (ESPN)
The Chiefs at the White House
For the first time in their history, the Chiefs were received at the White House to celebrate a title. It was Monday. As a reminder, President Joe Biden was born in Pennsylvania and is an Eagles supporter.
Patrick Mahomes and his teammates had not come to meet the president in 2020 because of the COVID-19 pandemic. And in 1970, during their first title, this visit was not yet a tradition. It was Jimmy Carter who had launched the first invitation in 1980, after a success of the Steelers.
Commander in Chiefs. @POTUS | #ChiefsKingdom pic.twitter.com/uOVXeWbZkL

—Kansas City Chiefs (@Chiefs) June 6, 2023
Doug Pederson: "For new recruitments, we will see that gradually"
Doug Pederson (HC, Jaguars) announced during the offseason that he wants to improve Jacksonville's pass rush. But while Buffalo has just signed Leonard Floyd, the technician from Florida is in no hurry to recruit new talent on the market to achieve his goal.
"He's a good player and some guys are going to find a taker, but you can't jump on the first player to pass," Peterson told 1010XL. "You have to find someone who matches your workforce and your financial structure. There will be guys who come to training camps, there will be guys who get kicked out of training camps that we will take a look at, but we will see that gradually. »
The Cowboys are considering a possible return of Ezekiel Elliott
If Tony Pollard (RB, Cowboys) should be the main piece of Dallas' ground game this year, the Cowboys will have to deal with a return from injury and little depth in the position. And since Ezekiel Elliott is still available, a return to the Texas team is not to be ruled out.
Asked about it, Jerry Jones (owner) confirmed to the Dallas Morning News that both parties are currently evaluating their respective positions and that a comeback is not impossible.
Support DNA of Sports
Don't forget to follow us on social networks by clicking on the links: Twitch – Twitter – Instagram – Facebook – TikTok
You can support us directly on Tipeee.
Or by betting at Unibet.
Or by subscribing to NordVPN via this link