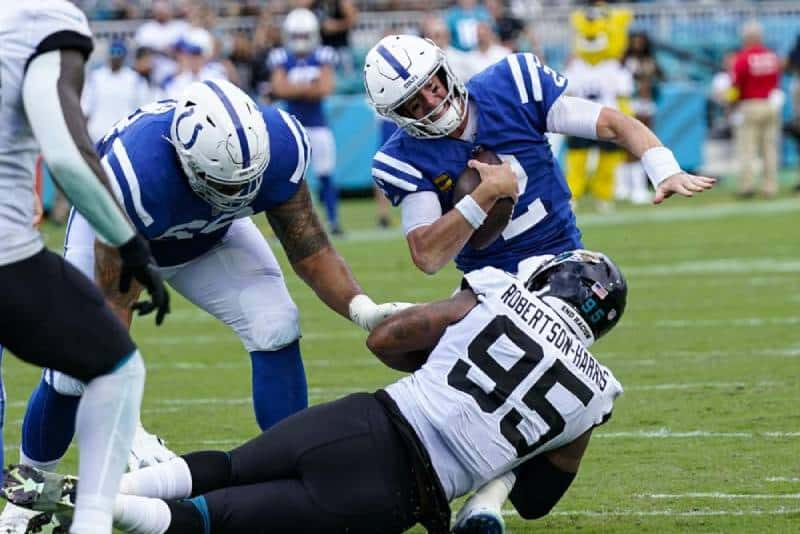 The arrival of Matt Ryan is a failure
It's only been 2 games for Matt Ryan in Indianapolis and yet everyone has already understood: his coming is a failure. collectively it is 1 loss with 0 points against the Jags and 1 miraculous draw against the Texans, yet two opponents supposed to be within reach of the Colts.
Individually, the quarterback is at 80 passes thrown (!!) for 4 interceptions and 58.6% completions, his worst rate in a career… Matt Ryan is exceeded, as Phillip Rivers was, as well as Carson Wentz… He would be time to put down his bottle, Jim…
Leos are fun
Kudos to those who saw the Lions as a team to watch this season. But even they, let's admit, they didn't expect that. After two weeks, the Lions are averaging 35.5 points per game, the best score in the league among teams having played 2 games!
A fanfare start that owes a lot to Amon-Ra St. Brown (3 TD, 180 yards) and D'Andre Swift (2 TD – 266 yards)
The Bengals are in danger
2 defeats in 2 games mean that the AFC champion and defending finalist is struggling at the start of the season. And there is reason to be worried for the future!
First on the content, no outing with more than 20 points scored, 2 losses against mediocre quarterbacks, and a martyred Joe Burrow: 13 sacks suffered (i.e. a projection of 110 sacks suffered this year at this rate…) and 5 lost balloons. Then "statistically", none of the 18 teams that started their season at 0-2 have managed to go to the playoff since 2020 (introduction of the 7th team per conference in PO).
The trigger match for Tua
Again, for a long time we thought we were seeing the usual Tua. Low-risk passes, slow reading… And then suddenly came this 4th quarter against the Ravens.
199 yards thrown, 4 touchdowns, 28 points scored and deep throws for Tyreek Hill that were no longer expected. With that, the quarterback also offered the victory to his people. And if it was the click match?
Killed for Tyreek episode 2️⃣ 💣💣
New long distance touchdown and the 2 teams are tied 🥵✌️#MIAvsBAL #FinsUp

🎥 @NFL pic.twitter.com/hBjANNbnFp

— DNA of Sports.com – NFL News 🏈 (@DNA of Sports) September 18, 2022
Carolina and Washington are wasting their time
They arrived at the same time with full of ambitions and expectations. 2 years and 2 games later, Ron Rivera and Matt Rhule are wasting their respective franchises' time.
Since then the Panthers have not done better than 5 wins a year despite much higher expectations. The team is doing everything at quarterback and nothing is progressing. The Commanders themselves have not done better than 7 wins (yes a qualification in PO but…) and see their promising defense regress season after season.
Gentlemen, stop wasting time, and move on.
Tom Brady is nervous
Many noises surround the living legend and this one seems a little nervous like the general fight he launched against the Saints this Sunday.
Yes it's Tom Brady and that won't prevent his team from going to PO, but the season could be a little longer and "energy-intensive" than expected for the quarterback.
The 49ers were right to secure their backs
In the NFL, everything goes very quickly, whether it's injuries or the progress-regression of players. This is what the 49ers and their young quarterback Trey Lance experienced, injured on a race, evacuated on a cart and then announced out for the rest of the season !
What was then a strange choice (for some) to keep Jimmy Garoppolo, could well be a nice move. Indeed, the quarterback took over successfully by leading his team to victory with a nice individual record. He proved that the Californians had 2 number 1 quarterbacks and that might not be so bad…
Mike Tomlin will have a hard time not giving in
Mike Tomlin hinted that rookie Kenny Pickett would not play this season, except that… Except that Mitch Trubisky continues to plague Steelers games and especially the good defensive performances of the team.
Between the expectation of the fans and a possible dissatisfaction with his defense which plays for nothing, Tomlin could well end up sending his rookie quarterback on the ground in the weeks to come.
All Draft Picks Matter
🚨 Pick6 Alert️⃣🚨
Jaylen Watson intercepts Justin Herbert and goes 9️⃣9️⃣ yards to touchdown 🏈#LACvsKC #TNFonPrime #ChiefsKingdom

🎥 @NFLpic.twitter.com/OHGcNK3nIu

— DNA of Sports.com – NFL News 🏈 (@DNA of Sports) September 16, 2022
Nathaniel Hackett is already a casting mistake
An incomprehensible decision in week 1, 25 penalties in 2 games (17 for the 2nd), a field goal turned into a punt for delay of game against Houston, questionable play calls, fans who make fun of time management and boo the team at halftime in the first game of the season.
A tumultuous start to Hackett's career. Sometimes it's better to recognize your bad choice than to sink with it.
Nothing is ever played in the NFL
It's a cliché but this second week has again proven that nothing was ever played in the NFL. In another thrilling final: the Jets came up 13 points in 1.55 minutes, the Dolphins were down 35-14 at the start of the 4th quarter before winning and the Cardinals were down 23-7 at the start of the last quarter before winning in extension…
The NFL is therefore also a bit like the school of fans: believe in yourself and in your dreams!