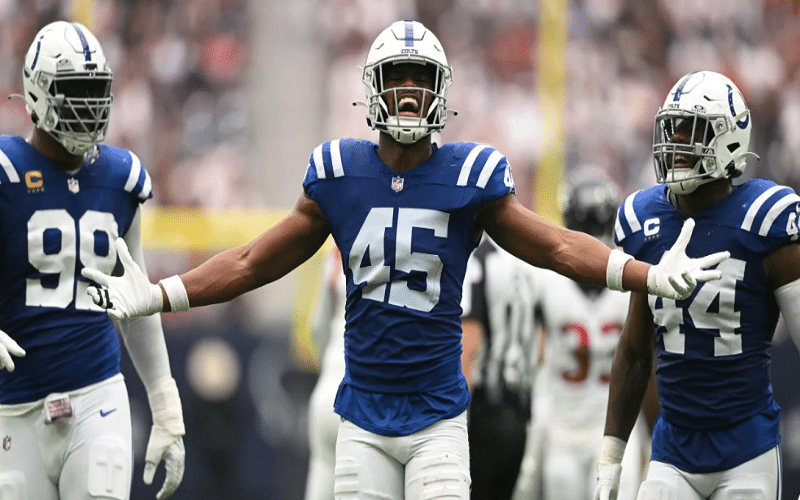 Shane Steichein makes his men win their first game but loses their rookie quarterback…
Houston Texans (0-2) – Indianapolis Colts (1-1): 20-31
First victory for Shane Steichen at the head of the Colts. His men quickly took control of the match and never let go. Unfortunately, the victory had a bit of a bitter taste since the Colts saw their rookie quarterback Anthony Richardson (6/10, 56 yards, 3 carries, 35 yards, 2TD) leave the game with a concussion
On the Texans side, the content was still generally disappointing. The DeMeco Ryans players still have a lot of work to do before they are a dangerous team.
A half to close the match
The Colts stood out very quickly in this match. From the outset, the rookie quarterback produced a superb first series with a 5/6 passing and 2 runs of 20 yards including 1 for the first touchdown of the match (0-7).
The visitors even doubled the score in the following series thanks to a loss of ball caused by the defense and improved again by Richardson on a 15-yard run (0-14).
If the Texans manage to limit the damage with a touchdown and a field goal (10-14) receiving Nico Collins (7 rec, 146 yards, 1TD), Shane Steichen's men react quickly to put the Texans back at bay.
First thanks to Zach Moss (18 races, 88 yards, 1TD) who advances his team on the ground thanks to numerous positive runs including the last one of 11 yards for the touchdown (10-21). Then it's Gardner Minshew (19/23, 171 yards, 1TD), entered following Richardson's concussion, who connects the passes and brings his team 75 yards before connecting with Kylen Granson for the touchdown ( 10-28).
Indy waits…
With this advantage, the Colts spent the second half in total management. The defense bends slightly but without breaking while the offense just adds a field goal.
On the Texans side, things are better on offense. CJ Stroud manages to string together passes and distributes both in the short and long passing game. After a field goal (13-31), the rookie quarterback found Tank Dell (7 rec, 72 yards, 1TD) on the next series for a 23-yard reception and the touchdown (20-31). However, it is too little to recover the score and hope to win this Sunday.