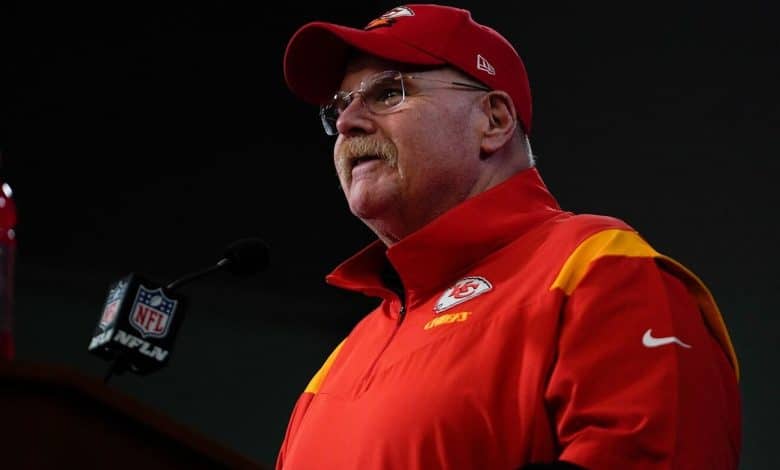 At the age of 64, he already deserves a good retirement, without falsely threatening the sustainability of a pay-as-you-go system. But Andy Reid is not done with the game, with the story. That of a league which has decried him for so long, his own which he now only has to complete.
A four-decade-long history, including eight coaching jobs, selling hot dogs and door-to-door to keep a college program alive, officiating baseball games to keep his account alive bank, winding paths to the pinnacle of his sport.
It has always been easy to distinguish him, today among his peers, few of whom are his equal, yesterday among his little ones, very little ones, playmates. A giant that America discovered for the first time one evening in December 1971, at halftime of a game between the Los Angeles Rams and Washington.
The 13-year-old boy is hardly a prepubescent teenager, so we put on a player's shirt, Les Josephson, the only one with a size, so as not to make a spot in the middle of his congeners. But Andy Reid is already remarkable. Big Red is one of those characters larger than life itself, as American football does only too little, at the antipodes of the roughness supposedly imperative to success.
Andy Reid is a good guy. The type to drive 100 kilometers back and forth every day, in the middle of training camp, to visit his defensive coordinator Jim Johnson, then suffering from cancer, until the disease eventually prevailed. The humble and close to his kind, to watch over his eldest son, Garrett, by offering him a position on the staff of the Eagles to keep him away from drugs.
Meeting of wounded souls
His disappearance following an overdose, in August 2012, during training camp, will undoubtedly have precipitated the end of the story of his father in Philadelphia, which began in 1999. Andy Reid marked by mourning and the Eagles in search of renewal, his contract is not extended to its term, after the worst season of a career as head coach, so far, almost perfect. Fourteen years, nine playoff qualifiers, six division titles, five conference finals and a Super Bowl appearance.
But meaningful defeats, which mark with a hot iron, and a less and less graceful perception as they pile up. From a magnificent loser, he becomes an eternal loser. From a benevolent tutor, he becomes a lax leader. From an affable figure, he becomes a symbol of silliness
Until the meeting with the Kansas City Chiefs, a franchise with an even more damaged image than his, bruised in his flesh by the worst record in its history (2-14) and by its own tragedy. A few weeks before the end of the season, Jovan Belcher – who will later be revealed to have chronic traumatic encephalopathy – kills his partner before killing himself in the parking lot of the Chiefs, under the eyes of his trainer and his general manager.
Andy Reid and the Chiefs, the reunion of two wounded souls made for each other at this point in their respective journeys. Because if he is a champion of bonhomie, Reid is also that of winning. It always has been. To combine it with failure was to omit that the rare defeats were so painful precisely because they were preceded by so many victories.
He can give Michael Vick a second chance when he gets out of prison, when no one else deems him worthy, but doesn't hesitate to cut the weeds from his culture. Marcus Peters, the league's best interceptor from his rookie season in 2015, unanimously recognized as one of the references to his position, learned it the hard way after three short years spent under his command.
Diamond polisher…
Andy Reid is also and above all an accomplished game teacher, developer of young talents. Under his tutelage, when he was an assistant with the Packers, Brett Favre went from throwing interceptions machine to winning (and throwing interceptions) machine. His very first draft pick in Philadelphia, Donovan McNabb, from immature prospect to best quarterback in franchise history. During his tenure in charge of the Eagles, 19 of his players racked up 44 Pro Bowl selections, more than any other team over the same period. None of these players had known any selection before being coached by Reid.
It is finally easy to understand that her marriage with Patrick Mahomes, the most gifted pitcher since Dan Marino of all time, results in historic achievements. The union of a coach who knows how to grant all the advantages there is and a player so talented that he doesn't even need it. Since establishing him as the starting quarterback in 2018, the Chiefs have not missed a single conference final, all played in Missouri, won their first Super Bowl in 50 years and will play their third in four years this Sunday. .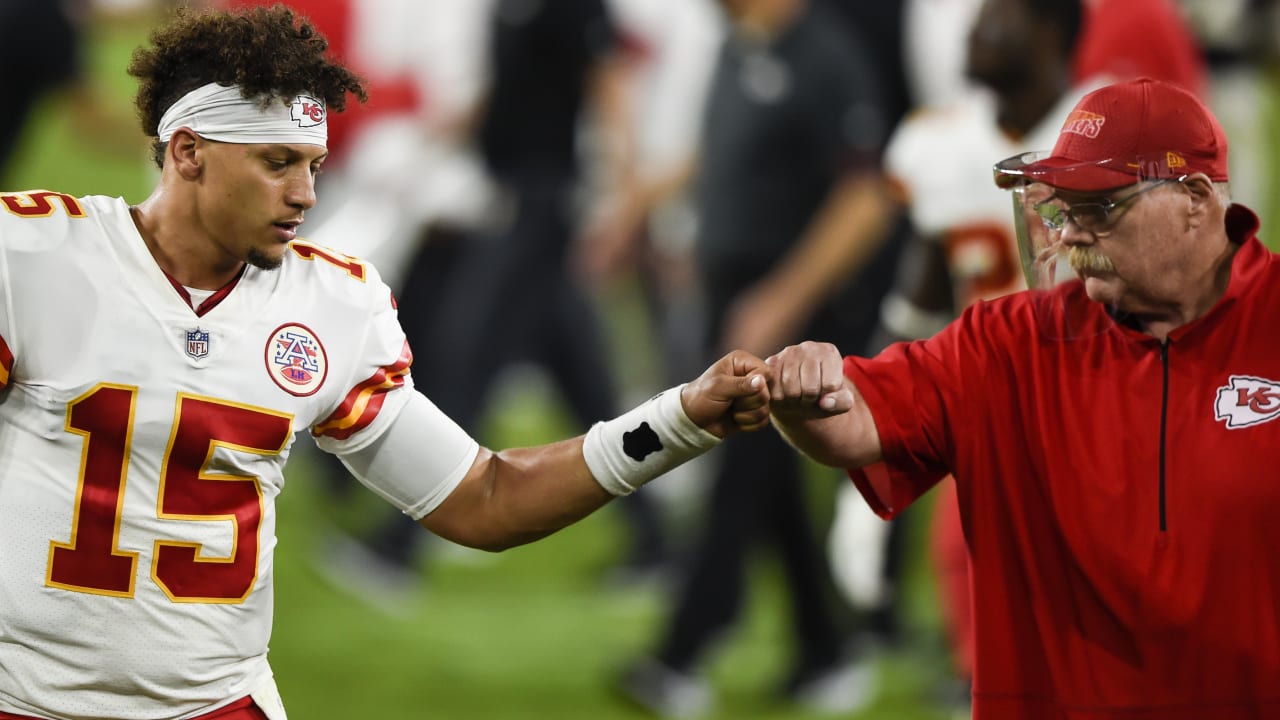 The offensive genius that he is was only waiting for a generational quarterback to become a legendary coach. The elusive Lombardi trophy won in 2019 put an end to all the foolish debates and finished putting him in his rightful place, among the pioneers of sport. Dumped the label of loser, bad clock manager. Only the discussions of his place in the pantheon are now worth.
…And offensive pioneer
But before the final destination in Canton, Andy Reid continues to pile up records. He will become the fourth most successful coach in NFL history next season. He became, during these final stages, the second most victorious coach in the playoffs (21), behind Bill Belichick (31). And what about this 2022 season? The one that saw him part with one of the best receivers in the league, forced to greatly modify his defensive squad and deal with the injury of his star player at the worst time of the year. Fourteen wins, the best attack in the league, the best record in the AFC… This one is perhaps the most impressive of all.
In a sport that is a century and a half old, revolution is no longer possible, only innovation. Andy Reid didn't invent anything, but he continues to evolve. From his beginnings under Mike Holmgren, apostle of the sacrosanct West Coast offense, to the shaping of a boozy quarterback at the Air raid offense, through the inspired consultation of Chris Ault, creator of the Pistol offense… He masters all the offensive nuances of the game. So that there is no patented Andy Reid style. Otherwise that of sticking you a tapped of points in the pear.
This is what sports innovation is all about: relying on past discoveries, modifying them as it sees fit and being smarter than the adversary. The secret of Reid's longevity too, his ability to reinvent himself without distorting himself. As the years passed, the red mane became bald and the golden mustache, silver, but Andy Reid remained the same, towards criticism and against contempt.
Andy Reid Bowl
Fate sometimes doing things right, Sunday's Super Bowl, the fourth of his career, wonderfully encapsulates his footballing eminence. In his 24th season as head coach, Andy Reid will face Nick Sirianni, who is about to complete his second. Largest experience gap for a Championship Finals. Proof if any of its timelessness.
10 years ago, arriving in Kansas City, Andy Reid renewed the staff in place, in which Nick Sirianni was. Beautiful irony to face, for the ultimate title, a coach he did not deign to keep a decade earlier, today in charge of the team who did not deign to keep Reid himself. A team that he raised from the post-Reggie White abyss, and which experienced with him, the most prosperous period in its history, notwithstanding the absence of a ring.
If Andy Reid is one of the greatest, it is also for the trace he will leave behind him, when the time comes, and one of the most prolific trees of the modern era. John Harbaugh, Ron Rivera, Sean McDermott, Todd Bowles, Doug Pederson… They all have something of Reid in them.
We should all have something of Reid in us. Humble excellence, kindness, humor, self-mockeryroundness, sagacity… Or failing that, her mac-and-cheese recipe. A new victory on Sunday and Andy Reid would close the narrative arc and finally prove that the best do not only start first, but can and know how to finish first.