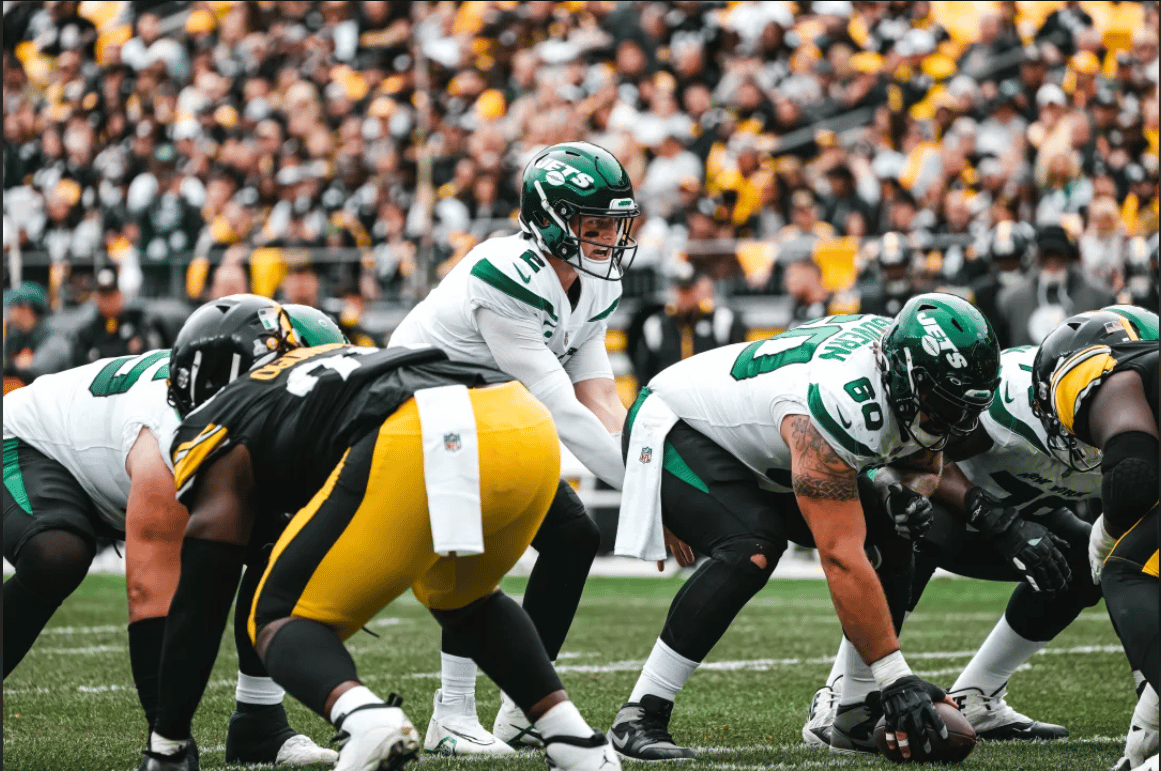 Pittsburgh Steelers (1-3) – New York Jets (2-2): 20-24
The Mitch Trubisky experiment is over. Make way for Kenny Pickett. This is the main lesson from the side of the Steelers, defeated for the third time in four games. This time, it was the valiant Jets who, led by a suspect Zach Wilson for three quarters, offered themselves the scalp of the locals. A new comeback for the Gang Green, yet led 20 to 10 in the last quarter.
Pittsbeurk on offense
Once is not custom, it is an uninspired Mitchell Trubisky who invites himself on the ground. 7/13, 84 yards and an interception, the half played by the former Bear is indigestible: 7 drives, 2 field goals, 4 punts, 1 interception. It's too much for Mike Tomlin who brought in rookie Kenny Pickett (10/13, 120 yards, 3 interceptions) in the second half. Author of an interception on his very first pass in the NFL, Pickett set the sights on the next two drives (helped by an interception from the inevitable Minkah Fitzpatrick returned to the 4 opposing yards), concluded by two touchdowns which gave the advantage in Pittsburgh (20-10).
New York does it again
As against the Browns two weeks ago (led 30-17 two minutes from the end of the match), Robert Saleh's men did not give up and made the comeback in the fourth quarter.
THE CATCH.
THE GRIDDY.

WELCOME BACK, @ZachWilson!!!#NYJvsPIT on CBS pic.twitter.com/kdpbyT6uuz

— New York Jets (@nyjets) October 2, 2022
For his return to the field, Zach Wilson (18/36, 252 yards, 1 passing touchdown, 1 receiving touchdown, 2 interceptions) was on alternating current. Author of a touchdown on reception on a trick play, the rest of his game before the fourth quarter is to be forgotten (9 drives concluded by 1 touchdown, 1 field goal, 2 interceptions, 5 punts). On the other hand, it is on a model fourth quarter that Wilson will have to build: Well helped by a defense which keeps him in the game by intercepting Pickett, he concludes two consecutive drives in touchdowns, showing good synergies with Corey Davis and Garrett Wilson.
If a new page opens in Pittsburgh with Pickett, the near future still looks difficult for the Steelers, who will consecutively play the Bills, the Buccaneers, the Dolphins and then the Eagles.