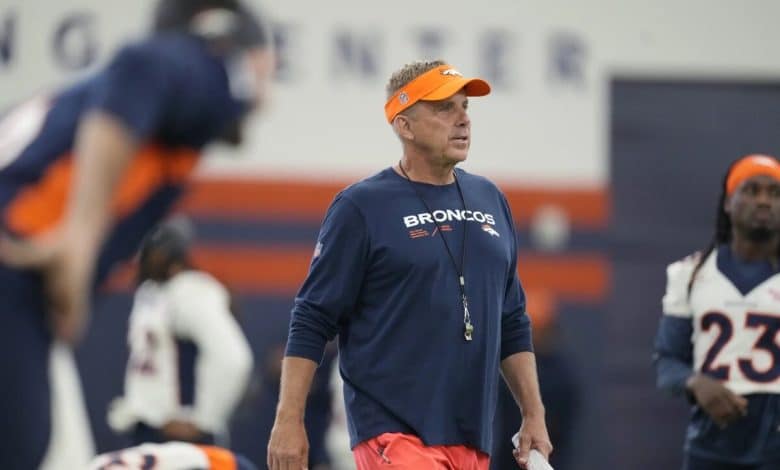 A few days before the start of the season, Sean Payton does not let go of his old fights. Arbitration, organization of the league, and even Russell Wilson, everyone takes for his rank.
Sean Payton (coach, Broncos) continues his weird offseason. After lynching his predecessor in Colorado Nathaniel Hackett, the former Saints coach put pressure on league referees on Tuesday, even before the start of his first game at the head of the Denver franchise.
In a lengthy article for ESPN, Seth Wickersham offers an in-depth perspective on how the Super Bowl XLIV winner thinks. Embellished with excerpts from interviews, the article reveals the world of a man eager for control, and who himself admits a tendency to paranoia.
The conspiracy theory made in New Orleans
" I don't trust New York explains Payton in particular, referring to the premises where the actions are reviewed. The article goes back at length to this incredible distrust of the coach towards a form of conspiracy against the Saints he was leading. A feeling fueled by the sanctions imposed during Bountygate, and obviously punctuated by the appalling error of arbitration which deprived New Orleans of the Super Bowl in 2019.
Of a long suspicion of league commissioner Roger Goodell – " I think it starts with Roger"-, he slips even today, to the belief for a year and a half that a man on his line was a league spy – he was a concussion expert – the list of fads developed by Payton is long, even if he apparently came back from it.
Also the result of mental wear and tear in New Orleans, this permanent anxiety nevertheless illustrates the other part of the article, which is much more complimentary towards the coach. Qualities as a leader of men, tactical genius, Payton has many qualities that underline his results, and which explain the decision of the Broncos to call on him.
Russell Wilson also takes it for his rank
And while the man has obviously used his year to rejuvenate himself psychologically and take stock of his excesses, the substance of the demanding trainer seems to be the same. Coming in particular to revive Russell Wilson (QB, Broncos), Payton would have given him advice in his own style.
"Are you going to stop kissing all the f*** babies?" You are not in the election campaign, "he would have swung at him, asking him to think more about football and less about his image and Russell Inc.
It remains uncertain whether criticizing Goodell and his starting quarterback just days into the season is positive for the team. On the other hand, the interest in following the Broncos this year has just gone up a notch.