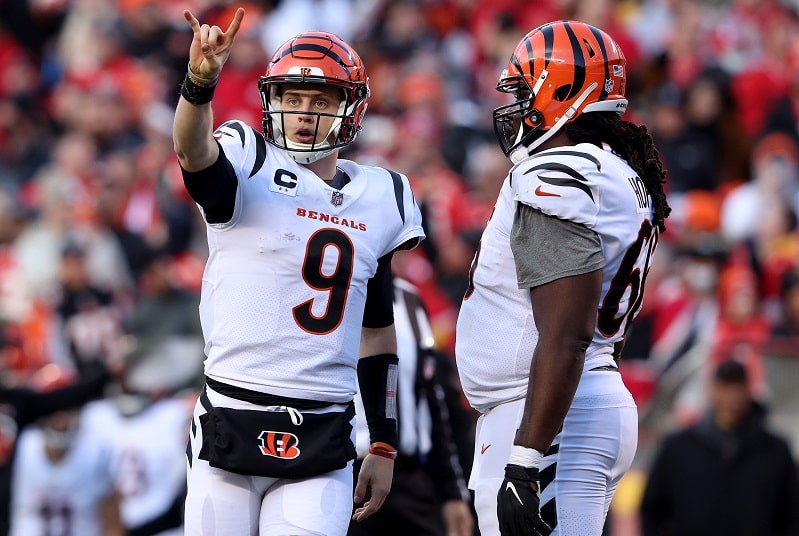 The beginnings were difficult for many teams supposed to get involved in the race for the playoffs. First, the Bengals, finalists of the last Super Bowl. Good news, going up the slope will be quite doable against Dak Prescott's private Cowboys.
The 49ers, Broncos, Raiders, Packers or Rams also lost, and they're also the unanimous favorites on the podcast team!
Alain Mattei got off to the best start with 9 points in the first week. He is followed by Raphaël Masmejean (8), Gregory Richard (8) and Victor Roullier (8). Lucas Vola (7) follows, while Raoul Villeroy brings up the rear (6).
To predict, you can join the DNA of Sports league on Pronos with friends.
Podcast team predictions
| | | | | | | | |
| --- | --- | --- | --- | --- | --- | --- | --- |
| Residence | Outside | Alan | Raoul | Gregory | Raphael | Lucas | Victor |
| Chiefs | Chargers | Chiefs | Chargers | Chiefs | Chiefs | Chargers | Chiefs |
| Ravens | Dolphins | Ravens | Ravens | Ravens | Ravens | Ravens | Ravens |
| browns | Jets | browns | browns | browns | browns | browns | browns |
| lions | Commanders | lions | Commanders | lions | Commanders | Commanders | Commanders |
| Jaguars | Colts | Colts | Colts | Colts | Colts | Colts | Colts |
| Saints | Buccaneers | Buccaneers | Buccaneers | Buccaneers | Buccaneers | Buccaneers | Buccaneers |
| Giants | Panthers | Panthers | Panthers | Giants | Giants | Panthers | Panthers |
| Steelers | Patriots | Steelers | Steelers | Steelers | Patriots | Steelers | Steelers |
| rams | Falcons | rams | rams | rams | rams | rams | rams |
| 49ers | Seahawks | 49ers | 49ers | 49ers | 49ers | 49ers | 49ers |
| Cowboys | bengals | bengals | bengals | bengals | bengals | bengals | bengals |
| Broncos | Texas | Broncos | Broncos | Broncos | Broncos | Broncos | Broncos |
| Raiders | Cardinals | Raiders | Raiders | Raiders | Raiders | Raiders | Raiders |
| Packers | Bears | Packers | Packers | Packers | Packers | Packers | Packers |
| bills | Titans | bills | bills | bills | bills | bills | bills |
| Eagles | vikings | vikings | vikings | Eagles | vikings | Eagles | vikings |