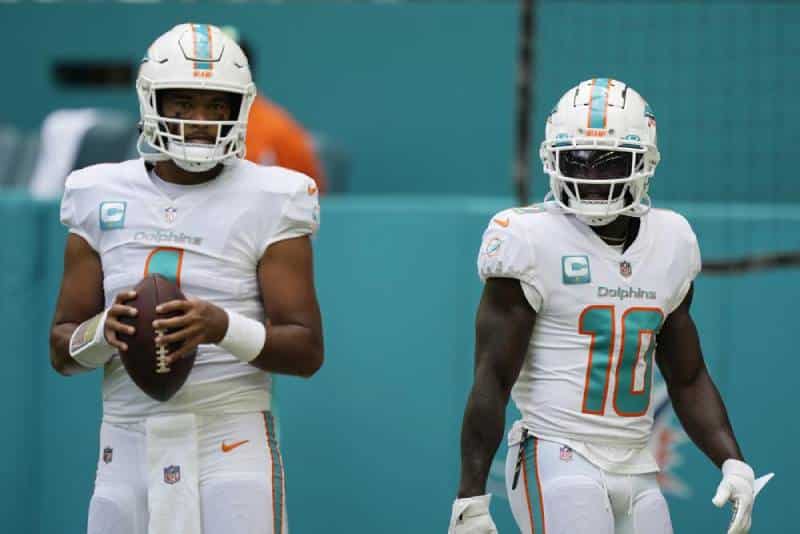 There are plenty of great posters in Week 13! And perhaps the most beautiful is the one between the Dolphins offense and the 49ers defense? An exciting duel that inevitably divides the forecasters. In any case, in the writing, it is perfectly shared!
Can the Titans overthrow the Eagles? The Bengals surprise the Chiefs? Some think so.
The Cowboys, Browns, Ravens, Vikings, Lions, Packers, Steelers and Bills are unanimous. To better be surprised?
In the standings, Alain Mattei (108) keeps the lead. Victor Roullier (106) and Grégory Richard (106) follow, ahead of Raphaël Masmejean (104), Raoul Villeroy (104) and Lucas Vola (100).
To predict, you can join the DNA of Sports league on Pronos with friends.
Podcast team predictions
| | | | | | | | |
| --- | --- | --- | --- | --- | --- | --- | --- |
| Residence | Outside | Alain | Raoul | Gregory | Raphael | Lucas | Victor |
| Patriots | bills | bills | bills | bills | bills | bills | bills |
| Falcons | Steelers | Steelers | Steelers | Steelers | Steelers | Steelers | Steelers |
| Bears | Packers | Packers | Packers | Packers | Packers | Packers | Packers |
| lions | Jaguars | lions | lions | lions | lions | lions | lions |
| vikings | Jets | vikings | vikings | vikings | vikings | vikings | vikings |
| Giants | Commanders | Commanders | Commanders | Giants | Commanders | Commanders | Commanders |
| Eagles | Titans | Eagles | Titans | Titans | Eagles | Eagles | Eagles |
| Ravens | Broncos | Ravens | Ravens | Ravens | Ravens | Ravens | Ravens |
| Texas | browns | browns | browns | browns | browns | browns | browns |
| rams | Seahawks | Seahawks | Seahawks | rams | Seahawks | Seahawks | Seahawks |
| 49ers | Dolphins | Dolphins | Dolphins | 49ers | Dolphins | 49ers | 49ers |
| bengals | Chiefs | Chiefs | Chiefs | bengals | Chiefs | Chiefs | Chiefs |
| Raiders | Chargers | Chargers | Chargers | Raiders | Chargers | Raiders | Raiders |
| Cowboys | Colts | Cowboys | Cowboys | Cowboys | Cowboys | Cowboys | Cowboys |
| Buccaneers | Saints | Buccaneers | Buccaneers | Buccaneers | Saints | Buccaneers | Buccaneers |