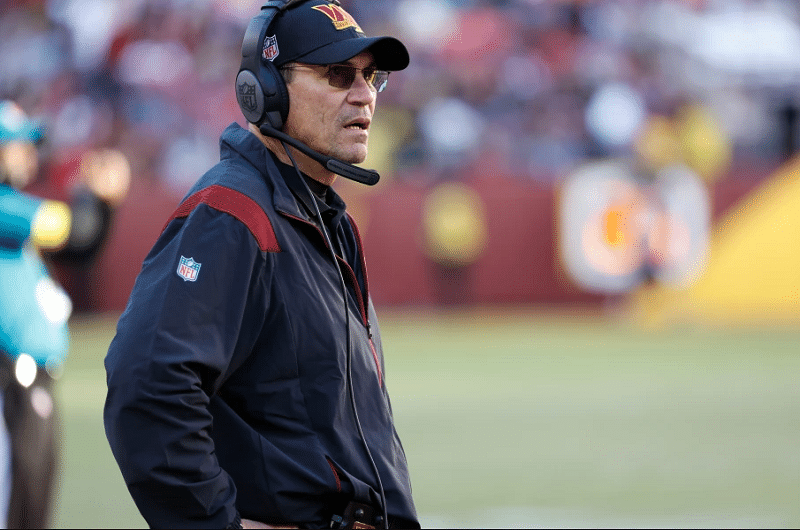 And he tried and… it didn't work.
While the Commanders could still hope for a qualification in the playoffs, Ron Rivera made the decision to start Carson Wentz against Cleveland, to instill a new dynamic in his team.
Result: Washington is eliminated from the playoff race. And Wentz returned a record of 16 passes completed on 28 attempted, for 143 yards, no touchdowns, 3 interceptions and 3 sacks. In the end, the veteran quarterback returned an evaluation of 31.4. Yet the coach has no regrets about his decision.
"Because for me it was always about winning, and it was within our reach. Overall we had control of our destiny, that's the truth," Rivera explained at a press conference on Monday. "We were 0-2-1 the last three games, that's what really pushed me to do it, that's what I considered. And, after the last quarter against the 49ers, I was relatively optimistic about what Carson could do. »

"I thought we could run. I think we could have run a bit better, although we had some success on the ground. But it could have helped us a little more. But, again, the decision was made because I felt we needed a little something after that three game streak at 0-2-1. »
During his postgame press conference, Rivera was surprised to learn that his team could be eliminated by a Packers victory a few hours later. That's what happened. On Monday, Rivera admitted he didn't know his team could exit on Sunday.
"I know I made a little mistake not realizing that we could be eliminated from the playoffs. But to be honest, I really didn't think we could lose. I planned to win. »
For its end-of-season match, Washington will face Dallas. Coach Rivera said he has not yet chosen his holder for this last week of competition.