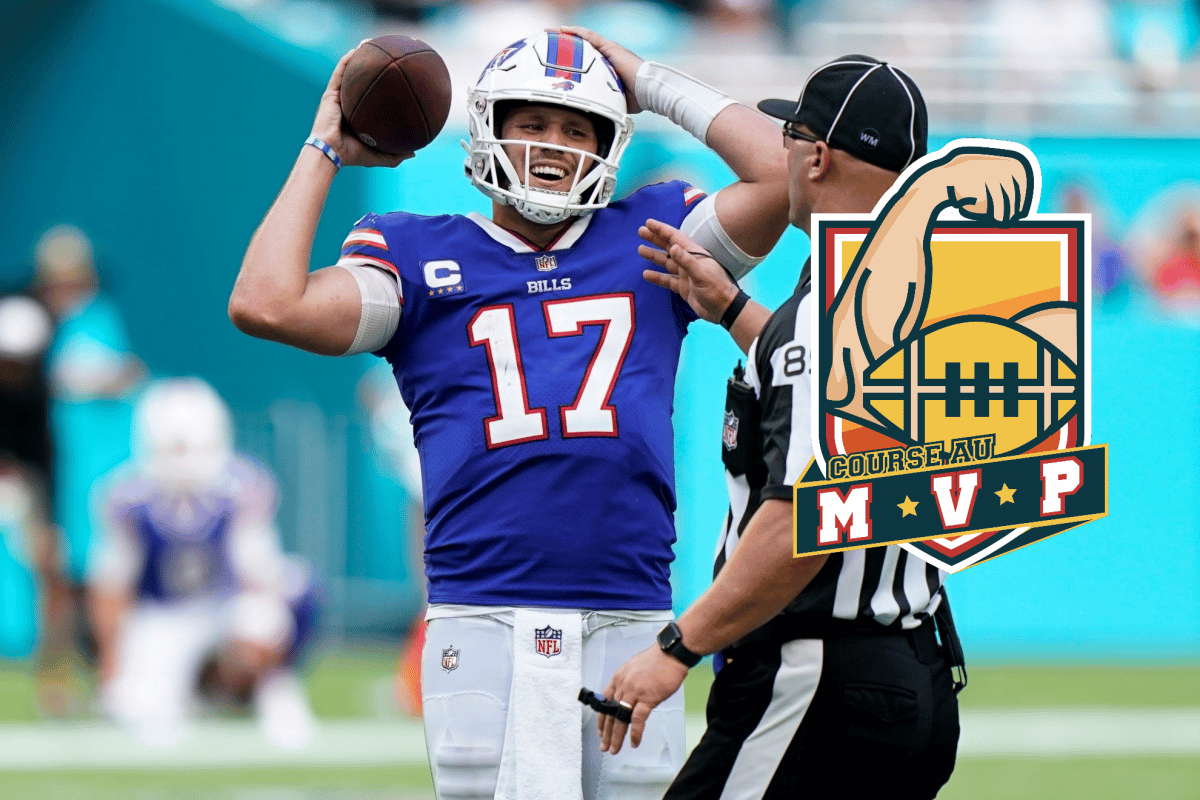 Thursday is MVP! Small concern for the leader this week who could never find the key to reaping a new victory. A small breach in the armor that Patrick Mahomes and Jalen Hurts, his two main competitors, immediately exploited, very good this week. Behind, Geno Smith confirms his incredible start to the season and doubles a not really transcendent Lamar Jackson.
1- Josh Allen (-) Quarterback – Buffalo Bills (6-2)
8 games – 2,403 yards at 64.1% – 19 touchdowns, 8 interceptions – 392 yards, 4 rushing touchdowns – 99.2 rating
The best player in the league since the start of the season in the most complete team in the league. Make no mistake about it, at mid-season, Josh Allen is the undisputed MVP. His 2,403 passing yards and nearly 400 rushing yards led the Bills to victory over the Titans, Ravens and Chiefs, three teams expected to see the AFC playoffs. But his latest game is a callback. He cannot rest on his laurels because nothing is ever assured in the NFL and his elbow injury revealed this week could become a brake on his ambitions. But at the moment T, Allen is the number 1 favorite in the race for the MVP as well as the Super Bowl.
2- Patrick Mahomes (-) Quarterback – Kansas City Chiefs (6-2)
8 games – 2605 yards at 66.2% – 21 touchdowns, 6 interceptions – 176 yards rushing, 1 touchdown – 103.6 rating
Week after week, the Chiefs attack is recalibrating without Tyreek Hill and Patrick Mahomes is gaining in chemistry with JuJu Smith-Schuster or Marquez Valdes-Scantling. Proof of this is Mahomes released his first career game with two receivers over 100 yards who are neither Tyreek Hill nor Travis Kelce. A relationship with his receivers that Mahomes had to develop to get an MVP title that has eluded him since 2018.
3- Jalen Hurts (-) Quarterback – Philadelphia Eagles (8-0)
8 games – 2,042 yards at 68.2% – 12 touchdowns, 2 interceptions – 326 yards, 6 rushing touchdowns – 107.8 rating
Quarterback of the only team still undefeated in the NFL and first quarterback in Eagles history after 90 seasons to have chained 11 consecutive victories, Jalen Hurts begins to take the gallon in the hierarchy of quarterbacks. To the point of being the only player still in contact with Josh Allen and Patrick Mahomes in the MVP race. Better still, it has become the number 1 favorite among certain American bookmakers. He's even now the NFC's best rated quarterback and has already thrown 12 touchdowns. Not bad for a QB who was seen as a mediocre pitcher a few weeks ago.
4- Geno Smith (+1) Quarterback – Seattle Seahawks (6-3)
9 games – 2199 yards at 73.1% – 15 touchdowns, 4 interceptions – 196 yards, 1 rushing touchdown – 107.2 rating
At the time of his interception, which plunged some of his fans back into the darkest hours of his career, all eyes turned to Geno Smith to analyze his reaction and see if this was not going to be the moment when he would become the player he was. Nay, the new Geno Smith is here to stay. Once again excellent, the Seahawks quarterback has completely and definitively made people forget about Russell Wilson. With now two thirds of victories since taking power in a team promised to the bottom of the league, Smith impresses.
5- Lamar Jackson (-1) Quarterback – Baltimore Ravens (6-3)
9 games – 1,768 yards at 62.3% – 16 touchdowns, 6 interceptions – 635 yards, 2 rushing touchdowns – 93.6 rating
In line with what he has done in recent weeks, Lamar Jackson has done a very good job of easily dismissing Saints who have never been able to be worrying. Without being exceptional, Lamar does Lamar and provides the essentials for the Ravens who will want nothing more than the playoffs in an ultra-competitive AFC. But for the MVP race, that's not enough. Unhooked from the leading trio, Jackson was even overtaken by an increasingly impressive Geno Smith.
Special Mentions
Joe Burrow (QB, Bengals) – 2,535 yards at 70% completion, 18 touchdowns, 6 interceptions – 102.6 rating
Tua Tagovailoa (QB, Dolphins) – 1,980 yards at 69.9% completion, 15 touchdowns, 3 interceptions – 115.9 rating
Stefon Diggs (WR, Bills) – 857 yards on 14.3 yards/reception, 7 touchdowns
Justin Jefferson (WR, Vikings) – 867 yards to 14.7 yards/reception, 3 touchdowns
Tyreek Hill (WR, Dolphins) – 1,104 yards on 14.5 yards/reception, 3 touchdowns
Derrick Henry (RB, Titans) – 870 yards at 4.8 yards/rush, 9 touchdowns
Saquon Barkley (RB, Giants) – 779 yards at 4.8 yards/rush, 5 touchdowns
Nick Chubb (RB, Browns) – 841 yards at 5.6 yards/rush, 10 touchdowns
Micah Parsons (LB, Cowboys) – 34 tackles, 8 sacks, 2 passes defended
James Bradberry (CB, Eagles) – 22 tackles, 11 passes defended, 3 interceptions, 1 touchdown