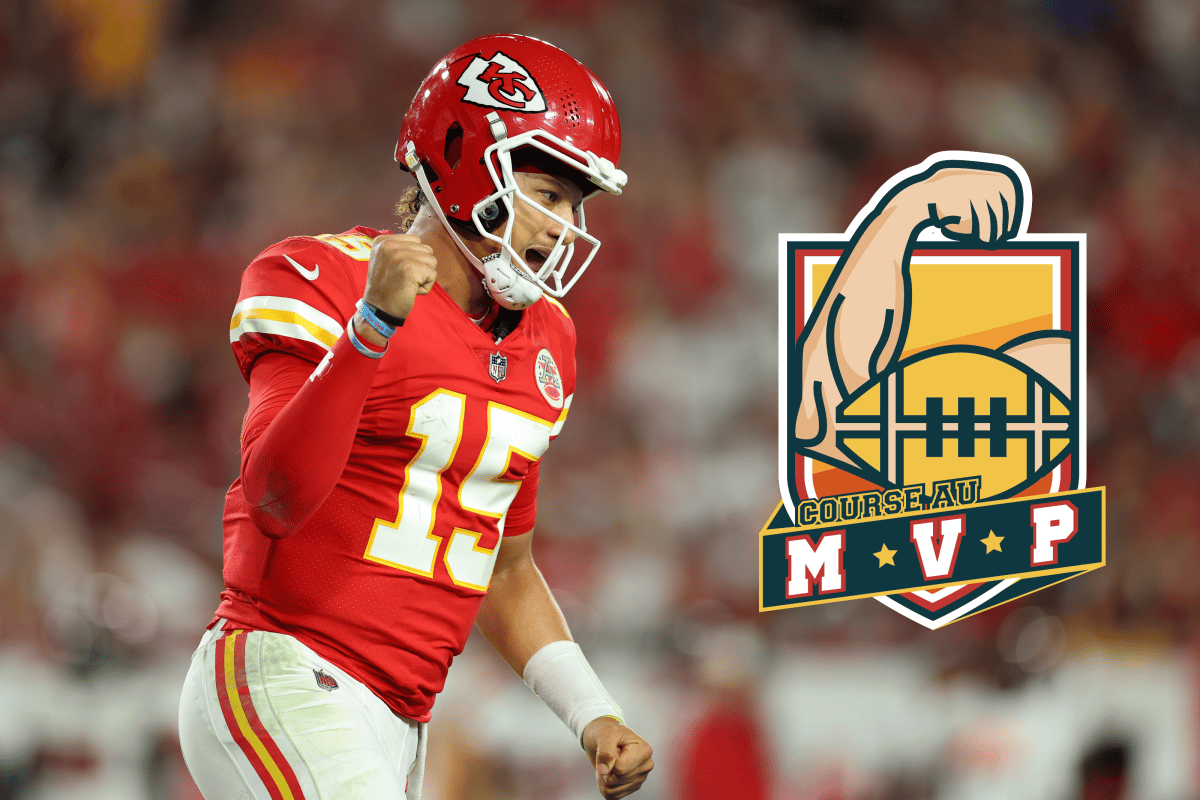 Thursday is MVP! The alert only lasted a week. Struggling last week, Patrick Mahomes and Josh Allen showed this week why they are the top two quarterbacks in the league right now. They also benefit from a less impressive Lamar Jackson who blew another 17-point lead this week. Jalen Hurts is also down a rank despite the extension of his team's unbeaten streak. Expelled from the top 5 last week, Justin Herbert is back.
1- Patrick Mahomes (+4) Quarterback – Kansas City Chiefs (3-1)
4 games – 1106 yards at 66.4% – 11 touchdowns, 2 interceptions – 64 yards rushing – 108.4 rating
As often, Patrick Mahomes left the impression this week that he was doing things that a normal human being shouldn't be able to do. With three more touchdowns, including one that has already earned its place among the most unlikely of his career, Mahomes shattered the Tampa Bay defense. An exceptional performance which allows him to remember the good memories of certain bookmakers who had buried him a little quickly.
2- Josh Allen (+1) Quarterback – Buffalo Bills (3-1)
4 games – 1227 yards at 67.3% – 10 touchdowns, 3 interceptions – 183 yards, 2 rushing touchdowns – 101 rating
After a tough Week 3 and a similar start this week that saw the Bills trailing 17 points in the second quarter, concern was starting to mount among Josh Allen fans. It was without counting on a fabulous comeback to inflict a 20-0 on the Ravens and pocket the victory. But then, what can't Josh Allen do? After four games, he is close to the tops of all statistical categories, he has the physical attributes to do almost anything he wants on the pitch and demonstrates every week that he also has the mental qualities to choose when to pass, when to run and when to finish a game.
3- Lamar Jackson (-2) Quarterback – Baltimore Ravens (2-2)
4 games – 893 yards at 65% – 11 touchdowns, 4 interceptions – 316 yards, 2 rushing touchdowns – 105.1 rating
If the Ravens knew how to finish a game, Lamar Jackson would likely top that leaderboard. After four games, he's completed 65% of his passes and leads the league in touchdowns thrown with 11 units. However, it is impossible to overlook the fact that his team's two defeats came after two 17-point leads. Even though it's the defense first to blame here, Jackson still failed to make a difference and will have to do so to earn a second MVP.
4- Jalen Hurts (-1) Quarterback – Philadelphia Eagles (4-0)
4 games – 1120 yards at 66.7% – 4 touchdowns, 2 interceptions – 205 yards, 4 rushing touchdowns – 99.6 rating
Despite plenty of opportunities over the past two years, the Eagles have never turned away from Jalen Hurts. A loyalty that pays off today. Hurts has matured his game and established himself as one of the best dual-threat quarterbacks in the league. The fourth quarterback in the NFL according to Pro Football Focus, he is the main reason for the Eagles' hot start this year. However, the risk of overrevving exists, and the quarterback remains expected in each game.
5- Justin Herbert (+1) Quarterback – Los Angeles Chargers (2-2)
4 games – 1250 yards at 66.9% – 9 touchdowns, 2 interceptions – 4 yards rushing – 102.2 rating
Averaging over 300 yards per game, Justin Herbert continues to lead the NFL in that area after four games. Despite a rib injury that must make him suffer, the young quarterback continues to impress. Stopped against the Jaguars last week, Herbert has revived very well this week and continues to be a name that matters in the race for the MVP.
Special Mentions
Tua Tagovailoa (QB, Dolphins) – 1035 yards at 69.6% completed passes, 8 touchdowns, 3 interceptions – 109.9 rating
Trevor Lawrence (QB, Jaguars) – 946 yards on 65.7% completion, 8 touchdowns, 2 interceptions – 99.9 rating
Stefon Diggs (WR, Bills) – 406 yards on 13.1 yards/reception, 4 touchdowns
Cooper Kupp (WR, Rams) – 402 yards to 9.6 yards/reception, 3 touchdowns
Tyreek Hill (WR, Dolphins) – 477 yards on 15.4 yards/reception, 2 touchdowns
Nick Chubb (RB, Browns) – 459 rushing yards at 5.7 yards/rush, 5 touchdowns
Roquan Smith (LB, Bears) – 46 tackles, 0.5 sacks, 2 passes defended, 1 interception
Jordan Poyer (S, Bills) – 12 tackles, 6 passes defended, 4 interceptions