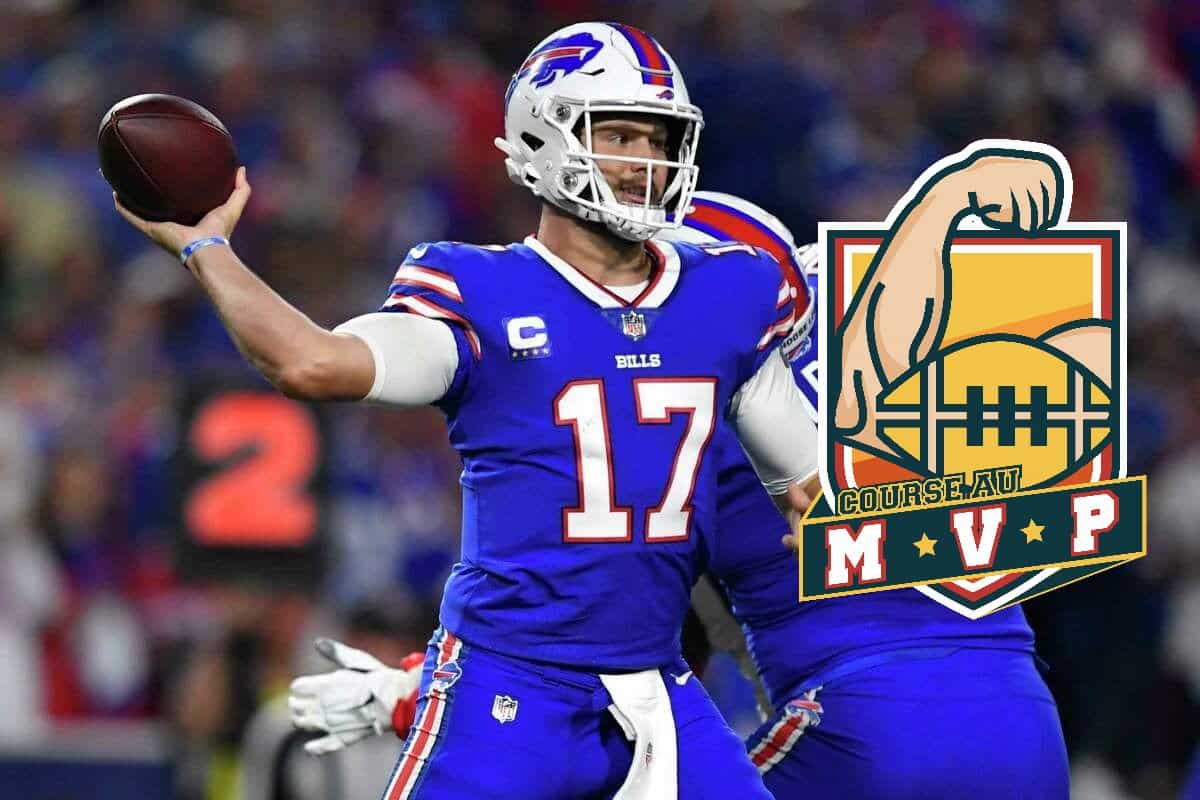 Thursday is MVP! Impressive against the Titans, Josh Allen confirms his almost perfect start to the season. A qualifier that could just as well suit a Patrick Mahomes who has little to envy to his Buffalo counterpart, except perhaps his defense. Behind, the surprise of the week, Jalen Hurts, entered third place, one inch ahead of a Tua Tagovailoa who enjoyed himself with the Jaylen Waddle-Tyreek Hill duo. Former MVP and victim of Tagovailoa this week, Lamar Jackson completes the top 5 after a remarkable performance.
1- Josh Allen (+1) Quarterback – Buffalo Bills (2-0)
2 games – 614 yards at 75.4% – 7 touchdowns, 2 interceptions – 66 yards, 1 rushing touchdown – 123.7 rating
Supported by an ultra-solid defense that has only conceded 17 points in two games against the Rams and the Titans, Josh Allen continues to unfold. Impressive first with his growing relationship with Steffon Diggs, Allen is totally unstoppable right now. Able to get rid of the pressure with a footwork always well inspired but also to punish any badly placed back line with his overpowered arm, the quarterback is the element that makes the Bills the best team in the NFL today, quite simply.
2- Patrick Mahomes (-1) Quarterback – Kansas City Chiefs (2-0)
2 games – 595 yards at 73% – 7 touchdowns – 4 yards rushing – 127.9 rating
We found the inspired Patrick Mahomes. Capable of all flashes, the quarterback of the Chiefs thwarts all defensive attempts so far. Long pass, race, short pass, underhand pass, everything happened again this week to disgust the Chargers who had nevertheless shown themselves to be excellent during the first week. And all while using Travis Kelce, his main weapon.
3- Jalen Hurts (+3) Quarterback – Philadelphia Eagles (2-0)
2 games – 576 yards at 69.8% – 1 touchdown, 1 interception – 147 yards, 3 rushing touchdowns – 97.1 rating
Nobody had really seen coming such a rise in power from Jalen Hurts. Almost perfect this week, the quarterback who looked like the great Michael Vick in the same jersey, pulverized the Vikings defense which had nevertheless shown a convincing face against Aaron Rodgers a week earlier. Literally lethal with the ball in hand, Hurts above all demonstrated immense passing progress in this match, barely tarnished by an interception. We do not redo ourselves (totally).
4- Tua Tagovailoa (+2) Quarterback – Miami Dolphins (2-0)
2 games – 739 yards at 71.1% – 7 touchdowns, 2 interceptions – 1 yard rushing – 116.5 rating
Many people laughed when Tyreek Hill compared Tua Tagovailoa to Patrick Mahomes when he arrived in Miami. It is clear that after two weeks of competition and an exceptional comeback this week, some mouths have closed. It must be said that after two games, Tua has already thrown more than 250 yards to Hill certainly but almost as much to a wild Jaylen Waddle and surely a little liberated by the presence of his All-Pro teammate.
Killed for Tyreek episode 2️⃣ 💣💣
New long distance touchdown and the 2 teams are tied 🥵✌️#MIAvsBAL #FinsUp

🎥 @NFL pic.twitter.com/hBjANNbnFp

— DNA of Sports.com – NFL News 🏈 (@DNA of Sports) September 18, 2022
5- Lamar Jackson (+1) Quarterback – Baltimore Ravens (1-1)
2 games – 531 yards at 64.4% – 6 touchdowns, 1 interception – 136 yards, 1 rushing touchdown – 120.1 rating
All was well for Lamar Jackson after three quarters time where he had established such dominance over the Dolphins defense that the 35-14 lead was strongly reminiscent of the Ravens quarterback's MVP season. Very precise and almost flawless in the pass, Jackson also split the Florida defense with his legs. Yes but voila, the 21 point lead collapsed in a quarter time under the fury led by Tyreek Hill and Lamar seemed totally helpless. But with such a level, the Ravens quarterback will have arguments to make this year.
Special Mentions
Justin Herbert (QB, Chargers) – 613 yards at 72% completion, 6 touchdowns, 1 interception – 112.5 rating
Kyler Murray (QB, Cardinals) – 470 yards at 63.9% completion, 3 touchdowns, 1 interception – 85.9 rating
Stefon Diggs (WR, Bills) – 270 yards at 13.5 yards/reception, 4 touchdowns
Cooper Kupp (WR, Rams) – 236 yards at 9.8 yards/reception, 3 touchdowns
Tyreek Hill (WR, Dolphins) – 284 yards at 15 yards/reception, 2 touchdowns
Nick Chubb (RB, Browns) – 228 yards rushing at 5.8 yards/rush, 3 touchdowns
Josh Allen (LB, Jaguars) – 6 tackles, 2 sacks, 2 forced fumbles
Marcus Williams (S, Ravens) – 19 tackles, 3 passes defended, 3 interceptions