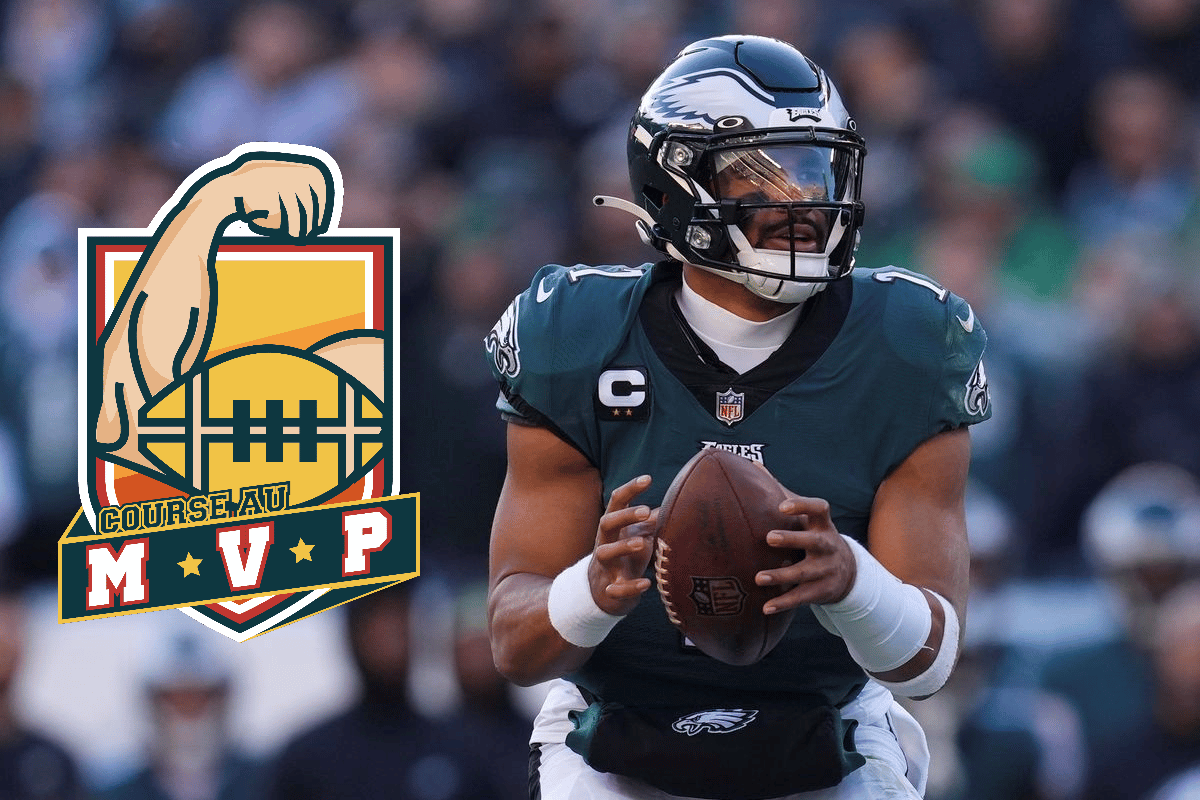 Thursday is MVP! Against the Titans, Jalen Hurts signed a capital performance which could well be considered decisive if he finishes MVP next January. Especially since at the same time, Patrick Mahomes, imperial for several weeks, tripped over the carpet. Just like a Tua Tagovailoa not at his usual level against an imperial 49ers defense. Joe Burrow, he continues to gain momentum and offers a place on the podium, while waiting for better. Josh Allen, appeared in progress, closes the top 5.
1- Patrick Mahomes (-) Quarterback – Kansas City Chiefs (9-3)
12 games – 3808 yards at 65.7% – 30 touchdowns, 8 interceptions – 283 yards rushing, 2 touchdowns – 104.9 rating
As in the last AFC conference final, Patrick Mahomes found the Bengals and as in this conference final, Mahomes never seemed able to find the solution and was clearly dominated in his distance duel with Joe Burrow. After six consecutive games over 300 yards until this game, a rebound will be expected against the Broncos who have never conceded 300 yards through the air this season.
2- Jalen Hurts (-) Quarterback – Philadelphia Eagles (11-1)
12 games – 2,940 yards at 68.1% – 20 touchdowns, 3 interceptions – 609 yards, 9 rushing touchdowns – 108.3 rating
While we thought the race for the MVP had definitely leaned in favor of Patrick Mahomes, Jalen Hurts recalled to our good memories this week. And those who said the Eagles had an easy schedule this year can eat their hats because Hurts shattered a very good Titans team. With 380 yards and three pass touchdowns, the Eagles quarterback now shows that he is not just a mobile quarterback. And his ability to brilliantly choose between the passing game and the running game makes him the main threat to Mahomes' throne.
3- Joe Burrow (+2) Quarterback – Cincinnati Bengals (8-4)
12 games – 3,446 yards at 69.1% – 25 touchdowns, 8 interceptions – 224 yards, 5 rushing touchdowns – 103.7 rating
Starting the season slow and finishing stronger than everyone else is the house specialty of Joe Burrow and the Bengals. Already author of this strategy which had taken them to the Super Bowl, it seems to start again this year. And it was the helpless Chiefs who paid the price this week. With 286 yards and two touchdowns, Burrow even added another to the race to remind everyone not to bury him yet for an MVP title that has seemed hypothetical for a good part of the year. 'year.
4- Tua Tagovailoa (-1) Quarterback – Miami Dolphins (8-4)
10 games – 2859 yards at 68.1% – 21 touchdowns, 5 interceptions – 35 yards rushing – 112 rating
Tua Tagovailoa picked a bad day to have a bad day. Opposed to the best defense in the league, he first impressed on the first game of the match before showing himself totally next to his pumps. While he hadn't thrown an interception since week 4, he threw two this week and is not free from blame. In addition to an 0 of 7 on the third attempt that killed any chance of progress on every offensive drive, Tua lost a fumble that finished the Dolphins off for good. Totally dominated by the 49ers defense in general and by Nick Bosa in particular, Tagovailoa will quickly have to put his head back in place.
5- Josh Allen (-1) Quarterback – Buffalo Bills (9-3)
12 games – 3,406 yards at 64.1% – 25 touchdowns, 11 interceptions – 581 yards, 5 rushing touchdowns – 96 rating
It's good for Josh Allen. Facing the Patriots, the Bills quarterback showed a face a little more in line with the player he is. With 223 yards and two touchdowns, it's a performance, although not spectacular, which was enough despite everything. However, with the cast around him, the simple solidity interviewed against the fairly harmless Patriots will not be enough to put him back at the top of this ranking.
Special Mentions
Lamar Jackson (QB, Ravens) – 2,242 yards on 62.3% completion, 17 touchdowns, 7 interceptions – 91.1 rating
Geno Smith (QB, Seahawks) – 3,169 yards on 72.7% completion, 22 touchdowns, 6 interceptions – 108.7 rating
Kirk Cousins ​​(QB, Vikings) – 2,933 yards on 64.6% completion, 18 touchdowns, 9 interceptions – 88.1 rating
Justin Jefferson (WR, Vikings) – 1,277 yards on 14.5 yards/reception, 6 touchdowns
Stefon Diggs (WR, Bills) – 1,202 yards on 13.2 yards/reception, 10 touchdowns
Tyreek Hill (WR, Dolphins) – 1,379 yards on 14.4 yards/reception, 5 touchdowns
Derrick Henry (RB, Titans) – 1,078 yards at 4.2 yards/rush, 10 touchdowns
Nick Chubb (RB, Browns) – 1,119 yards at 5.2 yards/rush, 12 touchdowns
Travis Kelce (TE, Chiefs) – 968 yards at 12.6 yards/reception, 12 touchdowns
Micah Parsons (LB, Cowboys) – 47 tackles, 12 sacks, 3 passes defended, 3 forced fumbles
Nick Bosa (DE, 49ers) – 30 tackles, 6 passes defended, 14.5 sacks, 1 forced fumble