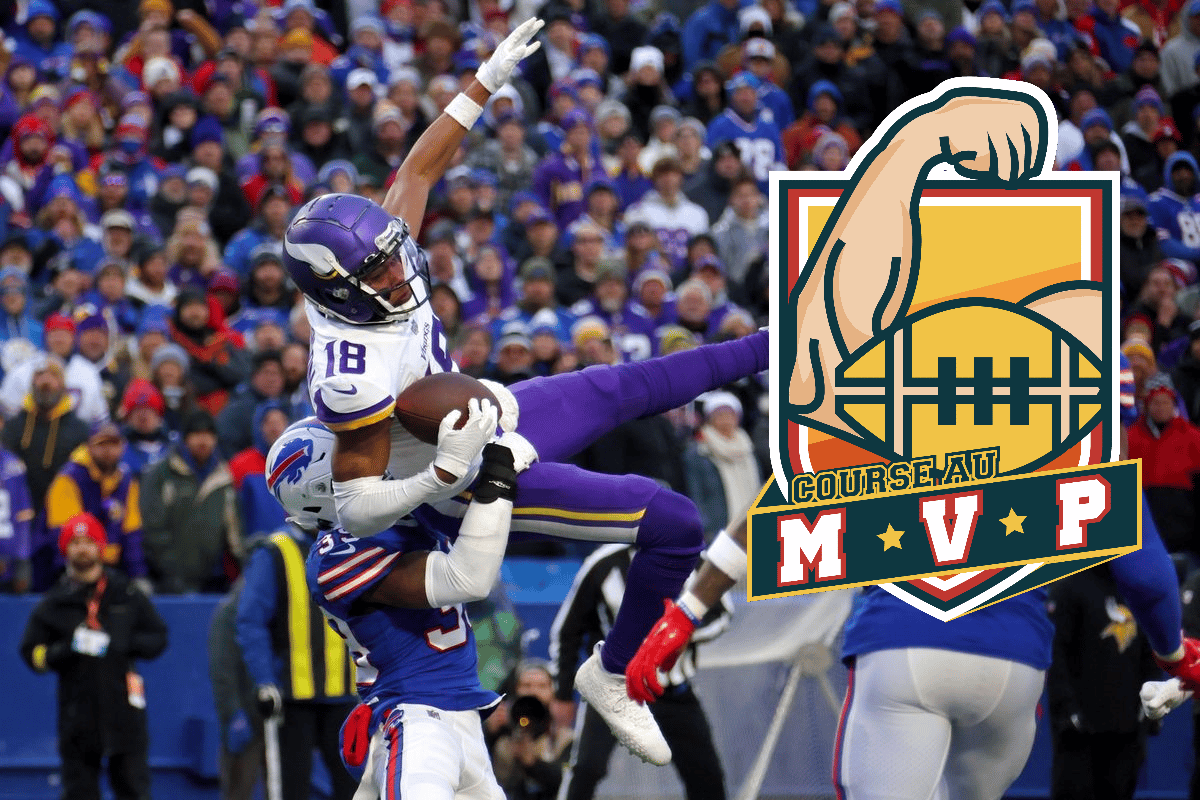 Thursday is MVP! The only top-3 quarterback to confirm his status, Patrick Mahomes takes the throne this week. Beaten for the first time this season, Jalen Hurts was not totally unworthy and also dethroned a Josh Allen who totally missed his second half. Completely on fire for several weeks, Tua Tagovailoa logically integrates our ranking ahead of this week's hit Justin Jefferson. The receiver almost single-handedly overthrew the Bills and confirms his position as the best receiver in the league.
1- Patrick Mahomes (+1) Quarterback – Kansas City Chiefs (7-2)
9 games – 2936 yards at 66.9% – 25 touchdowns, 7 interceptions – 215 yards rushing, 1 touchdown – 106.1 rating
After having chained a performance from more than 500 yards against the Titans, Patrick Mahomes confirmed again this week with four touchdowns thrown against the Jaguars. Growing stronger as the season progresses, the Chiefs quarterback is now the number 1 favorite to become MVP at most bookmakers. An impression of supremacy further reinforced by the missteps of its two main competitors this week. Leader of the NFL in the number of touchdowns thrown, Mahomes also writes history in this area. Indeed, with five units ahead of Josh Allen, he is the third player in history to have as much lead at this stage of the season. The two in front of him? Tom Brady in 2007 and Peyton Manning in 2013, both finished MVP that season.
2- Jalen Hurts (+1) Quarterback – Philadelphia Eagles (8-1)
9 games – 2,217 yards at 67.9% – 14 touchdowns, 3 interceptions – 354 yards, 7 rushing touchdowns – 106.4 rating
Taking advantage of the descending form of Josh Allen, Jalen Hurts grabs a place. However, the Eagles quarterback was not necessarily particularly glorious against Washington in a game where he failed to avoid defeat to his team. Coming out of four weeks of very high class, the Eagles quarterback still finished the game with 175 yards and two passing touchdowns. He also continues to write history since his 20th running touchdown in 28 games makes him the second best in history in this area behind Cam Newton.
3- Josh Allen (-2) Quarterback – Buffalo Bills (6-3)
9 games – 2,733 yards at 64.5% – 20 touchdowns, 10 interceptions – 476 yards, 4 rushing touchdowns – 96.6 rating
Buffalo alert! Already the author of average matches in recent weeks, Josh Allen has hit rock bottom against the Vikings. Yet author of a rather correct first half, the Bills quarterback sank with his family to lose all their lead and the match with it. With two interceptions and a fumble on a totally missed QB sneak that turns into a touchdown, Josh Allen ended up costing his people dearly. With seven losses of balls in his last ten quarters played, Josh Allen must find those flashes that make him one of the best players in this league.
4- Tua Tagovailoa (+2) Quarterback – Miami Dolphins (7-3)
8 games – 2265 yards at 71% – 18 touchdowns, 3 interceptions – 35 yards rushing – 118.4 rating
Completely on fire since his return from concussion, Tua Tagovailoa leads the league in rating and yards per pass over the period. And despite his absence for three games, he has already thrown 18 touchdowns. Author of two consecutive performances beyond 300 yards, the Dolphins quarterback has launched a whopping 969 yards and 9 touchdowns on his last three outings. With such performances combined with the insane contribution of its two star receivers, the Dolphins took the lead in their division, even surpassing the Bills.
5- Justin Jefferson (+1) Receiver – Minnesota Vikings (8-1)
9 games – 69 receptions, 1060 yards, 4 touchdowns – 2 carries, 13 yards, 1 touchdown
The question no longer really arises. Justin Jefferson is the best receiver in the league. Few who can carry an entire attack on their shoulders, Jefferson is of this caste. Author of a reception that is already beginning to be debated among the best receptions in history, Jefferson was literally vital for the Vikings to win eight of their first nine games. Very efficient, the Vikings receiver caught more than 70% of the passes that were thrown in his direction. Against the Bills, he caught ten balls for 194 yards. According to NFL Next Gen Stats, nine of those ten passes had less than a 50% chance of being completed.
Special Mentions
Joe Burrow (QB, Bengals) – 2,535 yards at 70% completion, 18 touchdowns, 6 interceptions – 102.6 rating
Geno Smith (QB, Seahawks) – 2,474 yards at 72.8% completion, 17 touchdowns, 4 interceptions – 108 rating
Lamar Jackson (QB, Ravens) – 1,768 yards at 62.3% completion, 16 touchdowns, 6 interceptions – 93.6 rating
Stefon Diggs (WR, Bills) – 985 yards on 13.7 yards/reception, 7 touchdowns
Tyreek Hill (WR, Dolphins) – 1,148 yards on 14.2 yards/reception, 4 touchdowns
Derrick Henry (RB, Titans) – 923 yards at 4.6 yards/rush, 9 touchdowns
Saquon Barkley (RB, Giants) – 931 yards at 4.7 yards/rush, 6 touchdowns
Nick Chubb (RB, Browns) – 904 yards at 5.6 yards/rush, 11 touchdowns
Micah Parsons (LB, Cowboys) – 38 tackles, 8 sacks, 2 passes defended
Nick Bosa (DE, 49ers) – 22 tackles, 5 passes defended, 9.5 sacks