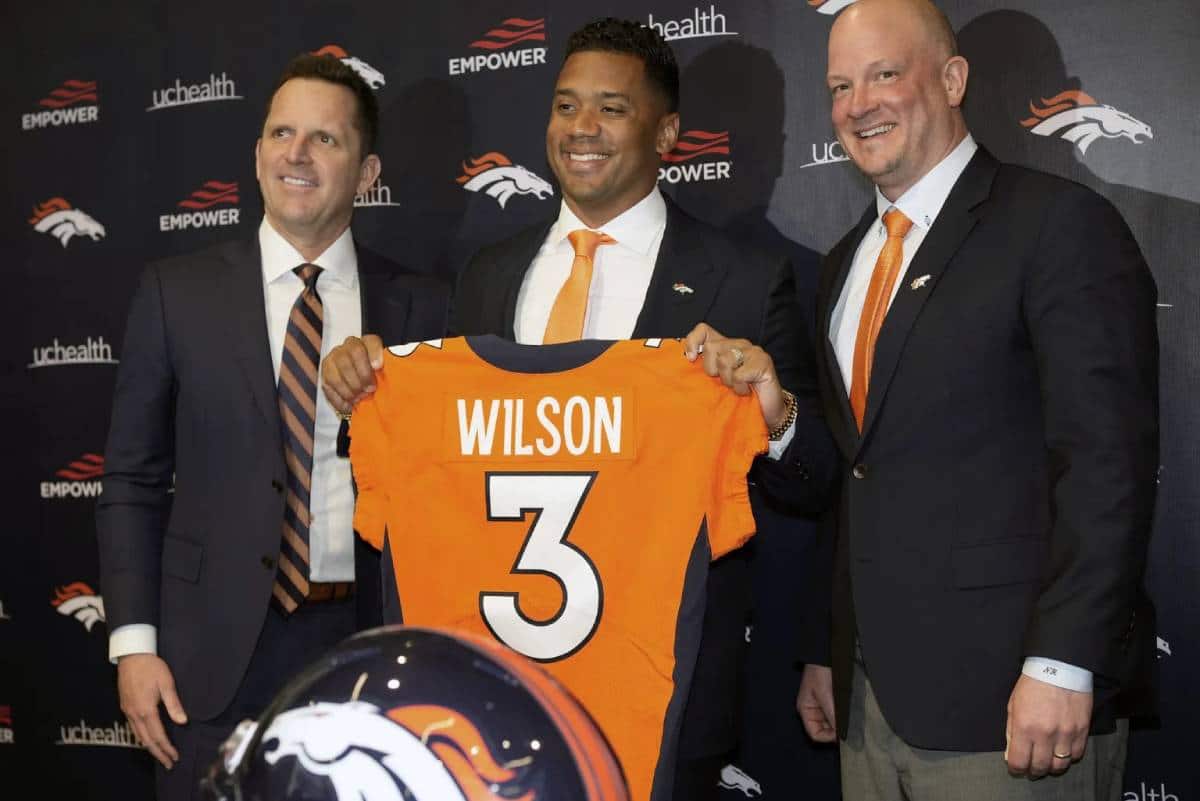 A future Hall of Famer coming out of short retirement, a franchise quarterback traded, a former MVP on the move, trades including multiple first-round picks… Normally, any of these events, on their own, would have constituted an event for an NFL offseason.
This year, the twists have multiplied at a rather crazy pace. While things are calming down a bit, and even though players like Baker Mayfield and Jimmy Garoppolo are still expected to move, it's time to come to their senses.
A look back at ten significant events that took place in less than three weeks.
March 8 – Russell Wilson is sent to the Broncos
It was hard to believe. Even if Russell Wilson and Pete Carroll were scrambled, how to imagine that the leaders of the Seahawks would prefer a 70-year-old coach to a 33-year-old franchise quarterback? And yet.
Two picks from the first round, two more in the second round, a pick from the 5th round, three players… And here is Russell Wilson with the Broncos.
After John Elway and Peyton Manning, Denver adds a new big name to its list of major quarterbacks. With Courtland Sutton, Jerry Jeudy, Tim Patrick or young rider Javonte Williams, there is potential. Especially since the defense is on a different level than that of Seattle in recent years.
In Seattle precisely, a total reconstruction operation is beginning. Because from the following hours, Bobby Wagner also takes the door. The end of an era.
March 8 – Aaron Rodgers breaks the bank
A few hours before Wilson's transfer, another titled quarterback made headlines. After casting doubt on his future, Aaron Rodgers has agreed with the Packers on a final reconciliation. Bill amount for Brian Gutekunst? 200 million dollars, of which 153 million guaranteed. The real proof of love that the pitcher was waiting for.
Mar. 10/Mar. 14 – Chargers go all out on defense
When you have a talented quarterback on his rookie contract, you have to surround him, even if it means paying the price. The Chargers have Justin Herbert, so they decided to provide him with a defense that could help him. The first shot of the leaders is to bring in Khalil Mack in a trade with the Bears. At the opening of the free agency, Tom Telesco continues, giving 82.5 million dollars to JC Jackson.
The two recruits must join Joey Bosa and Derwin James to form the backbone of a group from which much will now be expected.
March 14 – Tom Brady comes out of retirement
February 1 – March 14. Tom Brady's retirement was shorter than most NFL players' vacations.
Special broadcast. Tributes in the league. Reminder of the great moments of his career. Presentation of the one who will ultimately not be his successor. We had put the small dishes in the big ones. Finally, Tampa quickly recovered its quarterback, second in the MVP rankings last season.
A return whose scope goes far beyond the person of Brady. It is anything but a coincidence that Chris Godwin, Ryan Jensen or Carlton Davis extended their lease in Florida in the following days. The Buccaneers will once again be contenders in the NFC.
March 14 – Jaguars offer craziest contract of the year
A free agency is never really a free agency without a somewhat crazy contract. Congratulations to the Jaguars, who take home the prize for this year, with a 4-year contract and 72 million dollars offered to Christian Kirk, receiver who has never exceeded 1,000 yards in a season since joining the league in 2018.
Kirk thus arrives in the Top 10 of the highest paid receivers in the league, with the heavy task of justifying this contract by becoming the number 1 of Jacksonville.
March 16 – Von Miller is still popular
We saw in him a veteran who could try to stay with the stars of the Rams, or return to Denver to take advantage of the arrival of Russell Wilson. Somewhat to everyone's surprise, Von Miller chose neither of these two options.
Despite his 32 years and a few injuries, the Bills offered him $120 million over six years. An offer you can't refuse.
The Bills have decided to play their luck to the fullest, further thickening a pass rush and a defense that was already very high level last year.
March 18 – Aaron Rodgers loses Davante Adams, who fulfills his dream in Las Vegas
The honeymoon only lasted ten days in Green Bay. Tagged on March 8, Davante Adams wants big money. Except that, of course, there are fewer left since his quarterback went to the counter. Never mind.
As a kid, Davante Adams dreamed of playing for the Raiders. Charles Woodson's jersey on the shoulders, he had announced it from primary school. So off to Vegas, to find Derek Carr, his college buddy.
By the way, Adams picks up 28.5 million per season, a record for a receiver. The signal for an aggressive offseason for the Raiders, who are also bringing in Chandler Jones.
Turning dreams into reality ✨

" https://t.co/HpCn5mPDq3 pic.twitter.com/UO01ehWI4L

— Las Vegas Raiders (@Raiders) March 23, 2022
March 18 – Browns sell their soul for Deshaun Watson
It was known that he would return if the criminal charges were dropped. What we didn't know was that the NFL franchises were ready to descend ever further into indecency and cynicism. While 22 sexual assault charges still weigh on Deshaun Watson in civil court, and an NFL suspension remains possible, only the threat of prison really cooled the teams in need of a quarterback. That's what we understood when the Panthers, Saints, Browns, Falcons and Seahawks went after Watson.
The second the criminal proceedings were forgotten, the race was on. It was first necessary to convince the leaders of the Texans, then to obtain an audience with the player, who had a clause allowing him to choose his destination. If this carousel was already flirting with the limit of good taste, the Browns have cheerfully crossed it by raising the stakes: 5 years and 230 million dollars, fully guaranteed. They know it well, since they did not give a press conference, nor even put online the slightest photo of their new quarterback with his new jersey. Strange for the biggest guaranteed contract in history.
Beyond the moral, the amount is quite delusional for a player who has not set foot on the pitch for a year, and who could be suspended for part of the coming year.
At this price, Watson quickly forgot his love for his native Georgia or his possible desires to wear the jersey of the Saints. It will be Cleveland.
March 21 – End of an era in Atlanta, Matt Ryan goes to Indianapolis
Deshaun Watson's transfer was an earthquake. Of course, there had to be aftershocks. Courting former Houston star Terry Fontenot and the Falcons sent a clear message to Matt Ryan. Class, the former MVP had even agreed to postpone one of his bonuses to wait for Watson's decision.
But something had to be broken. So Ryan let himself be persuaded by the Colts, and a trade was set up. After Philip Rivers and Carson Wentz, Ryan will be the third quarterback in three years to try to turn a solid, but perhaps less and less complete team, a milestone.
For Atlanta, a complete reconstruction is starting.
March 23 – Chiefs turn the page on Tyreek Hill
Broncos, Raiders, Chargers… The whole AFC West got stronger. All ? In the end, it was Kansas City that had to make concessions. Tyreek Hill wanted a huge contract. Except that, like in Green Bay, when you have a quarterback who eats a huge part of the payroll, you can't afford everything.
The Chiefs then agree to send Tyreek Hill to Miami against five draft picks. The loot is huge, but so is the hole left in Kansas City's offense.
Smiles are in order Dolphins. A few hours after the arrival of Terron Armstead, we confirm a very offensive off-season to surround Tua Tagovailoa. Enough to forget the surprising departure of coach Brian Flores at the start of the offseason, and the controversies that accompanied it.
We could also have talked about it…
Amari Cooper sent to Cleveland, Matthew Stafford extended by the Rams, Allen Robinson at the Rams, Christian Kirk who takes 84 million, Carson Wentz moves again Sean Payton leaves the Saints…