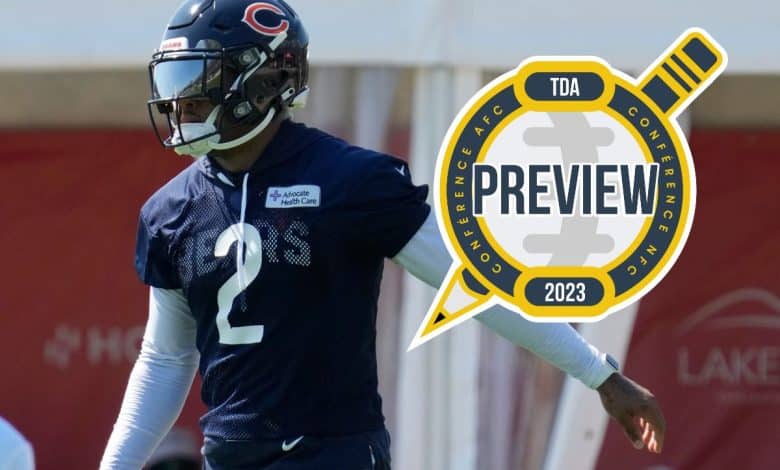 The season is approaching. The editorial staff of DNA of Sports invites you to take stock of the strengths and weaknesses of the 32 franchises. Today, the Chicago Bears 2023. You can find all the presentations by clicking on this link.
Historic franchise but in the hollow of the wave, the music sounds Blues for Bears fans: the "thrill is gone" (literal translation) with 25 wins for 41 losses in four years!
A new president, a manager-coach duo entering their second years, a quarterback who needs to step up but with the potential to do so and some very interesting additions in the offseason. The 2023 Chicago Bears will be an exciting team to watch.
Last season: 3 wins – 14 losses, last in the NFC North
Movements in the off-season
Notable arrivals: DJ Moore (WR), Tremaine Edmunds (LB), Nate Davis (OG), Yannick Ngakoue (DE), Robert Tonyan (Packers), Dont'a Foreman (RB), DeMarcus Walker (DE), TJ Edwards ( LB), Andrew Billings (DT), PJ Walker (QB), Rasheem Green (DE), Dylan Cole (LB), Kevin Warren (Chairman)
Resignatures: Cole Kmet (TE), Nathan Peterman (QB), Equanimeous St. Brown (WR), Khari Blasingame (FB)
Draft: Darnell Wright (OT), Gervon Dexter (DT), Tyreque Stevenson (CB), Zacch Pickens (DT), Roschon Johnson (RB), Tyler Scott (WR), Noah Sewell (LB), Terrell Smith (CB), Travis Bell (DT), Kevin Williamson (S)
Notable departures: David Montgomery (RB), Allen Robinson (WR), Andy Dalton (QB), Nicholas Morrow (LB), Riley Reiff (OT)
Completely under the radar, the signing of guard Nate Davis is however major. With the Titans for four years and successful for three, Nate Davis is very solid in protection. He also had his part in the success of runner Derrick Henry in Tennessee. He really is the type of signing that proves his worth once the pitch is done justice.
In 2022, Justin Fields was sorely lacking in precision on short throws (1-9 yards). Tight end Robert Tonyan has been recruited to help him over this distance: a player that coordinator Luke Getsy knew well in Green Bay. And as the latter is a follower of 12 Personnel (1 RB, 2 TE, 2 WR), his duo with Cole Kmet (leader in receptions for the Bears in 2022) is promising.
In 2022, stopping the race was a problem: 31st defense in yards and 32nd in touchdowns on the ground! It is therefore consistent that the manager first and foremost reinforced the focus of this forehead 7. The massive defensive tackle Andrew Billings is a specialist in the ground game and he will be supported by two high draft picks: Gervon Dexter and Zacch Pickens. The axis was also considered on the back curtain with the signings of Tremaine Edmunds and TJ Edwards, as well as the draft of Noah Sewell.
If the "box" is held by better players then perhaps seven players and no longer eight will be necessary. This player recovered for cover will in turn be able to improve the air defense and thus kill two birds with one stone!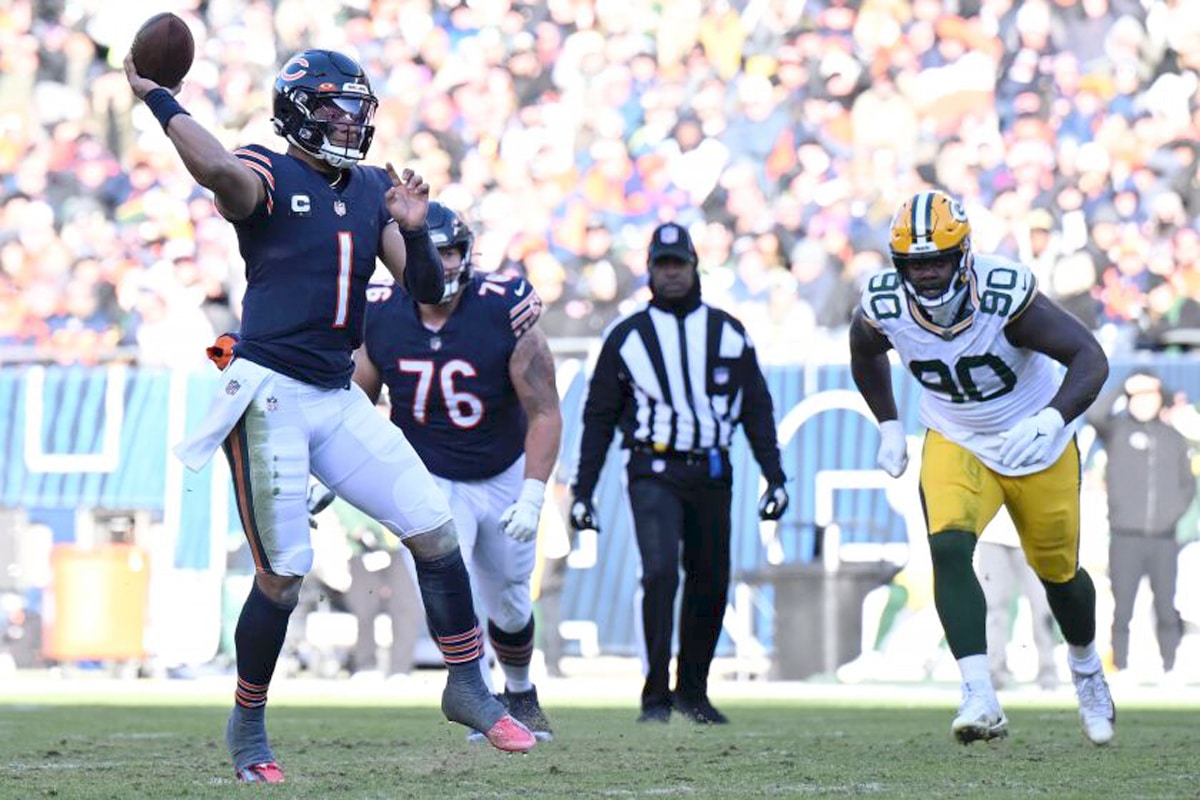 The strong points)
Justin Fields. Now in his 3rd season and his 2nd in the same system, this player aged only 24 offers a lot of potential. Quarterback with devastating mobility and having reworked his throwing mechanics, the 2023 season must be one of a change of level.
"Are we in 1st&10 in the first half or 3rd&6 with two minutes to go? He must understand that he does not always have to play the game by himself and force. He proved to me that he knows how to recognize defensive changes before and after the ball is engaged. In addition, he is a hard worker and a natural leader: his potential is immense, "assures offensive coordinator Luke Getsy for The Chicago Tribune.
Carrying the ball, Justin Fields is almost unstoppable: 1143 yards in 2022 at 7.1 yards per run! In the aerial game, he still has room for improvement, but he has shown a lot of skill in attacking from deep. So to be consistent, the staff provides him with receivers who all have speed in common: Velus Jones (4.31 seconds over 40 yards), Dante Pettis (4.32), Tyler Scott (4.37) and Darnell Mooney (4.38)! Especially since the others aren't slow either: DJ Moore (4.42), Chase Claypool (4.42) and Equanimeous St. Brown (4.48).
Despite seven different quarterbacks to throw the ball to him, DJ Moore has exceeded 5,000 yards after receptions in five seasons! A reliable player, both in terms of the quality of his hands and the precision of his movements, he is the one who can help a young QB to take a step forward.
Another positive element, the offensive coordinator Luke Getsy had the opportunity to train one of the two teams of the Senior Bowl 2023: this allowed him to observe the players closely but also to evaluate them on game patterns practiced among the Bears. So four of the top five draft picks were all in the Senior Bowl: if they match the systems, they should perform faster.
The weak spots)
An offensive line allowing 58 sacks in 2022! But far too many of those hard stops were due to mistakes by Justin Fields. His progress in getting rid of the ball when necessary and moving smarter in the pocket will help. And there are also other grounds for hope in this area (see below).
By producing only 20 sacks in 2022, the Bears ranked last NFL in this all-important defensive category! No player had more than 4 sacks and the best was…safety Jaquan Brisker! Author of 7 sacks in 2021, Trevis Gipson was less efficient in 2022 (3 sacks) while, as expected, rookie Dominique Robinson struggled, he who is relatively new to this position since he started his university course as a receiver!
The staff therefore brought in a DeMarcus Walker coming out of the best season of his career in 2022: 25 pressures and 7 sacks. Also, a Rasheem Green finally wanting to succeed in a franchise, after his 3rd round draft in 2018: only 17 sacks in 4 seasons with Seattle and one with Houston.
Above all, Chicago signed Yannick Ngakoue. With 65 sacks in 7 NFL seasons, he is a reliable pass rusher: no season below 8 sacks! And this with five different franchises, which demonstrates his ability to perform as soon as he arrives in a new collective.
X factor: the offensive line
An offensive lineman at Boston College (2003-2007), manager Ryan Poles knows the importance of this area. The first signing of this offseason was therefore that of Guard Nate Davis. Then, his first draft pick (10th pick 2023) was used on the powerful and very athletic Tackle Darnell Wright.
He is also counting on the development of left tackle Braxton Jones. Only Bears player to play 100% of snaps in 2022, he showed progress from the second half of his rookie season. Tall, athletic and possessing immense wingspan, he enters his second year having worked on the power that he lacked in 2022.
Guard Teven Jenkins showed a lot of progress from mid-season, especially in protection. His stint as left guard allows Cody Whitehair to return to the center: a position where he had shown himself to be efficient, much more than as a guard! If it does not look sublime on paper, the five major (Jones-Jenkins-Whitehair-Davis-Wright) seems more solid than in 2022.
In the event of injuries, the substitutes seem solid for a level "substitute in NFL": Lucas Patrick (85 NFL games, 42 times holder) inside and Larry Borom (17 tenures) outside. Alex Leatherwood was a disappointing 17th pick in the 2021 draft but he still has value as a potential 6th man.
Player to watch: Tremaine Edmunds (LB)
So young and already so experienced: 25 years and 82 NFL games played! After four seasons and none below 100 tackles in the regular season, Tremaine Edmunds has become a safe bet despite his young age.
His tall stature for this position reminds fans of the legendary Brian Urlacher. After all, the Bears have been known for quality linebackers for ages: Bill George (1952-1965), Dick Butkus (1965-1973), Mike Singletary (1981-1992) and so Brian Urlacher (2000-2012). Tremaine Edmunds has everything to keep this tradition going.
Intelligent and versatile, he becomes the leader of the defense. And he will be assisted by a lieutenant who grew up an hour from Chicago's Soldier Field: TJ Edwards and his 180 tackles in 2022!
2023 Chicago Bears Schedule
Packers, @Buccs, @Chiefs, Broncos, @Commanders, Vikings, Raiders, @Chargers, @Saints, Panthers, @Lions, @Vikings, BYE, Lions, @Browns, Cardinals, Falcons, @Packers
The advantage of the 2023 calendar is that the Bears will play two games on Thursday and thus have, each time, 10 days to prepare for the next meeting: week 5 and week 10. Enough to heal the wounds and rethink the systems.
The audio preview of the podcast
In summary
The Bears can be a surprise team in 2023, especially in a division finally rid of Aaron Rodgers!
The franchise is on the right path but it seems to be missing another season to really move forward.
Prediction: 7 wins – 10 losses, no playoffs