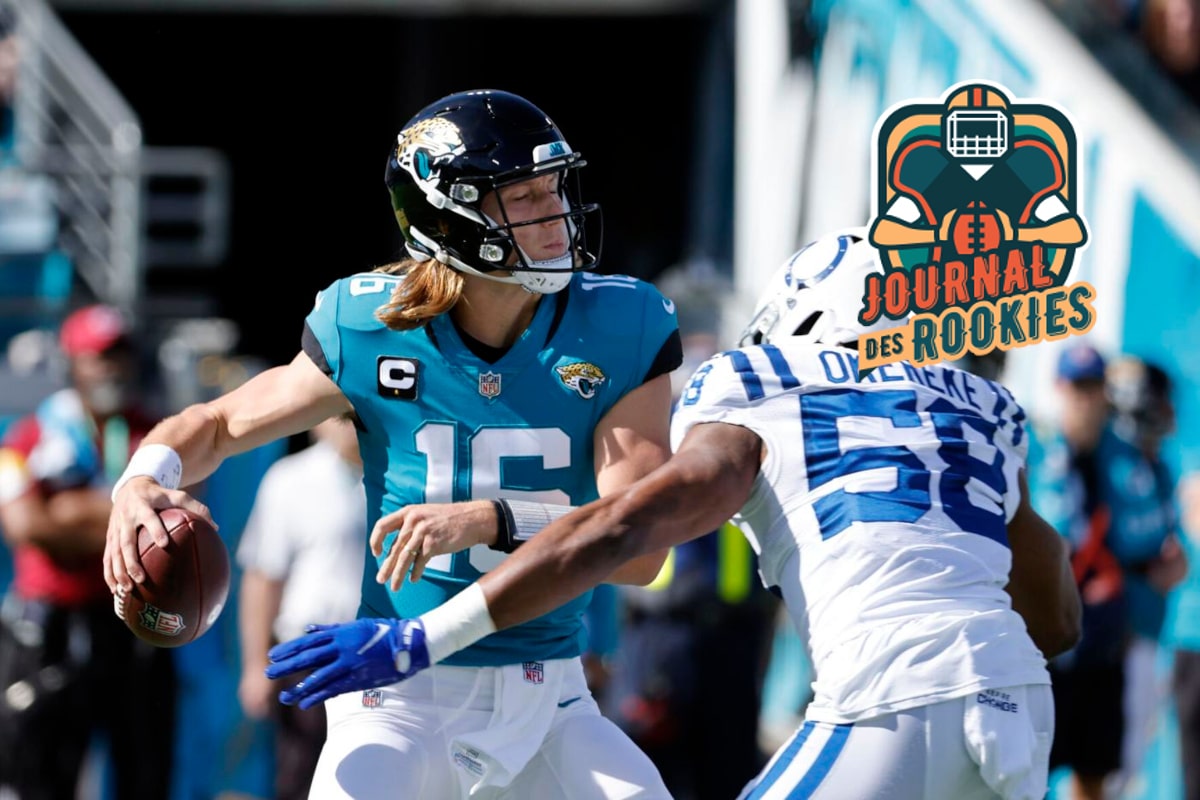 Every NFL Wednesday, the Rookie Diary honors the most prominent rookies. The best offensive beginner, his defensive alter ego, the action, the confirmation, the revelation of the week… And, to finish, the Power Rooking. Everything, you will know everything about the Rookies!
Offensive Rookie of the Week
Trevor Lawrence – QB/Jacksonville Jaguars (1st pick)
23/32, 223 yards, 2 touchdowns + 10 carries, 17 yards
In 2021, the Jaguars therefore did better than in 2020. On paper, anyway. In fact, it's something else but hey, Trevor Lawrence ended his first campaign on a good note, finally. For the first time since his first official game (against Houston), the 22-year-old quarterback threw two touchdowns. A beautiful first half (19/25, 208 yards) to plunge the Colts into doubt, before a second period marked by this perfect pass despite the pressure, for Marvin Jones. Of course, Indianapolis got it all wrong. But Jacksonville fans will go on vacation with hope. After such a year, it was not won.
Trevor stays cool under pressure and delivers a perfect throw to Marvin Jones Jr.!#INDvsJAX | #DUUUVAL pic.twitter.com/KZneimCk5O

—Jacksonville Jaguars (@Jaguars) January 9, 2022
Defensive Rookie of the Week
Paulson Adebo – CB/New Orleans Saints (76th pick)
5 tackles, 2 passes defended, 1 interception
In the 3rd round, the Saints selected a holder within their last curtain. Unlike other players in his position, Paulson Adebo did not need too much time to get his bearings, he immediately entered the dance in New Orleans. The cornerback passed by Stanford had signed his first interception in the opening, against the Packers. He then amazed with his regularity and, in one of the best defenses in the country, it was not a given. Until this last part and this one-handed wrestling, insufficient to extend the course of his people. Sean Payton and his staff have work to do in attack but, on the other side, the bases are strong.
ONE-HANDED INT FOR THE ROOK! 👋#NOvsATL | 📺: FOX pic.twitter.com/ibOEL6e55R

—New Orleans Saints (@Saints) January 9, 2022
action of the week
Nick Bolton – LB/Kansas City Chiefs (58th pick)
5 tackles, 1 covered fumble, 1 touchdown
An intelligent, intense linebacker, a potential captain. We imagined these qualities in Nick Bolton, but still had to show it, in the middle of a squad that really needed his profile. Mission accomplished, brilliantly. Number 54 is already one of his team's bosses, a role that seems to come naturally to him. When you have to save the country, like at the end of the game in Denver, he is there. He finished the regular season with 99 tackles, far ahead of his comrades. Now it's time for the playoffs.
.@_NICKBOLTON2 TAKES IT ALL THE WAY‼️ pic.twitter.com/xWJqOZQc75

—Kansas City Chiefs (@Chiefs) January 9, 2022
confirmation of the week
Davis Mills – QB/Houston Texans (67th pick)
23/33, 301 yards, 3 touchdowns + 4 carries, 12 yards
This narrow defeat against Tennessee confirms it once again: David Culley and Davis Mills deserve a chance. The coach and his pitcher made unexpected performances and the team progressed, that's obvious. In 11 starts, the 23-year-old has crossed the 300-yard mark four times, which is obviously a record among beginners. This weekend, he brought Danny Amendola back to life and the Texans did not give up, to offer their fans one last suspense. The duo earned the right to continue.
NO QUIT IN THIS TEAM 💪

📺" @NFLonCBS pic.twitter.com/2wMCsHEohf

—Houston Texans (@HoustonTexans) January 9, 2022
Revelation of the week
Ihmir Smith-Marsette – WR/Minnesota Vikings (157th pick)
3 receptions, 103 yards, 1 touchdown
The prolonged absence of Adam Thielen opened a door for him, he rushed into it. While he had never done better than a reception for seven yards in the NFL, Ihmir Smith-Marsette panicked the counters against Chicago. The 22-year-old receiver brought Kirk Cousins ​​one more in-depth option on this game, a great promise for the future. The Vikings target group is already well supplied, but the staff are not going to complain about being in the presence of several good elements. There are qualities to leave.
go crazy @_ihmirr_ pic.twitter.com/vLma69GWeP

— Minnesota Vikings (@Vikings) January 9, 2022
Power Rooking
Do the most promising of this 2021 vintage hold their rank? Are they supplanted by names called a little later last spring? The answers, in Power Rooking!
1. Micah Parsons – LB/Dallas Cowboys (12th pick)
79 tackles, 13 sacks, 3 passes defended, 3 forced fumbles
2. Ja'Marr Chase – WR/Cincinnati Bengals (5th pick)
81 receptions, 1,455 yards, 13 touchdowns
3. Patrick Surtain II – CB / Denver Broncos (9th pick)
58 tackles, 14 passes defended, 4 interceptions, 1 touchdown
4. Rashawn Slater – OT/Los Angeles Chargers (13th pick)
5. Mac Jones – QB/New England Patriots (15th pick)
352/521, 3,801 yards, 22 touchdowns, 13 interceptions
6. Creed Humphrey – C/Kansas City Chiefs (63rd pick)
7. Najee Harris – RB/Pittsburgh Steelers (24th pick)
307 carries, 1200 yards, 7 touchdowns + 74 receptions, 467 yards, 3 touchdowns
8. Jaylen Waddle – WR/Miami Dolphins (6th pick)
104 receptions, 1015 yards, 6 touchdowns
9. Kyle Pitts – TE/Atlanta Falcons (4th pick)
68 receptions, 1026 yards, 1 touchdown
10. Nick Bolton – LB/Kansas City Chiefs (58th pick)
99 tackles, 3 passes defended, 1 fumble covered, 1 touchdown