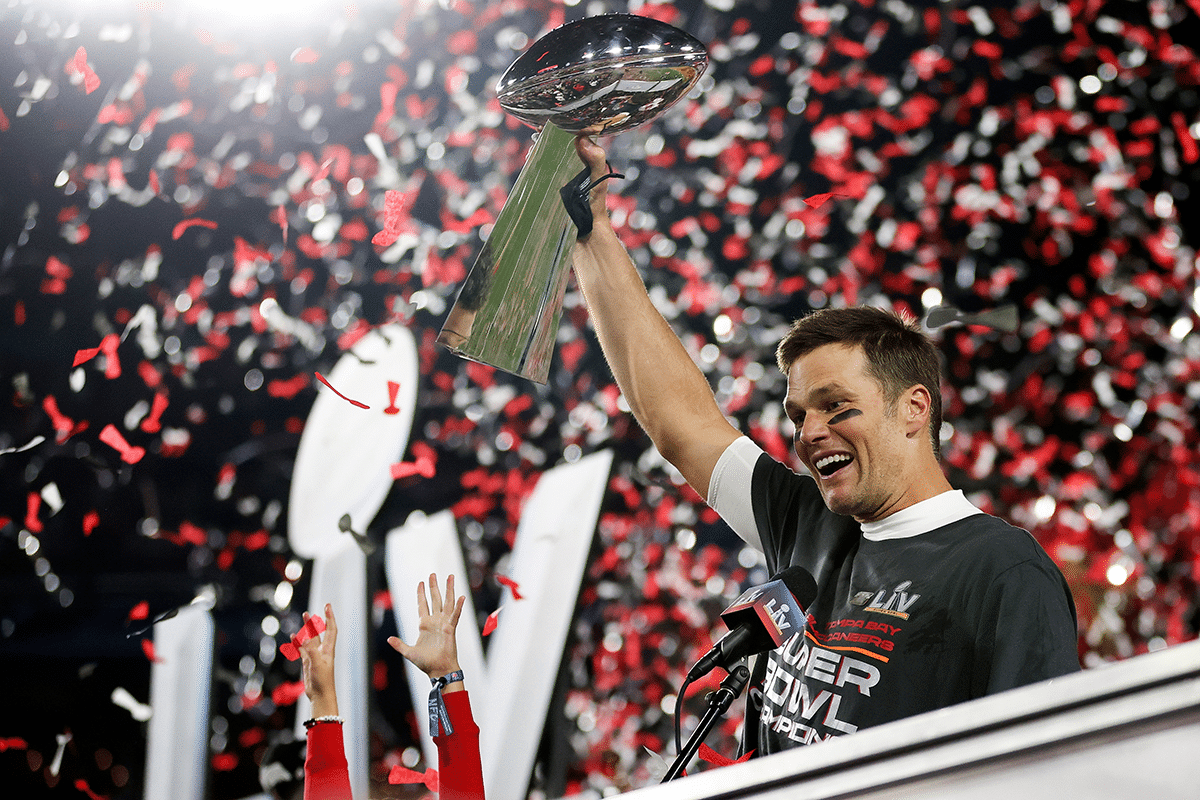 Tom Brady has played 10 Super Bowls. It's delusional. He won seven. It's just as crazy.
There are so many that it is possible to make a Power Ranking of your victories. The proof.
7. Super Bowl 53: Patriots 13-3 Rams (2018)
21/35 (60%), 262 yards, 0 TD, 1 INT and 71.4 rating.
His last title with the Patriots is far from being his most spectacular. It is saying that to say that his performance will not be remembered. This match was played in the trenches and the defenses took over the offensive squads. With 71.4 evaluation, Tom Brady displays there his worst mark during a Super Bowl (even including defeats).
As a symbol, his first attempt is an interception. Julian Edelman, receiving 10 of Brady's 21 passes for 141 yards, will also win the MVP trophy for this game. We still remember this superb offering of 29 yards to Rob Gronkowski at the end of the game, which will then allow Sony Michel to register the only touchdown of the game.
OTD (2/3/2019): Tom Brady finds Rob Gronkowski on a beautiful throw and catch to set up the only TD of the game as the #Patriots defeated the #Rams 10-3 to win Super Bowl LIII pic.twitter.com/JdVeNLjj47

— The Sports Throne (@SportsThroneHub) February 3, 2022
6. Super Bowl 39: Patriots 24-21 Eagles (2004)
23/33 (69.7%), 236 yards, 2 TDs, 0 INTs and 110.2 rating.
For the symbol, this victory is important. It comes to cement the (first) dynasty of the Patriots. Third success in four years, but above all a second consecutive title. A feat that no one has repeated since. Regarding the match, however, Tom Brady remained sober, efficient. Few errors for the quarterback, but nothing spectacular either.
In a tight match until the end of the 3rd quarter (14-14), New England passed a 10-0 to Andy Reid's men to create the final gap. Tom Brady can thank his defense which will cause 4 loss of balls and Deion Branch which ends with 11 receptions for 133 yards. The receiver will also leave with the title of MVP of this Super Bowl.
5. Super Bowl 36: Patriots 20-17 Rams (2001)
16/27 (59.3%), 145 yards, 1 TD, 0 INT and 86.2 rating.
For the symbol, this match could be higher. It will forever remain the Super Bowl that took Tom Brady and New England to another dimension. The first victory of the Patriots era. Especially since few things destined them to go after: the injury of their starting quarterback (Drew Bledsoe), the tenure of an inexperienced pitcher, drafted in 199th position a season earlier and an opponent (the Rams) who seemed unstoppable.
If Tom Brady's statistics are far from spectacular in this match, the pitcher still managed to offer us a founding moment of his career: his last drive. While the Rams have just come back to 17-17, the Patriots have no more time out and must go all the way up the field if they want to avoid overtime. In less than a minute and a half, Tom Brady will launch for 52 yards (7/9) to offer Adam Vinatieri the possibility of winning the game for the franchise. An ultimate offensive streak that will go down in Tom Brady and NFL legend. To the point of giving goosebumps to John Madden, commenting on the match that night.
SB 36 vs. STL

How can we not include Tom Brady's game winning drive to beat the heavily favored Rams in Super Bowl 36? Nothing flashy. But it shows his poise and how calm, cool, and collected he was on the biggest stage.
"What Tom Brady just did gives me goosebumps" – John Madden pic.twitter.com/ejpzaOoql2

— TB12_TheGoat (@TB12_TheGoat) January 12, 2022
4. Super Bowl 55: Buccaneers 31-9 Chiefs (2020)
21/29 (72.4%), 201 yards, 3 TDs, 0 INTs and 125.8 rating.
This one is perhaps the hardest to categorize. How to find a place for this performance without being biased by the lack of hindsight on this victory? On the one hand, the quarterback can thank his defense for the incredible job they did on Patrick Mahomes. The squad completely muzzled one of the best pitchers in the league and only conceded 9 points. Tom Brady was then in an armchair. On the other, the number 12 match remains impeccable.
For the fourth time in his career, he throws 3 or more touchdowns during a Super Bowl. He is not responsible for any loss of ball, displays one of the best percentages of his career in the Super Bowl (72.4%) as well as the best evaluation (125.8) of his 10 passages during the big game . Above all, this 7th trophy allows him to detach himself (a little) from the image of the Patriots. Winning with a team other than New England was something we thought was unimaginable. This Super Bowl will forever be remembered as Tom Brady's last.
3. Super Bowl 38: Patriots 32-29 Panthers (2003)
32/48 (66.7%), 354 yards, 3 TDs, 1 INT and 100.5 rating.
If we like to compartmentalize Tom Brady's career into 3 (or even 4) distinct eras, this match is clearly the apotheosis of his inaugural period with New England. Rather "Game Manager" carried by his defense during his Super Bowl against the Rams in 2001 and the Eagles in 2004, he is transformed here into a real weapon of mass destruction. The beginnings of Tom Brady that we will see in the rest of his career.
Despite an interception in the red-zone, the quarterback will give us a beautiful 4th quarter. Under his leadership, New England will score 18 points in the final quarter of an hour of this game. Twice, he will lead drives to get back in front of Carolina. In a meeting where he could not really count on his defense at the end of the game, he again found the resources to win what was at the time his second league title. He proves once again here that he is made for decisive moments.
18 years ago tonight February 1, 2004, New England Patriots won their 2nd Super Bowl with a thrilling 32-29 victory over Carolina Panthers at Reliant Stadium in Houston, TX.

Tom Brady won his 2nd SuperBowl MVP after throwing for 351 yards and 3 TD's.

—Boston Radio Watch, Part 2 (@bostonradio2) February 1, 2022
2. Super Bowl 49: Patriots 28-24 Seahawks (2014)
37/50 (74%), 328 yards, 4 TDs, 2 INTs and 101.1 rating.
Paradoxically, the symbolic action of this meeting in no way involves Tom Brady. Everyone remembers Malcolm Butler's decisive interception at the very end of the game. What can sometimes be overlooked are the prowess of the quarterback during this game. Entering the fourth quarter, the Patriots are led by 10 points (14-24). Tom Brady will then lead two drives and conclude them with touchdowns for Danny Amendola and Julian Edelman. That night, despite two interceptions, he posted his best completion percentage in a Super Bowl. A feat that takes on even more weight when you put into perspective the opposition that New England had to face.
Facing him, Tom Brady saw the "Legion of Boom", the best defense in the league and one of the best of its generation. In the regular season, the Seahawks allowed just 15.9 points per game. An average that rises to 19.5 in the playoffs. We are still far from the 28 registered by Tom Brady and his attack. Without forgetting that Seattle had not been embarrassed to humiliate Peyton Manning a season earlier. 10 years later, and after two heartbreaking defeats against the Giants, Tom Brady wins a Super Bowl again. And if he can thank Malcolm Butler (and Pete Carroll), his performance remains one of the greatest in history.
1. Super Bowl 51: Patriots 34-28 (aet) Falcons (2016)
43/62 (69.4%), 466 yards, 2 TDs, 1 INT and 95.2 rating.
The evidence. How not to put this meeting at the top of the pile of the best Super Bowls of Tom Brady? Certainly his assessment is not the best (the Pick 6 in the first half has a lot to do with it), but the scenario is so legendary that there is no debate. Thanks to him and all the Patriots, the 28-3 has become a symbol. Led by 25 points in the third quarter, New England made the biggest comeback in Super Bowl history.
Obviously, Tom Brady is the main reason for this return. He leads his team to a field goal and three touchdowns in the last four drives of regulation time. Above all, he managed the two essential two-point conversions to grab the extension. During the extra period, he is again crucial during the offensive series which allows James White to finish in the end zone. The pitcher finished with 466 yards, his highest total in a victorious Super Bowl (he would throw 505 the following year against the Eagles). If there were to be only one, this match would remain THE ultimate memory of Tom Brady's career.
Tom Brady's 28-3 comeback against the Falcons in the Super Bowl will never be forgotten 🔥

The Patriots were +1100 on the live line to win

(via @NFLUK)pic.twitter.com/Av3utTLApo

— br_betting (@br_betting) January 29, 2022