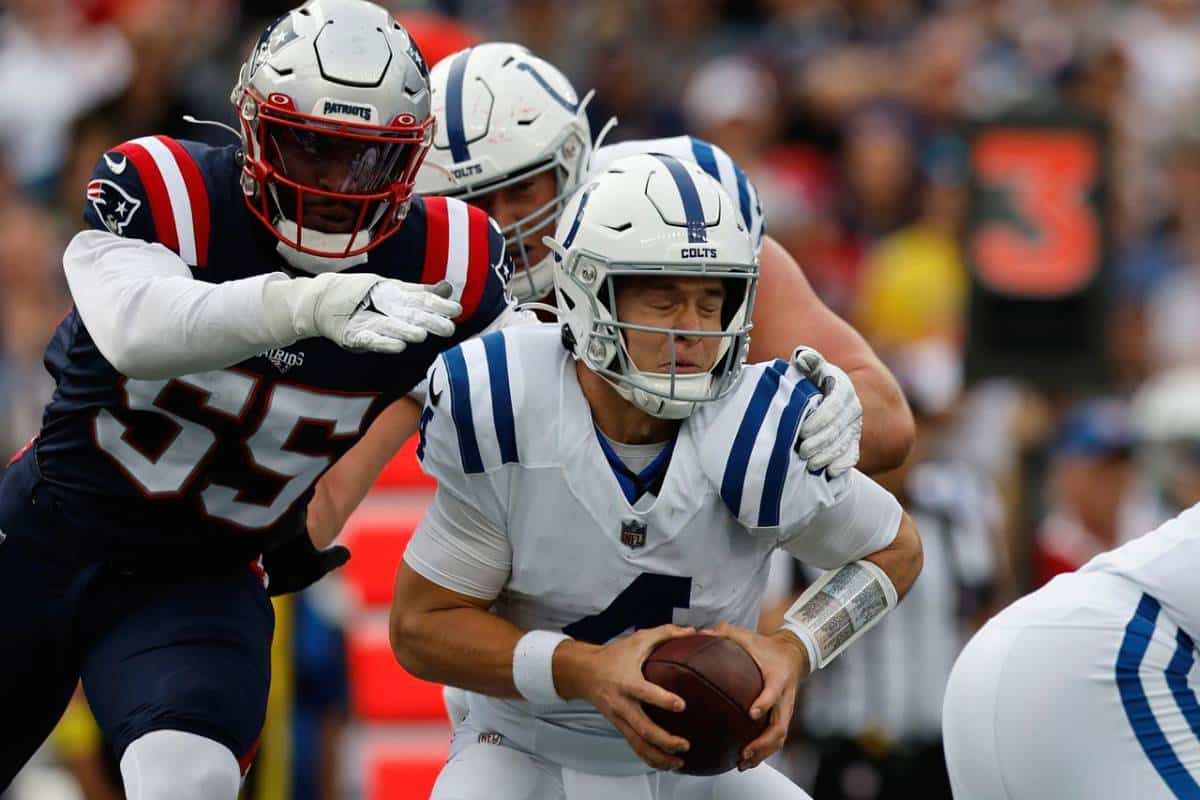 New England Patriots (5-4) – Indianapolis Colts (3-5-1): 26-3
That's it, is it over? Joy. Relief. Release. The crowd rises and celebrates as if they had just scored a touchdown themselves. She might have been able to do that.
It was long. It was ugly. It was disgusting to someone who had never seen an American football game. Surely that was not what the inventors of this game had in mind.
An optimist would say the defenses have done a good job. A realist has seen attacks of terrible indigence. The Patriots haven't been good. But the Colts even less. Much less. So New England won this match at a more than suspicious level of play.
Not helped by a constantly overwhelmed offensive line, Sam Ehlinger (15/29, 103 yards, 1 int, 9 sacks) was unable to give any momentum to his attack, which finished the game with 121 yards in 60 actions. Either a lamentable average of 2 yards (1.82m) per offensive action. Ehlinger, who is 1.85m tall, would have fallen forward face down with each snap so the result would have been mathematically better.
Six punts and a missed field goal in the first half. Three more punts, two failures on fourth attempt, a small kick and an interception returned for a touchdown in the second part of the match. The Colts, who fired their offensive coordinator a few days ago, obviously realized that the problem did not necessarily come from there. And even if Jonathan Taylor was missing, little can justify such an outing.
There is nothing to brag about for the Patriots
Under these conditions, the rather comfortable victory of New England did not however offer anything to ignite either. Mac Jones (20/30, 147 yards, 1 TD) and his teammates themselves started with three punts, before scoring twice on foot. Their first touchdown? It took the Patriots special teams to block a punt and offer the ball to Jones two yards from the end zone. The quarterback then served Rhamondre Stevenson (15 races, 60 yards – 3 rec, 10 yards, 1 TD), author of a little gem of reception to finally bring some joy to the people who inflicted this meeting on themselves.
Rhamondre Stevenson puts a little style in his reception for the TD 😎#INDvsNE #ForeverNE

🎥 @NFL pic.twitter.com/svF3EJcZtG

— DNA of Sports.com – NFL News 🏈 (@DNA of Sports) November 6, 2022
In front of 13-0 at the break, the Patriots then added two field goals (19-3), before Jonathan Jones' final interception. New England's offensive stats are only slightly less terrifying than their opponents, with a total of 203 yards. Despite their now positive record, Bill Belichick's team is far from looking like a playoff contender.
The defense is obviously the satisfaction of the evening, with a squad carried by a wild Matthew Judon (3 sacks) and Josh Uche (3 sacks).
Cumulatively, the two teams have gained 324 yards. That's less than the Broncos' average per game this season…