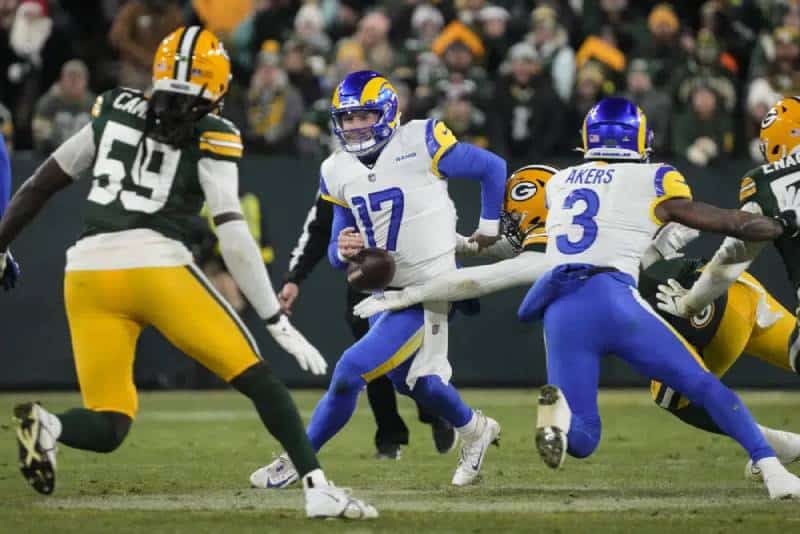 Green Bay Packers (6-8) – Los Angeles Rams (4-10): 24-12
The Packers' defense hasn't always been brilliant this season, but this time it was decisive. The Rams only gained 156 yards on Monday night, and Baker Mayfield (12/21, 111 yards, 1 TD, 1 int) found himself constantly under pressure (5 sacks).
If they hung on for a half, the Rams were therefore never really able to worry Green Bay, which has never been behind the whole match in the cold of its stadium.
The Packers made the difference by scoring two touchdowns on their first two possessions of the third quarter. Enough to lead 24-6 and never be worried again.
Aaron Rodgers hands out
It's no longer the machine it was, but the Packers' offense is a little better. Aaron Rodgers (22/30, 229 yards, 1 TD, 1 int) distributed the ball to eight different targets, and five players caught at least three passes. A balanced attack, with 35 runs for 30 assists. Aaron Jones (17 rushes, 90 yards – 4 rec, 36 yards, 1 TD) and AJ Dillon (11 rushes, 36 yards, 2 TDs) therefore also contributed greatly.
After a field goal to start, Rodgers threw an interception that could have cast doubt. But the feeling was quickly erased by a touchdown from Dillon (10-3). At the break, the score is 10-6, and Green Bay will therefore have widened the gap by scoring twice after returning from the locker room. It was not until the very end of the third quarter that Los Angeles found the end zone, with a connection from Mayfield for Tyler Hibgee (24-12, XP missed). Not enough to worry the locals, who even intercepted Mayfield late in the game.
Mathematically, the Packers keep a slight hope of playoffs. For the Rams, the nightmare season continues. Worse, they tie the 1999 Broncos for most losses by a defending champion. And unfortunately for them, they seem destined to break that record in the weeks to come. Denver at least had the excuse of John Elway's retirement…