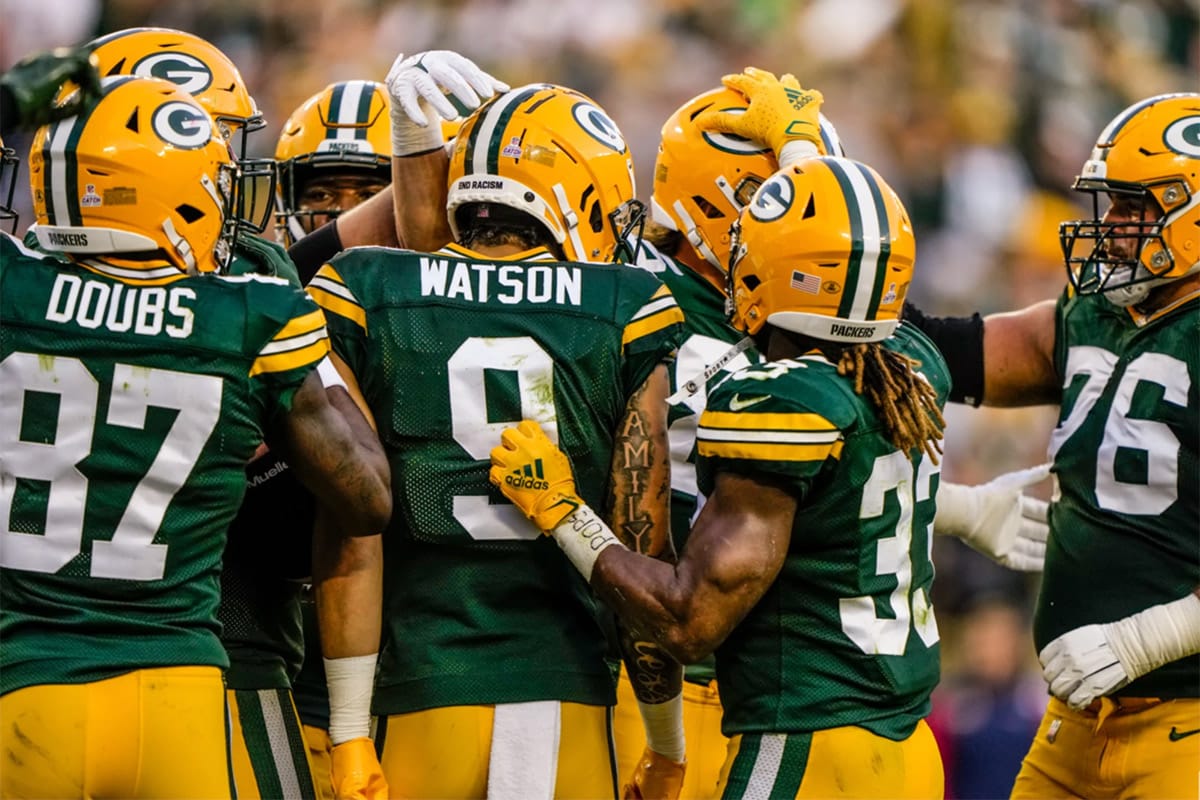 Green Bay Packers (3-1) – New England Patriots (1-3): 27-24 (after overtime)
In a meeting much tighter than expected, Packers too feverish and irregular offensively were pushed to overtime. With the fate of the match in his hands, Aaron Rodgers (21/35, 251 yards, 2 touchdowns, 1 interceptions) had to try twice to bring his team to victory. Unable to play two halves in a row, and maintain a game-long pace, the Packers scuttled themselves and made the evening complicated and tiring a few days from flying to London.
Led by the unexpected rookie Bailey Zappe (10/15, 99 yards, 1 touchdown), New England gave all the trouble in the world to its supposedly superior opponent. But unable to win the few yards that would have allowed them to put themselves in position for the field goal of winning, the Patriots missed their chance.
Flat encephalogram for attacks
Slow, the attack of Green Bay relies on his ground game and the always valuable Aaron Jones (16 races, 110 yards). And it was on a run that rookie receiver Christian Watson scored the first touchdown of his career. Because the aerial game remains largely problematic. Doubtful game calls, uninspired and imprecise quarterback, receiver who escapes the leather, only 38 yards are gained in the air in the first half. Rodgers is not at all in the game and even launches a very nasty interception that Jack Jones is happy to return for touchdown.
Pick-6 for the rookie Jack Jones! @presidentjacc

📺: #NEvsGB on CBS
📱: Stream on NFL+ https://t.co/YPHqeLC4zg pic.twitter.com/OJItBVOmYW

— NFL (@NFL) October 2, 2022
Not really better for visitors. Mac Jones forfeited it was Brian Hoyer who was to lead the New England attack. The interlude will have been short-lived. Touched on a sack, he gave way to rookie Bailey Zappe, record holder for the number of touchdowns scored in a season in the NCAA. Difficult baptism for the young pitcher. As solid in defense as they are weak in attack, the Packers are led by a very valuable Rashan Gary (7 tackles, 2 sacks, 1 forced fumble, 1 covered fumble).
New England pound, Green Bay clings
Half-time is good for attacking minds. Each of the two teams finds the end-zone on its first possession. Robert Tonyan is found by Rodgers, then Bailey Zappe earns his first career score by connecting with Davante Parker despite being clocked out. Belichick's Men uses a simple recipe. Ground ramming, and they use aerial play sparingly and intelligently. Damien Harris pierces the defensive curtain of Green Bay to put his team in the lead at the start of the 4th quarter. Conversely, Rodgers and LaFleur continue to complicate their lives by attempting long passes that almost only find the grass of Lambeau Field. However, still perfectly assisted by his duo of runners, he finds himself in the red zone and finds Romeo Doubs to return to height. While Rodgers even thought he had won the victory on a new long pass, the touchdown was not validated and the two teams pushed into overtime. After a first unsuccessful attempt, the Packers put Mason Crosby in orbit for the win. Green Bay is doing well.