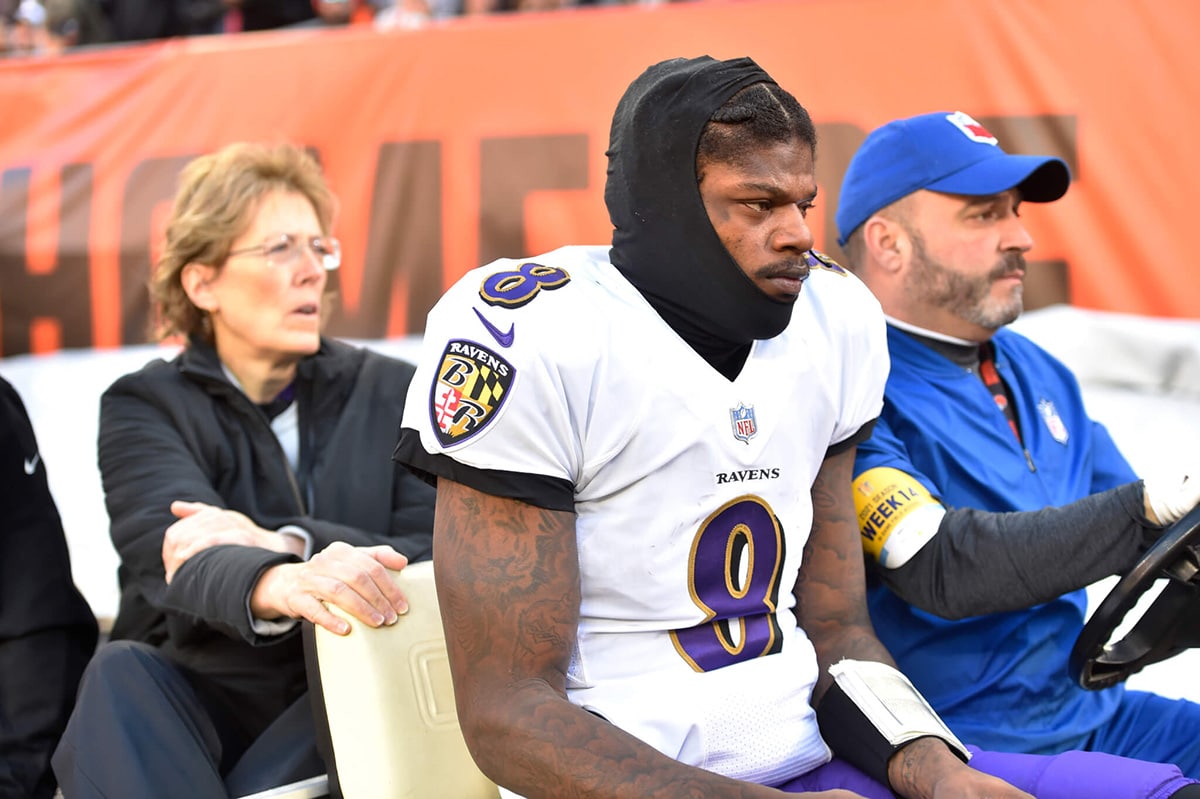 How to revive or how to do even better? The editorial team of touchdownactu offers you a point of view franchise by franchise: inventory of strengths and weaknesses as well as ideas for the market and the draft. Today a franchise that suffered injuries last year: the Baltimore Ravens.
The owners
1. Lamar Jackson (QB)
2. Mark Andrews (TE)
3. Marlon Humphrey (BC)
Lamar Jackson's 2021 season is an enigma. It started off well, including a huge passing performance against the Colts, where for the first time in his career, he passed 400 yards passing. And then, nothing. He fell in his ways, chaining interceptions like never before in his career, without producing on the ground as he used to do, not registering any touchdowns in the run from week 2. He he must regain his MVP level if the Ravens are to hope to appear as a candidate for the Super Bowl.
Good news for him, he will be able to count on his preferred target: Mark Andrews. For several seasons, the former University of Oklahoma has established himself as one of the best tight ends in the NFL. He is coming off his career best season, with 1,361 yards and 9 receiving touchdowns. A safety valve for Jackson, who should once again force-feed him balloons to advance the chains.
We have not seen in 2021 the same Marlon Humphrey as the previous season. In Marcus Peters' absence, he had to hold Baltimore's defensive backfield almost alone, resulting in the league's worst pass defense, before injuring himself. His absence was even more felt, with boxed yard wagons. If he can perform like he's proven he can, the Ravens' air defense should come back to life.
Undesirables
1. Alejandro Villanueva (OT)
2. Tavon Young (BC)
The Alejandro Villanueva experiment turned sour in Maryland. The veteran has allowed the most sacks of his career this season, also without being instrumental in the running game. With the expected return of Ronnie Stanley as left tackle, and the duel between Ja'Wuan James and Patrick Mekari for the position on the right, it seems pointless to keep the former Steeler. Cutting it would save the Ravens a significant $6 million.
Tavon Young has had a solid season despite being forced to play as an outside cornerback, not exactly his best position, following the injury to Marcus Peters. And, despite playing all 17 games, Young only made 51% of the snaps in a decimated defensive backfield. He had signed a 3-year contract extension before the 2019 season but then played just two games in two seasons before 2021. He costs way too much for an injury-prone cornerback slot. With $5.8 million in potential savings, the Ravens may be tempted to part with it.
Man of the Summer: Ronnie Stanley (OT)
At 100% of his means, Ronnie Stanley is one of, if not the best offensive tackle in the league. Except here it is: he has only played 7 games in the last two seasons. Serious ankle problems completely ruined his last two drills, and Lamar Jackson was left without his primary protection. If in 2020 his absence was nicely compensated by Orlando Brown, the latter has since become a Chiefs player. Baltimore staff had expected Stanley to be in top form in 2021, but that turned out to be a mistake. The Villanueva bet was a bitter failure, and the offensive line has taken on water this season. The level to which Ronnie Stanley will return will be decisive for the success of the Ravens' season. As a reminder, he is only 27 years old. Eric DeCosta, general manager of Baltimore, told a press conference a few weeks ago that he was very confident about the return of his tackle.
"I really believe that Ronnie is going to be back this year and play good football, play winner's football and be back to being the Ronnie Stanley who was an All-Pro left tackle. If he can do that, it will be a huge, huge advantage for us in the future. "
To be continued.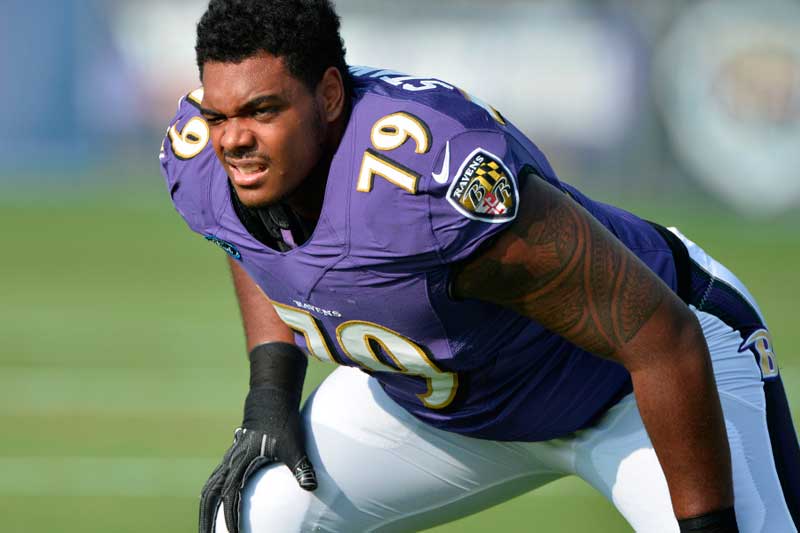 The main free agents
1. Calais Campbell (DE)
2. Brandon Williams (DT)
3. Patrick Ricard (FB)
4. Justin Houston (DE)
5. Anthony Averett (BC)
The others: Jimmy Smith (CB), Sammy Watkins (WR), Bradley Bozeman (C), DeShon Elliott (S), LJ Fort (LB), Tony Jefferson (S), Pernell McPhee (LB), Latavius ​​Murray (RB) , Tyler Huntley (QB)…
Eric DeCosta is going to have a lot of work this summer, especially on the defensive side of the ball. Calais Campbell, Brandon Williams and Justin Houston are all free agents, and it seems unlikely the Ravens will spend a lot to keep them. Williams has been a fixture in the middle of Baltimore's defensive line, but at 33, those prime years are behind him. Same observation for Justin Houston, who brought his presence and his experience to the group. Calais Campbell is 35 years old, and it was whispered in Maryland that retirement could be for this year, a matter to follow. Same story for Jimmy Smith, whose end of career has been mentioned. On the position of cornerback, Anthony Averett has overcome injuries this season, but with the returns of Marlon Humphrey and Marcus Peters remains to be seen what his role would be if he were to be extended.
On offense, Baltimore could do without Sammy Watkins. With the emergence of Devin Duvernay and Rashod Bateman, it's hard to see a place for a veteran receiver who was paid $5 million last year. Patrick Ricard should stay with the Ravens. While the role of fullbacks is trending down in the league, that's not the case in Baltimore's running game. The triple-Pro Bowler has his share in these successes.
Top 5 Needs
1. Offensive tackle
2. Defensive line
3. Cornerback
4. Offensive guard
5.Safety
The Ravens have a rather complete workforce, but must imperatively add a few touches to perfect the whole thing. It is in particular on the side of the lines that the work is the most important. Admittedly, on paper the positions of tackle are rather provided, but there is always an uncertainty concerning the health of Ronnie Stanley. In addition, having depth in these positions is essential to progress well in a long season. For the position of guard, it's a whole other concern: if Kevin Zeitler is a confirmed veteran in the league, what about Tire Phillips? The Ravens can definitely find better on the job.
On the defensive line, three veterans are out of contract: Calais Campbell, Justin Houston and Brandon Williams. None of the three represent the future, and it is not even certain that they will be in the squad next year. The Baltimore Ravens built a terrifying defensive image when they first came to the NFL, and it's time for that to become the case again.
The defensive backfield has also been in big trouble in 2021. If Marlon Humphrey and Marcus Peters are expected to be back on the pitch, talent and depth are going to have to be added to these positions, as finishing last team in the league against the passing game looks bad when aiming for the supreme title.
Target: Mike Hughes (BC)
Mike Hughes is coming off the best season of his career with the Chiefs. His impact has been undeniable in Kansas City's defensive backfield, despite a complicated start to the season for the entire squad. The former Viking finished with a career-high 47 tackles, 4 forced fumbles and one interception. Tavon Young could be cut this offseason, which would allow the Ravens to recoup the money needed to sign Mike Hughes, who could get a nice contract after his great season. With the returns of Humphrey and Peters, another good level cornerback is needed to secure the position in the event of a relapse of one of the two. Mike Hughes is part of this category of player.
New Blood: Trevor Penning (OT)
Trevor Penning is the kind of player the Ravens like. Powerful and vicious on the court, he is a very good blocker who can knock his opponents down. Specializing in the running game, he is a player with great potential who still needs to improve a lot against the pass. While he played in FCS with Northern Iowa, he's dominated the opposition so much that scouts are confident he'll fit in at the top level. He is also capable of playing guard, which could tempt the Ravens if the needs are greater inside than outside the line.
Other picks: DeMarvin Leal (DT, Texas A&M), David Ojabo (DE, Michigan), Kenyon Green (G, Texas A&M)