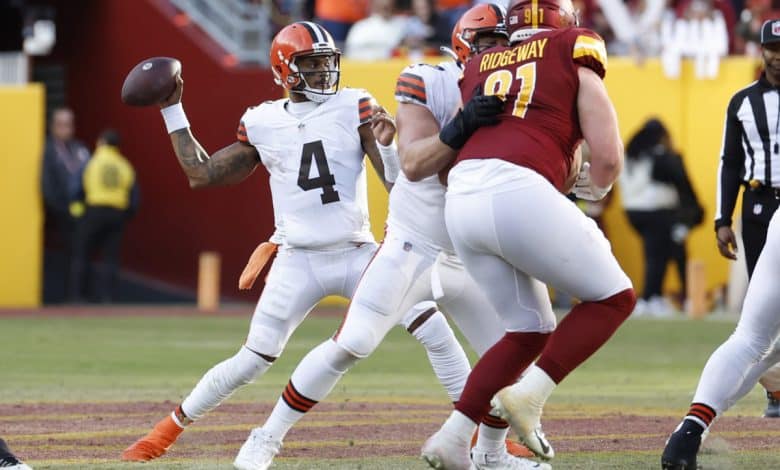 Because an NFL season is getting ready, it starts with an audit: what are the strengths and weaknesses of the workforce? Then, how to strengthen via the market and the draft. The editorial staff of DNA of Sports invites you to take stock of the off-season of the 32 franchises.
After a mediocre season with 7 wins and 10 losses, the "Dawg" took refuge at the bottom of its niche. Moving to Cleveland, who in the NFL cares about the "beware bad dog" sign? To remedy this, the 2023 off-season is crucial.
The owners
1. Myles Garrett (DE)
2. Denzel Ward (BC)
3. Nick Chubb (RB)
4. Joel Bitonio (OG)
Since being chosen number 1 in the draft, Myles Garrett has signed 75 sacks in six seasons! If the defense against the run has not been successful in 2022, that against the pass has been and it owes it above all to the Garrett-Ward duo. A quarterback under pressure needs to throw faster, so it makes it easier to work for coverage. And when the opposing receivers are well marked, it gives the linemen more time to put the pressure on. Then Myles Garrett and Denzel Ward represent the perfect combo.
While waiting for Deshaun Watson to find his rhythm, it was also a duo that carried the attack for the Browns. Guard Joel Bitonio is a safe bet: his first-team appointments All Pro in 2021 and 2022 confirm this. Solid in protection, it also contributes to the success of its runners.
Despite a major injury in college in 2015, Nick Chubb has had a tremendous career in the NFL: 1,525 yards in 2022 and more than 5,000 over the last four seasons!
Undesirables
– Jadeveon Clowney (DE)
– Greedy Williams (CB)
– Ronnie Harrison (S)
–John Johnson (S)
Just before the Browns' 17th and final game of 2022, Jadeveon Clowney discusses his future with the local press.
"It's 95% sure that I won't come back here. I want to play where people really want me. ", reported by cleveland.com
Eternal disappointment since he was number 1 in the 2014 draft, Jadeveon Clowney will play for a 5th different franchise for his 10th NFL season in 2023.
Chosen in the 2nd round in 2019, Andraez Williams disappointed. In the NFL, he made himself known by a rather cool nickname, but did not show himself to be sufficiently "greedy" as for the balls intercepted! Same observation for safety Ronnie Harrison. Signed after a promising 2019 season with Jacksonville, he showed little progress in three seasons with Cleveland. All at the end of the contract, none of these three players should be kept.
The case of John Johnson III is somewhat different: with 101 tackles in 2022, his season cannot be called bad. However, he also did not justify the expectations raised when he was recruited in 2021. And for a franchise with a limited salary margin, releasing him from his contract after June 01, 2023 would save almost $10M!
The summer man
Deshaun Watson (QB)

Suspended for his behavior off the field, Deshaun Watson arrived to take this team to a new level. Allowed to work with his coaches to prepare for the 2023 season, he should be much more comfortable leading the Browns attack.
The main free agents
– Ethan Pocic (OC)
– Kareem Hunt (RB)
– Anthony Walker (LB)
Arrived in 2022 from Seattle, Ethan Pocic justified being able to claim a second contract with Cleveland. After signing Deshaun Watson for $230 million, now is not the time to weaken his offensive line.
Kareem Hunt no longer has to prove his worth on the pitch. But in Cleveland, he's clearly being used after Nick Chubb. Because every year tons of runners are available for the draft, it seems unlikely that he will get a new contract with the Browns.
Anthony Walker had signed 113 tackles in 2021! But injured after just three games in 2022, he was unable to play his role as defense boss. The Browns brought in Deion Jones to replace him during the season but these two players, as well as Sione Takitaki, have reached the end of their contracts. With a limited salary margin, the Browns will have to make choices.
The main needs
– Linebacker
– defensive line
– Primary
– Recipient
The Browns' needs are in less impactful positions. Via the draft and the market, they were able to build around key positions: Deshaun Watson (QB), Myles Garrett (DE), Denzel Ward (CB). But offensive tackle Jedrick Wills must now take a step for his 4th NFL season.
Linebacker squad needs improvement, especially based on starts (see above). The defensive line offers a major player, one of the best in the league in all positions: Myles Garrett. But to accompany it, it is not the even tumbleweed but not far. Cleveland must hope for the good development of youngsters Alex Wright, Perrion Winfrey, Jordan Elliott and Tommy Togiai. And reinforcement!
In 2022, five defensive back were among the six most used players in defense. The holders are there but if injury, the depth is lacking! It will therefore be necessary to recruit and Andrew Adams (62 tackles and 1 interception in 2022), whom Jim Schwartz knew in Tennessee, should correspond to the profile sought: versatile and inexpensive.
As for the receiving unit, the Browns must recruit at least two: one during the transfer window and one in the draft.
Target
DJ Chark (WR–Lions)
The Browns do not have a payroll allowing them to attract big names. To make their huge investment in Deshaun Watson profitable, however, they must surround him better. If DJ Chark doesn't look better than a No. 3 receiver, that would do alongside Amari Cooper and Donovan Peoples-Jones.
In 2022, the Browns were only 20th in the NFL in yards per pass. This is undoubtedly due to the limits of Jacoby Brissett, but also to the fact that the sprinter Anthony Schwartz has been disappointing since his draft. A "deep threat" would be welcome in Ohio.
DJ Chark averaged 16.7 yards per reception in 2022 with the Lions. He was able to confirm in NFL his canon time during the NFL Combine 2018: 4.34 seconds over 40 yards!
New blood:
Keeanu Benton (DT – Wisconsin)
Only 25th run defense in 2022, the Browns need to add "meat" to the middle of their defensive line with a Nose Tackle-on the offensive line, the player in the center is slightly more advanced than his four teammates, like the nose on a face. A Nose Tackle is the defender lining up against that player.
Players like Keeanu Benton (Wisconsin) and Siaki Ika (Baylor) could be available with their first choice (42). The next day (rounds 4-7), they could also look at PJ Mustipher (Penn State), Jerrod Clark (Coastal Carolina) or DJ Dale (Alabama).