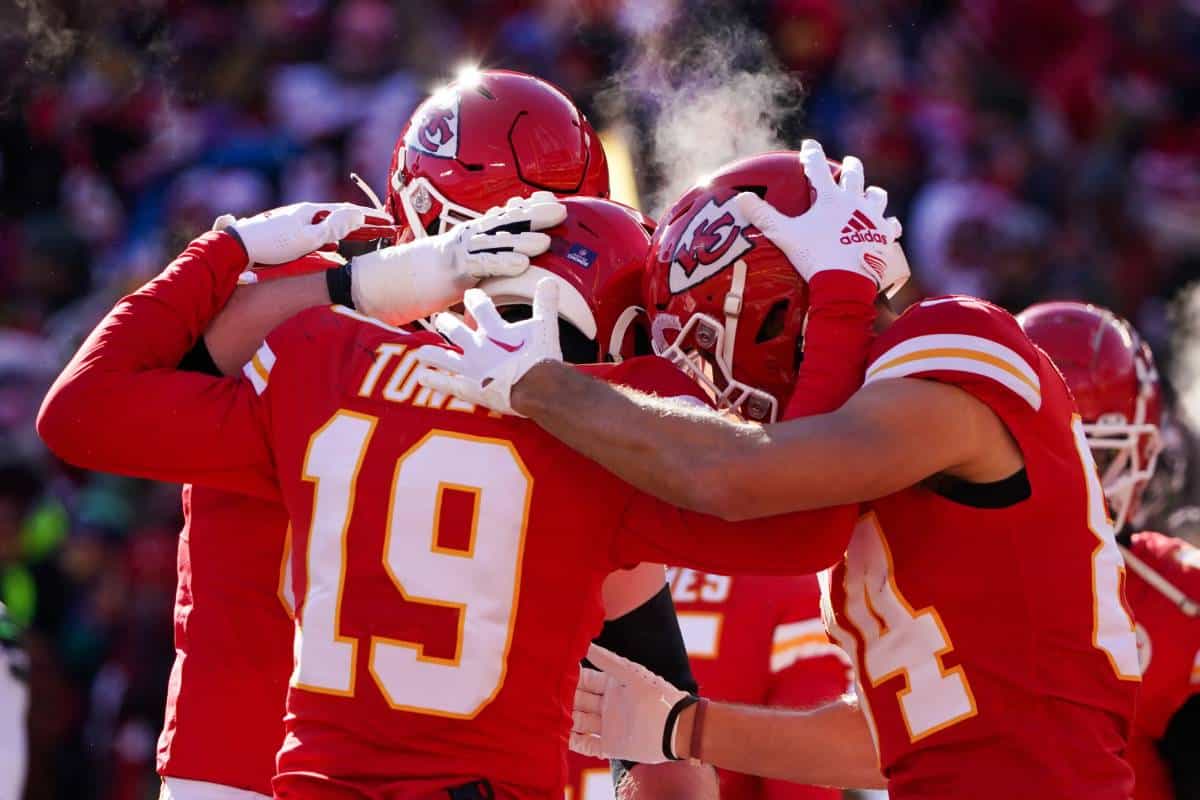 Article updated over matches.
Kick-off in the night from Saturday to Sunday at 02:15
Pittsburgh Steelers (6-8) – Las Vegas Raiders (6-8)
Kick-off Saturday at 10 p.m.
San Francisco 49ers (10-4) – Washington Commanders (7-6-1)
Dallas Cowboys (10-4) – Philadelphia Eagles (13-1)
Kick-off Saturday at 7 p.m.
Tennessee Titans (7-7) – Houston Texans (1-12-1)
Baltimore Ravens (9-5) – Atlanta Falcons (5-9)
Carolina Panthers (5-9) – Detroit Lions (7-7)
Chicago Bears (3-11) – Buffalo Bills (11-3)
Kansas City Chiefs (12-3) – Seattle Seahawks (7-8): 24-10
A first defensive victory for Kansas City? In any case, the defensive squad held on throughout the match, while the attack was less dominant than usual. It was not until there were just under 5 minutes left that Patrick Mahomes (16/38, 224 yards, 2 Tds) threw himself into the end zone for the 24-3 touchdown, synonymous with guaranteed victory. . And if the quarterback found himself in the position to conclude, it is also because his defense had intercepted Geno Smith a few moments earlier to give the ball back to the red attack with only twenty yards to go. Seattle scored well again after Mahomes, but it was too late.
Proof that the match was not as fluid as usual for them, the Chiefs punted six times in eleven possession. Kadarius Toney opened the scoring in the first quarter, before Jerick McKinnon (3 rec, 31 yards, 1 TD) doubled the lead in the second. The score is 17-0 at the break for the reds. Because Seattle gets there even less. Under pressure, jostled, and even shaken to the point of leaving the field for a few moments, Geno Smith (25/40, 215 yards, 1 TD, 1 int) did not take advantage of Kenneth Walker's solid match (26 races, 107 yards ).
The Seahawks only scored their first points on a field goal at halftime. Not enough to create the slightest momentum, since they came back from the locker room to fail again and again, before being finished off by Mahomes' race.
No, the Chiefs are not just a big offense. They can also win by gaining just 297 yards on offense. And that's very worrying for the rest of the league.
Minnesota Vikings (11-3) – New York Giants (8-5-1)
New England Patriots (7-7) – Cincinnati Bengals (10-4)
Cleveland Browns (6-9) – New Orleans Saints (6-9): 10-17
Deshaun Watson (15/31, 135 yards, 1 int) had the ball to get the equalizer. But he couldn't find a solution and was sacked on the fourth attempt with 19 seconds remaining. A rather logical end as Cleveland's attack did not show much. New Orleans did little more, but it was enough.
Surely not helped by the polar cold of Ohio, the two teams started with a series of five cumulative punts, then an interception from Andy Dalton (8/15, 92 yards, 1 TD). A lost ball that gave a good position to the Browns, who opened the scoring at the start of the second quarter on a run from Watson in the end zone. With a field goal on the following series, then one of the Saints, it's 10-3 at the break.
But when they return from the locker room, Andy Dalton and his teammates finally find the fault. Taysom Hill scored on the ground. The defense takes over by intercepting Watson in his part of the field. Alvin Kamara (20 races, 76 yards, 1 TD) then only has a few yards to go to score and put his team in front (17-10). The second half of the Browns can only be summed up in failures in attack, despite an Amari Cooper (6 rec, 72 yards) who did what he could and an honorable ground game led by Nick Chubb (24 runs, 92 yards).
The Browns are mathematically out of the running for the playoffs. New Orleans has hope.