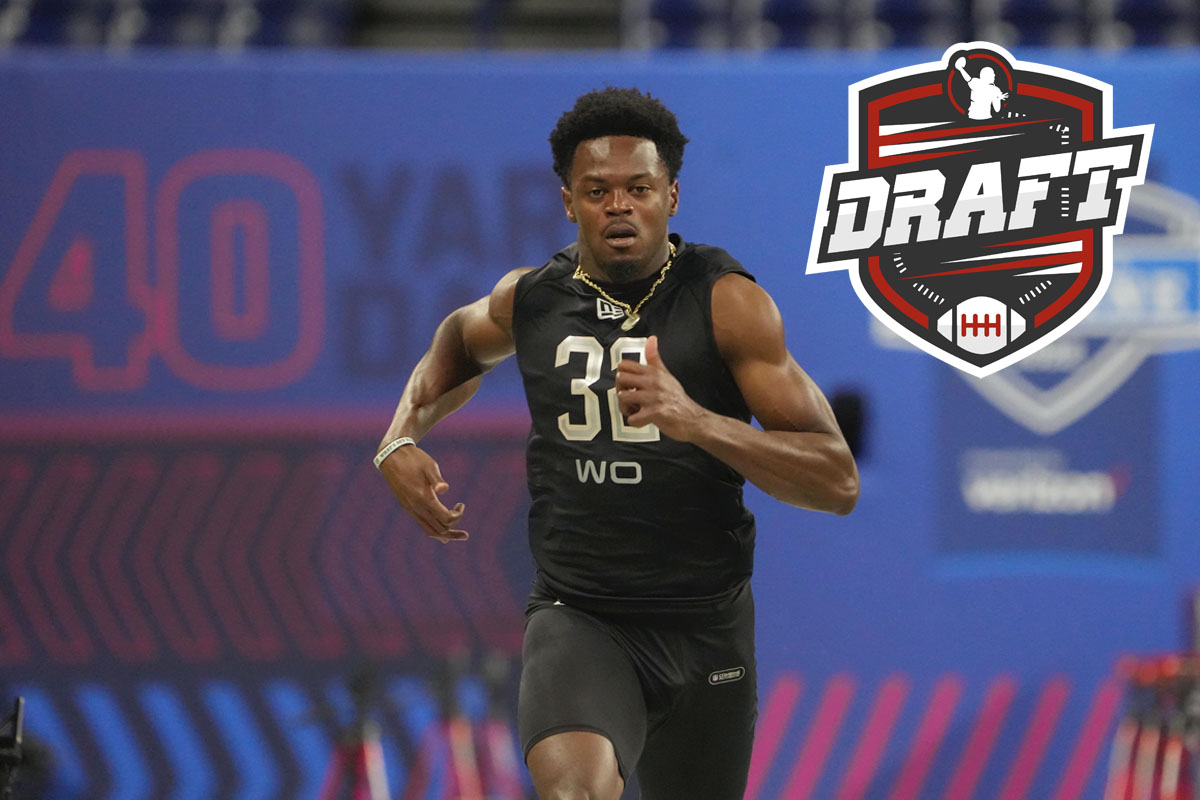 Because athletic qualities are essential in this sport, the NFL Combine allows certain players to score points with NFL staff. Who shone and won places in the 2022 draft?
Quarterbacks
Winners
Desmond Ridder (Cincinnati)
Kenny Pickett (Pittsburgh)
that Desmond Ridder being athletic is not a surprise but he demonstrated it again during the workshops: 3.22 meters exploding forward, 91 centimeters of dry relaxation and a time of 4.49 seconds on the sprint. Author of a superb season in 2021, he is a quarterback offering a double threat and the power of his arm has been at work in Indianapolis. More traditional in his game, Kenny Pickett nevertheless showed interesting athletic qualities. Of those having allowed him to be efficient to throw in movements at the university. His Combine began with the annual "hands too small". That won't stop him from being drafted because it didn't handicap him from throwing 42 touchdowns in 2021. But in 2022, he will be the QB with the smallest hands in the NFL, despite his height of 1.92m.
But also
Sam Howell (North Carolina) did not participate in the athletic workshops but did throw. In addition, he would have done very well in his interviews. And that is the most important thing. Dustin Crum showed he's an athletic quarterback, which explains his 12 rushing touchdowns in 2021. He might hear his name called in the draft, but not until the 6th round. same for me Cole Kelley (Southern Louisiana) which comes from the second level university. Exceeding two meters (2m04), he has a powerful arm and was able to show touch during his throws. His university production is dizzying, with 44 TDs in the pass and 16 on the ground in 2021. Of course, the opposition encountered puts the performance into perspective before rubbing shoulders at the absolute level. But a franchise could try the bet at the end of the draft, that of taking a replacement and more if affinities.
Malik Willis did not show his athletic qualities in the workshops but he threw on the other hand: and as with the University of Liberty, he showed a disconcerting ease in throwing in depth. Without pass rushers interfering with his timing or cornerbacks to mark the receiver, this practice of throwing deep during the Combine would not be likened to a long pass in the NFL. But the quality of the arm is there and it is an asset as to its rating for the draft. In the middle zones, these throws also had a lot of velocity.
Receivers
Winners
Tyquan Thornton (Baylor)
calvin austin (Memphis)
Skyy Moore (Western Michigan)
Hairy Jones (Tennessee)
Treylon Burks (Arkansas)
Chris Olave (Ohio State)
Christian Watson (North Dakota State)
Of course, with such a chrono Tyquan Thornton signaled himself. Official time 4.28, while the manual time had been able to believe in the record in 4.21! After a season with 948 yards and 10 touchdowns to help Baylor win the Big 12 conference, he was among those players "in the bubble": on the border between the 6th and 7th round of the draft. Inevitably, this speed will make many NFL managers review his matches. Especially since his athletic qualities were also highlighted during other athletic workshops, especially jumps (height and length).
Author of 19 touchdowns his last two seasons, Calvin Austin III finished his Memphis run considered a dynamic receiver worth a 5th- or 6th-round pick. After his performance in the Senior Bowl, he had already won two draft picks. After this NFL Combine, his athletic qualities make him a possible candidate to join the top 50: 4.32 seconds on the sprint, 99 centimeters of dry relaxation and 3.43 meters in long jump from a standing start. We were talking about it two days ago, as a possible Patriots pick in the 2nd round and Skyy Moore confirmed his value: dynamic player, able to play outside and inside, his explosiveness was evident in the workshops with measure and those with receptions. Hairy Jones is a weapon to attack the depth. His cannon time on the sprint reinforces this idea: 4.31 seconds, the 4th best time. In addition, he is very efficient in returning kicks (628 yards and 1 TD in 2021) so despite his age (he will be 25 at the start of the 2022 season), he will be of interest to a franchise from the 4th round.
Strong, Treylon Burks had shown surprising speed for his size with Arkansas. His time of 4.50 on the sprint confirmed the visual impression. He posted an impressive average of 16.9 yards per reception (65 rec) in 2021 and that was nothing new: 16.2 yards in 2020 (50 rec) and 16.4 yards in 2019 (29 rec). Chris Olave made his reputation with his quality in layouts at Ohio State, he also showed qualities of speed there. He confirmed with a gun time of 4.39 on 40 yards. Christian Watson is a player to follow, despite coming from the second level of university. His name was already known to amateurs, he confirmed with beautiful athletic tests: best performance in length, 6th in height and 3rd in the sprint! He also showed great ease in workshops with receptions.
But also
Kevin Austin (Notre Dame) had a good season in 2021 (888 yards and 7 TDs) but it was the only sporting one. In addition, he was suspended several times during his studies, in particular for having smoked prohibited herbs. Having a good height (1m89), he was very athletic and could represent a bet on the potential, from the 5th round. Much smaller, Bo Melton is also much livelier. And he too knew how to show himself to his advantage, both during the athletic workshops and during those with receptions. Alec Pierce also ran fast (4.33), especially for a player of 1m92 and 95 kilos. He also exceeded the meter in dry trigger: his mix of size, elevation capacity and speed make him a candidate for the end of the 2nd round, after his 884 yards and 8 touchdowns in 2021 and his participation in the NCAA playoffs. Other receivers with size have shown they have speed too: george pickens (Georgia) and Jalen Tolbert (South Alabama), for example. Less tall, Khalil Shakir (Boise State) has confirmed that he will hear his name on Draft Friday (rounds 2 and 3). It will be good on Thursday for Garrett Wilson (Ohio State) which once again showed great fluidity and reliability in the workshops.
Tight Ends
Winners
Daniel Bellinger (San Diego State)
Chigoziem Okonkwo (Maryland)
Greg Dulcich (UCLA)
Evolving in a less elevated conference, Daniel Bellinger was mostly a competent bouldering tight end in the Mountain West Conference. Only two touchdowns in two seasons but an effective role in assisting the ground game. In the 2022 Senior Bowl, he showed more receiving quality than expected. During the Combine, he showed more speed than expected: 4.63 seconds over 40 yards, the 4th time in his position. 4th performance also in dry relaxation among the tight-ends. He was also good running between the cones, showing an ability to change direction. And of course, in the workshop where the player must push a sled simulating an opponent, he confirmed his ability as a blocker. Here is a player who has greatly increased his rating during this draft process.
Player of average size (1m88) and light for the position, Chigoziem Okonkwo is a tight-end more intended to be a target for the quarterback, than a player capable of blocking. His cannon time on the sprint (4.52 seconds) confirms his profile, after his 52 receptions in 2021 (447 yards and 5 TDs). Greg Dulcich also is more in the "receiver" mold more than a blocker, but he is fast (4.61) and showed great ease in all workshops with reception of a ball.
But also
Player over 2 meters, Jelani Woods most often lifted the 100-kilo bar among tight-ends (24 times). This is not a guarantee of success in the NFL but in addition to being very tall and therefore rather strong, he signed the second fastest time on the 40 yards (4.61). Author of 8 touchdowns in 2021 with Virginia, his NFL dream gained momentum in Indianapolis. Relatively new to the position, recruited as a quarterback, he still has some technical work to do. His physique as well as his profile are not remember Logan Thomas (Commanders), enough to attract a franchise for a choice of the 5th round? Trey McBride confirmed that he is one of the best of this cuvée, with his mix of power and reception skills. It is rumored that he could be the first tight-end chosen, probably from the second round. Others have confirmed, like Charlie Kolar, Jalen Wydermyer, isaiah Likely, Peyton Hendershot, Grant Calcaterra, the versatile Connor Heyward and Jake Ferguson : if the vintage does not offer an exceptional player, there will be a lot of good deals in this position between rounds 3 and 6.
The absents
Tipped to be chosen in the 1st round, matt corral (Ole Miss) decided not to launch and save this for their Pro Day (March 23). Also absent due to injury, receivers Drake London (USC), John Metchie and jameson williams (Alabama) could not justify their status as future 1st round. also absent, Romeo Doubs (Nevada).
Losers
David Bell (WR, Purdue)
Carson Strong (QB, Nevada)
David Bell is especially recognized for its quality in terms of layouts but in a vintage with a lot of competition, its athletic workshops have undoubtedly made it lose a few points. No, neither his time on the sprint (4.62) nor his results below the average during the jumps, will make us forget his quality shown in the NCAA. But while some receivers scored points, the game of communicating vases caused him to lose some. Carson Strong did not participate in the athletic workshops, but that is not his first quality. During the workshops with throws, several of his balls were too low: difficult in this case, for the receiver, to make a comfortable reception and then gain yards. Granted, those t-shirt and shorts workshops aren't game situations, and Carson Strong performed well in college. But the NFL Combine is a competition, with fierce competition, and it hasn't shown itself to its advantage. Carson Strong losing the Combine? Not quite as he confirmed the power of his arm for deep throws. But he failed to change his status as, at best, 6th quarterback in this class.