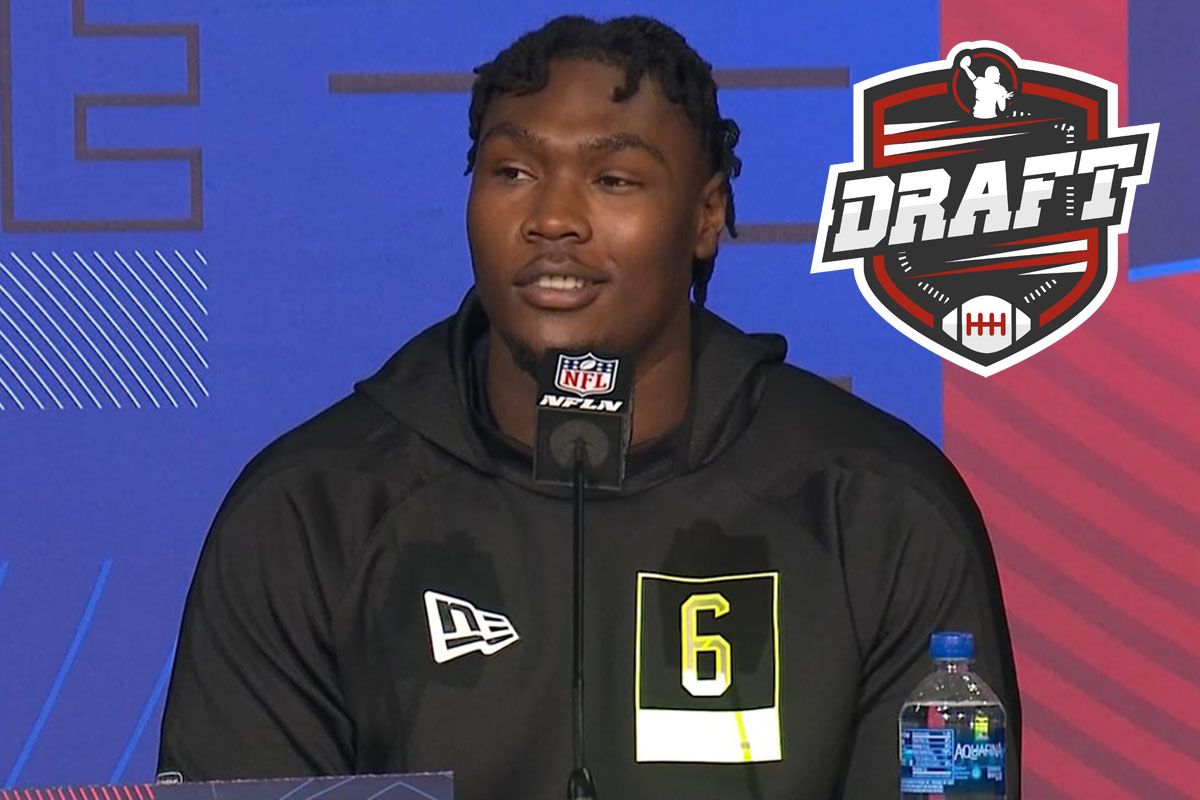 Because athletic qualities are essential in this sport, the NFL Combine allows certain players to score points with NFL staff. Who shone? Who lost spots in the 2022 draft?
Offensive tackles
Winners
Charles Cross (Mississippi State)
Ikem Ekwonu (NC State)
Bernhard Raimann (Central Michigan)
Trevor Penning (Northern Iowa)
Cross and Ekwonu are two athletic players, no wonder they performed well in the workshops. Especially during the sprint with times under 5 seconds and above all, great times over the first 10 yards. As explained here, being explosive on your first downs is fundamental on the offensive line. These two players should not escape the top 10 of the 2022 draft. During exercises with changes of direction, they confirmed this status. The 1st round, the Austrian Bernhard Raimann might know him too. Noticed during his senior season, he also scored points in the Senior Bowl last month. His athletic testing further added to his rating.
Trevor Penning is a very physical tackle. In some games, he gave the impression of playing against children. But the opposition encountered at the FCS level necessarily put this impression into perspective. But after showing his qualities against the best in the country during the Senior Bowl, he still scored points during the Combine: sprint, high and long jump and specific workshops, he ticked all the boxes. He even won the "3 Cone", this workshop measuring the ability to change direction quickly. Impressive for a player of 2m04 and 147 kilos. He will not escape the 1st round of the draft, it now remains to be seen at what level of it.
But also
Slender tackle, Kellen Diesch (Arizona State) is a very mobile player and he showed it again in all the workshops. His supports are lively to effectively protect his quarterback. Its lack of power serves it but it will interest a franchise in need of depth. Tall and athletic too, abraham lucas (Washington State) will also be selected from the 4th round.
Guards and Centers
Winners
Zion Johnson (Boston College)
Cole Strange (Chatanooga)
Player with a compact physique (1m92 for 142 kilos), Zion Johnson is tough to open up gaps for the ground game. His 32 repetitions with the 100 kilo bar showed it again. The lightness of his footwork, shown in the specific workshops, should open the doors to the 1st round of the draft. After playing tackle in 2020 then guard in 2021, he had also been good as a center during the Senior Bowl. He too had opened his eyes during the Senior Bowl, the guard Cole Strange (Chattanooga) performs a superb draft process. However, coming from the second level of university, he will play in the NFL in 2022.
But also
Cameron Jurgens (Nebraska) is a very athletic center, the type to know how to pick up on the second curtain to extend the run of the running-back. If some managers had already checked his name as a potential signing after the draft, his performance makes his selection in Las Vegas likely. Chris Paul (Tulsa) has a famous name in the sport and he should make his name heard in 2022. Athletic, he is a mobile guard who would be well suited to a zone system. A bit the same profile with Zachary Thomas. Note that his brother Cameron Thomas, also from San Diego State, will be on track tonight with the defensive line. At the center post, ZachTom (Wake Forest) is a very mobile player and he should have an opportunity on Saturday of the draft (rounds 4-7).
Runners
Winners
Breece Hall (Iowa State)
Kenneth Walker (Michigan State)
Ultra productive for two seasons (41 touchdowns on the ground), Breece Hall is one of two favorites to be the first chosen in his position. His performance during this Combine only confirmed his rating. The other favorite to be the RB1 of the 2022 draft is Kenneth Walker. And he didn't disappoint either. While neither should be a 1st round pick, both players have solidified their 2nd round pick statuses.
But also
Stone Strong (South Dakota State) was productive at the second college level, including a lot of big plays and he showed his speed in the sprint. He also excelled in jumps (height and length). Trestan Ebner (Baylor) is a complete player who will bring rotation to the running position while being an excellent special team player. Well worth a 6th round pick. A spot that could also be favorable to Jerrion Ealy (Ole Miss) and to Ty Chandler (A C). James Cook (Georgia) should leave him before that. His explosiveness was evident during drills specific to the runner's position.
The absents
Alabama tackle Evan Neal has decided to be available for interviews but for the workshops, it will have to wait until March 30 at its Pro Day. But he still impressed the staffs because if he weighs 153 kilos, his very athletic body does not show it. Must say that he is very tall at 2m04 and after his three seasons (in 3 different positions in Alabama), he should be a top 5 choice, possibly number 1. Due to a foot injury, the center Tyler Linderbaum did not participate in the workshops, just like the huge Daniel Faalele (Minnesota).
Losers
Nicholas Petit-Frere (Ohio State)
Kyren Williams (Our Lady)
Nicholas Petit-Frere started the 2021 season as a potential first-round pick. A rather average season, marked in particular by his debacle against Aidan Hutchinson, he had the opportunity to raise his rating during the Combine. Average athletic and agility tests during the workshops but not better, he will not have succeeded in this mission. His potential should nevertheless allow him to be chosen between the end of the 2nd round and the 3rd. Most athletic exercises have not been beneficial to Kyren Williams. That doesn't take away from his good production with Notre Dame, but at a position with a lot of competition, he lost a few places after this Combine.
Echoes of the Combine
– Scouting Combine organizers have moved bench press rehearsals to the same day as on-court workshops this year. This caused most prospects to skip this part of the program. Only 18 of the 59 offensive linemen chose to lift weights Friday, according to The Associated Press. A trend followed on the other positions. A lot of players have indicated that they will comply with the exercise during their Pro Days. Zion Johnson (G, Boston College) had the best performance so far with 32 reps.
– USC's catcher Drake London did not train during the Scouting Combine and continues his rehabilitation following his right ankle fracture suffered on October 31 against Arizona. ESPN reports that London will also not participate in his university's Pro Day on March 23, but will host his own day of workshops on April 5 in Los Angeles.