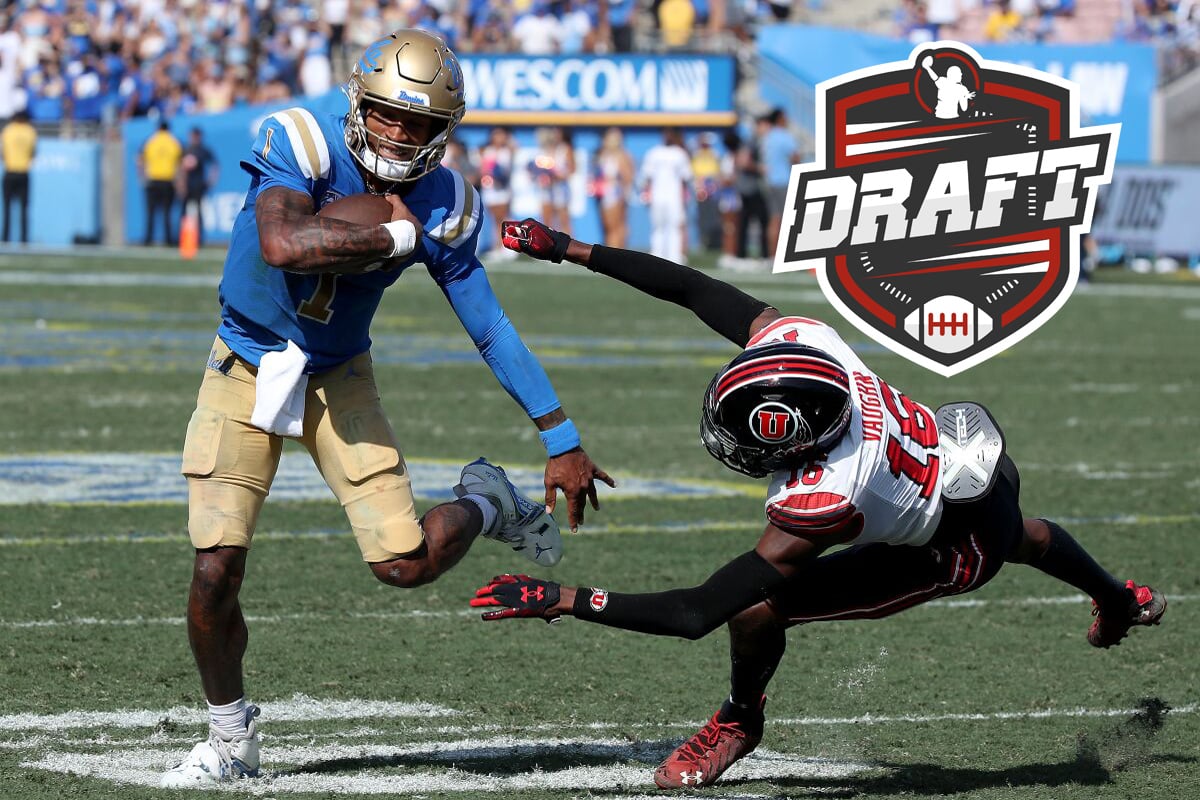 Every Sunday, the editorial staff of DNA of Sports offers you an update on university players. Who performed well and who disappointed? Here is a weekly focused on the individual performances of future NFL players. Only players eligible for the 2023 draft are listed here.
On the program for week 6 of college soccerthe Big 12 is in the spotlight with a meeting between two disappointing teams, Texas and Oklahoma, and one opposing two undefeated surprise teams, Kansas and TCU.
Finally, a clash between two coaches who have hated each other since an offseason controversy, Nick Saban of Alabama and his former disciple in his time at LSU, Jimbo Fisher, now coach of Texas A&M.
Quarterback of the week
This 2023 promotion is rich in quarterbacks. The opportunity to focus on a player in this position.
Dorian Thompson-Robinson, QB, UCLA: 18/23, 299 yards, 4 touchdowns and 1 interception. 1 TD on the ground.
A 4-star rookie in 2018, Dorian Thompson-Robinson seems to be coming of age. Ravens, Eagles and Falcons benefit from a dynamic quarterback and it works well for them. In a league where one draws inspiration from the success of others, his "double threat" profile is attractive. What to be drafted from the 1st round? The Seattle Seahawks (see mock draft below) could restart their reconstruction with a system Read Pass Option around the little prodigy from UCLA.
Mentions
CJ Stroud (QB, Ohio State): 21/26, 361 yards, 6 TDs, 1 INT
Tyler Van Dyke (QB, Miami (FL)): 42/57, 496 yards, 3 TDs, 1 INT
Will Rogers (QB, Mississippi State): 31/48, 395 yards, 3 TDs
Graham Mertz (QB, Wisconsin): 20/29, 299 yards, 5 TDs
Jason Bean (QB, Kansas): 16/24, 262 yards, 4 TDs, 1 INT
New season record for CJ Stroud with 6 touchdowns and in particular 2 for the excellent Marvin Harrison Jr. He is back in the race for the best university player and is taking advantage of the absence of Bryce Young this weekend. Graham Mertz had his best game of the season against Northwestern for interim coach Jim Leonhard's first. His duet with Chimere Dike was impressive and totally decimated the Wildcats secondary.
Tyler Van Dyke had an excellent game despite his team's loss to North Carolina. He wakes up after complicated first matches and validates the choice of his coach Mario Cristobal. Will Rogers is as precise as ever. He's the season's top pitcher with 19 touchdowns. He is on the basis of his last season where he put 36 touchdowns: a real bomber!
To see or see again: Kansas against TCU, the game of the week. With in particular the substitute quarterback of Kansas Jason Bean: this Mister Bean there did not make the defenders of TCU laugh!
Offensive Player of the Week
Israel Abanikanda, RB, Pitt: 320 yards and 6 touchdowns
Already author of 6 touchdowns in 5 games in 2022, Israel Abanikanda doubled his counter against Virginia Tech. A powerful and nevertheless fast player, he could be this type of runner chosen only in the 4th round but who performs in an NFL committee, from his rookie season.
Mentions
Jonathan Mingo (WR, Ole Miss): 9 receptions, 247 yards, 2 TDs
Quentin Johnston (WR, TCU): 14 receptions, 206 yards, 1 TD
Michael Mayer (TE, Notre Dame): 11 receptions, 118 yards, 2 TDs
Bijan Robinson (RB, Texas): 22 carries, 130 yards, 2 TDs
Zach Charbonnet (RB, UCLA): 22 carries, 198 yards, 1 TD
Steve Avila (OL, TCU)
Ole Miss Jaxson Dart quarterback broke his career passing high with 448 yards. Of those yards, half is for Jonathan Mingo. The Rebels receiver signs a season and college record in a game. Quentin Johnston wakes up and with style! Facing Kansas in one of the tightest games of the weekend, he shone and showed why he could be a strong NFL prospect. Michael Mayer made misery in the defense of BYU and allows Notre Dame to record a 3rd consecutive victory.
Among the runners, in addition to Israel Abanikanda, Bijan Robinson was decisive in the blow-out of Texas against Oklahoma (see later). Zach Charbonnet martyred the defense of Utah and in particular Mohamoud Diabate.
If TCU is still undefeated, it also owes it to its line, and particularly Steve Avila. The offensive lineman has already played 3 positions on the line during his university course. His playing intelligence, his technique, and his mobility for a player of his size (1.93, 154 kg) are astonishing. He can become a solid starter next season.
Defensive Player of the Week
Tuli Tuipulotu (DT, USC): 5 tackles, 3 sacks, 1 pressure
If USC is still undefeated this season thanks to its victory against Washington State, it owes it to its defense and a great Tuli Tuipulotu, author of an incredible first period with 3 sacks including 2 on the same series.
A 3-star rookie in 2019, the defensive tackle is able to adapt to all game patterns, in 4-3 as a defensive tackle, or in 3-4 as a defensive end. Author of 4 sacks this season, he is approaching his total of last season which was 5.5.
In addition, he is surrounded by a family that plays in the NFL since his brother Marlon plays for the Philadelphia Eagles and his cousin is the safety of the San Francisco 49ers, Talanoa Hufanga. Both players played at USC in college as well. No doubt he will join them soon, and perhaps as early as next season.
Tuli Tuipulotu has three first half sacks 🔥

The USC defensive lineman also moves like this at 6'4", 290lbs 🤯

CFB Live Blog: https://t.co/9B6PmLLNH8

— Pro Football Network (@PFN365) October 9, 2022
Mentions
Will Anderson Jr. (EDGE, Alabama): 8 pressures, 1 tackle for loss
Byron Young (EDGE, Tennessee): 5 tackles, 2.5 sacks
Drew Sanders (LB, Arkansas): 16 tackles, 1 pass defended, 1 pressure
Kenny Logan Jr. (S, Kansas): 12 tackles, 1 covered fumble
Clark Phillips (CB, Utah): 2 tackles, 1 interception for TD
Amazing Will Anderson! In addition to penalties sometimes not whistled against him, he made see all the colors at the offensive line of Texas A&M and Alabama narrowly escaped in this game (24-20). Byron Young signed 4 pressures against Florida last week, this week theedge rusher des Vols is 2.5 sacks against LSU: a player to watch for the draft.
Arkansas lost to Mississippi State, but Drew Sanders once again stood out. His duet with Bumper Pool is a nightmare for a ground facing attack. Clark Phillips III was avoided by UCLA's offense but still made the interception allowing the Utes to get back into the game, before ultimately losing. Kenny Logan Jr. was having a great game before his injury, with a fumble that allowed Kansas to recover the ball and come back in front. It is no coincidence that Kansas has conceded 28 points in his absence.
Disappointments of the week
Tony Grimes (BC, North Carolina): 3 tackles, 1 deflected pass
Tank Bigsby (RB, Auburn): 10 runs, 19 yards
If he manages a game 3 minutes from the end of the match which allows North Carolina to preserve 1 touchdown in advance, Tony Grimes was transparent against Miami (FL). Beaten by Key'Shawn Smith and Colbie Young on their respective touchdowns, he did not reassure the NFL scouts about his ability to tackle and playmaker.
Tank Bigsby had the opportunity to shine against Georgia deprived of Jalen Carter. But, not helped by his line and offensive game patterns that do not benefit him, he could not shine and sees his rating drop. He ran for just 326 yards this season, which is low for a player who is supposed to be a playmaker.
Action of the week
Chance Nolan absent, his replacement Ben Gulbarson showed clutch. Pass for Tre'Shaun Harrison and the receiver does the rest to give Oregon State the win. However, Stanford led 24-10 at the end of the 3rd quarter.
An absolute dime. @Bengulbranson x @Treshaunn__

📺ESPN
📱 https://t.co/o5JTj4CNgm pic.twitter.com/7YRID5bK3X

— Oregon State Football (@BeaverFootball) October 9, 2022
Bonus of the week
While the Sooners remained on four straight wins in the Red River ShowdownOklahoma suffered a real rout against Texas: 49-0! Ouchfans will have a hard time getting over it.
¯_(ツ)_/¯

📸 @EastDallasHorn pic.twitter.com/ylw49gJmgy

— TBP College Football (@thebluepennant) October 8, 2022