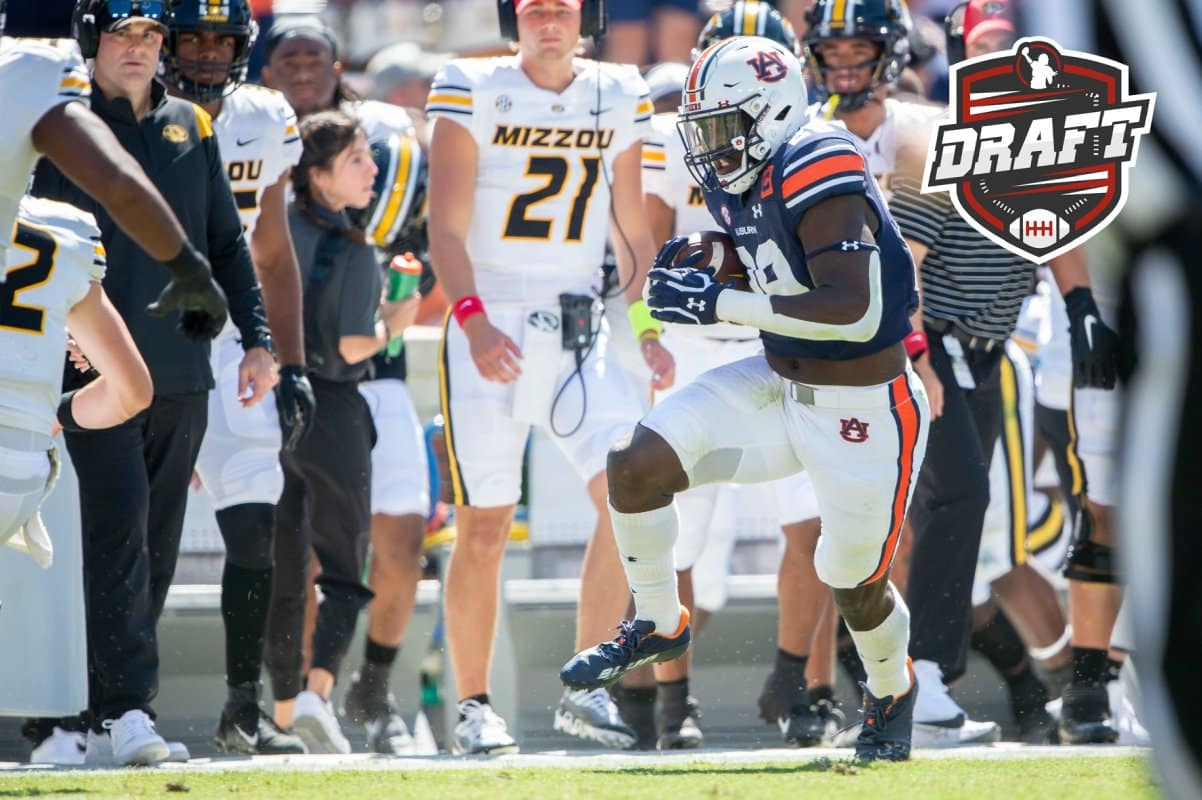 Every Sunday, the editorial staff of DNA of Sports offers you an update on university players. Who performed well and who disappointed? Here is a weekly focused on the individual performances of future NFL players. Only players eligible for the 2023 draft are listed here.
On the program for week 4 of college soccer, the state of Texas is in the spotlight with several oppositions between Texas teams, including the rivalry between Texas and Texas Tech, the former university of Patrick Mahomes, in the Big 12. A highly anticipated division duel between Florida and Tennessee in SEC East and between Clemson and Wake Forest in ACC Atlantic. Finally, the first test for the best offense in the country, Ohio State against one of the best defenses in the country, the Wisconsin Badgers.
quarterback of the week
This 2023 promotion is rich in quarterbacks. The opportunity to focus on a player in this position.
Hendon Hooker (QB, Tennessee): 22/28, 349 yards, 2 TDs, 13 carries, 112 yards, 1 TD
In the duel to be the 3rd quarterback called in the draft next April behind CJ Stroud and Bryce Young, Hendon Hooker may have taken a good lead over some competitors, including his opponent Anthony Richardson. If he committed a fumble during the bad period of the Volunteers in the 2nd quarter, the 24-year-old quarterback showed a foolproof mentality during the match to lead his team to victory 38-33. And all this, without his number 1 receiver, Cedric Tillman.
Hendon Hooker delivers a bit of magic. pic.twitter.com/B0LrBIvVSc

— SEC on CBS 🏈 (@SEConCBS) September 24, 2022
Mentions
DJ Uiagalelei (QB, Clemson): 26/41, 371 yards, 5 TDs
Malik Cunningham (QB, Louisville): 14/22, 186 yards, 1 TD, 9 carries, 113 yards, 3 TDs
Adrian Martinez (QB, Kansas State): 21/34, 234 yards, 1 TD, 21 carries, 148 yards, 4 TDs
Jaren Hall (QB, BYU): 26/32, 337 yards, 4 TDs
Will Rogers (QB, Mississippi State): 39/50, 406 yards, 6 TDs
Jalen Daniels (QB, Kansas): 19/23, 324 yards, 4 TDs, 11 carries, 83 yards, 1 TD
A huge duel between DJ Uigalelei and Sam Hartman (QB, Wake Forest, 20/29, 337 yards, 6 TDs) which turned to the advantage of the first during Clemson's 51-45 victory over Wake Forest. Are Malik Cunningham and Adrian Martinez the new Lamar Jackson? The Louisville quarterback scored 4 touchdowns and Adrian Martinez led the Kansas State team to the weekend upset against Oklahoma. Jaren Hall is a perfectionist. Accurate, he is 115 consecutive passes without an interception. Will Rogers in record mode. After his failed performance against LSU, the Bulldogs quarterback is making up for it against Bowling Green. Finally, Jalon Daniels is having an exceptional start to the season with Kansas where he already equals his number of touchdowns thrown in a season with 7.
Offensive Player of the Week
Nathaniel Dell (WR, Houston): 7 receptions, 134 yards, 1 touchdown
If Houston's defense was decisive late in the game against Rice with a fumble returned for a touchdown then an interception, the attack was also illustrated and in particular Nathaniel 'Tank' Dell. His deep threat profile should appeal to NFL team scouts in need of receivers of his style. His 40-yard touchdown is a combination of speed and separation in addition to having very reliable hands. Despite his size, which could be a problem, he could shake up the hierarchy among receivers eligible for the 2023 NFL Draft.
Touchdown from the 45th second.
Mentions
Blake Corum (RB, Michigan): 30 carries, 243 yards, 2 TDs
Zach Charbonnet (RB, UCLA): 9 carries, 104 yards, 3 TDs
Israel Abanikanda (RB, Pittsburgh): 19 carries, 177 yards, 4 TDs
Devon Achane (RB, Texas A&M): 19 carries, 159 yards, 1 TD
Tayvion Robinson (WR, Kentucky): 7 receptions, 147 yards, 2 TDs
Michael Mayer (TE, Notre Dame): 7 receptions, 88 yards, 1 TD
Anton Harrison (OT, Oklahoma)
After being an offensive player last week, Blake Corum confirmed against Maryland with more than 200 yards on 30 carries. Zach Chardonnet marched on Colorado with his best performance of the season. Israel Abanikanda is a prospect to watch at the end of the draft with his bulldozing profile and his movements after contact. After a bad start, Devon Achane caught up in the 2nd quarter and then scored a touchdown in the 2nd half to allow his team to pass.
Among the receivers, in addition to Dell, Tayvion Robinson could become Will Levis' new favorite comrade in Kentucky. Michael Mayer did what he wanted with the Tar Heels defense with 7 receptions and 88 yards in a very productive offense where the Fighting Irish have accumulated 576 yards.
Finally, Anton Harrison has been very clean in both types of offensive plays for Oklahoma. No sack or pressure conceded despite a false start penalty.
Defensive Player of the Week
Derick Hall (DE, Auburn): 6 tackles (including 3 for loss), 2 sacks, 2 covered fumbles, 1 interception

A 4-star rookie upon leaving high school in Gulfport, Mississippi, Derick Hall revealed himself last season with 9 sacks and could have presented himself for the 2022 NFL draft. He preferred to continue with the Auburn Tigers where he already 3 sacks in 4 games. During the game between Tigers against Missouri, no one could stop him with a decisive interception. Very versatile (he played tight-end in high school), his profile could seduce an NFL team around the 2nd-3rd round.
DERICK HALL CAN DO ALL 🔥

☑️ First career INT for @derick_hall9#WarEagle🦅 | 📺 https://t.co/pQk5h4rqz3 pic.twitter.com/WgTKUjuo3g

— Auburn Football (@AuburnFootball) September 24, 2022
Mentions
Tyler Davis (DT, Clemson): 6 tackles (including 3 for loss), 2 sacks, 1 pass defended
Will Anderson Jr. (EDGE, Alabama): 5 tackles, 3 sacks
Byron Young (EDGE, Tennessee): 4 tackles, 4 pressures
Nick Hampton (EDGE, Appalachian State): 5 tackles, 2 sacks, 1 forced fumble, 1 pass defended, 2 pressures
Carlton Martial (LB, Troy): 18 tackles
Another player to be decisive in the match of the week between Clemson and Wake Forest, Tyler Davis. The defensive tackle makes the necessary plays in overtime, including 1 deflected pass. Will Anderson returns to the race for MVP with 3 sacks against Vanderbilt. Byron Young disrupted Anthony Richardson who committed 1 fumble and 1 interception as a result of his pressure. Nick Hampton showed qualities of speed that could make him a good NFL player. Finally, record for Carlton Martial who is now the leader in the number of tackles in the Sun Belt conference with 475 tackles and contributed to the victory of his team against Marshall.
Disappointments of the week
Tyler Van Dyke (QB, Miami (FL)): 16/32, 138 yards, 1 TD, 2 INT
Phil Jurkovec (QB, Boston College): 15/23, 105 yards, 1 TD, 2 INT
Gervon Dexter (DT, Florida): 1 tackle
How hard it is for quarterbacks Tyler Van Dyke and Phil Jurkovec! Projected in the 1st round, the Hurricanes player was benched in the 2nd period after a catastrophic 1st half. Regarding the Boston College player, he had a lot of difficulties in the first period. If his final record is flattering, he did not add value to his team during the Eagles' loss to the Florida State Seminoles. Finally, Gervon Dexter had started his season well but for 2 games, the Gators' kung-fu panda has struggled to make an impact. He put no pressure and was often well blocked by the Tennessee line. Same remark for his teammate Brenton Cox Jr.
action of the week
A lot of action could be in this column between the Missouri running back fumble that gave the Auburn Tigers the win, Middle Tennessee's 98-yard touchdown against Miami (FL) and then the response with a punt return 91 yards from the opposing team. But, we chose the action of the Texas A&M defense which tipped the game in favor of the Aggies. It's all there, fumble, pitchout and long run from safety Demani Richardson. Texas A&M wins 23-21 and achieves the upset against Arkansas. And all of this at AT&T Stadium, home of the Dallas Cowboys.
You have to see this to believe it.@chappell_tyreek →@therealdemani→ 97 yards to the 🏡

📺 ESPN | #BTHOarkansas pic.twitter.com/M3Ukdtdr4y

— Texas A&M Football (@AggieFootball) September 25, 2022
Bonus of the week
Last week we talked about Appalachian State. Today, we will talk about his opponent this week, James Madison University, located in the state of Virginia. This university is playing its first year in the Sun Belt conference after having been in FCS (2nd university division) during the previous years. The scenario of the match is worthy of a final of the Super Bowl because the Mountaineers led 28-3 in half of the 2nd quarter. 29 unanswered points later, the Dukes win 32-28!
WHAT. A.WIN. Relive all the key plays from Saturday's comeback at App State.#GoDukes pic.twitter.com/81nkddAdYr

— JMU Football (@JMUFootball) September 25, 2022