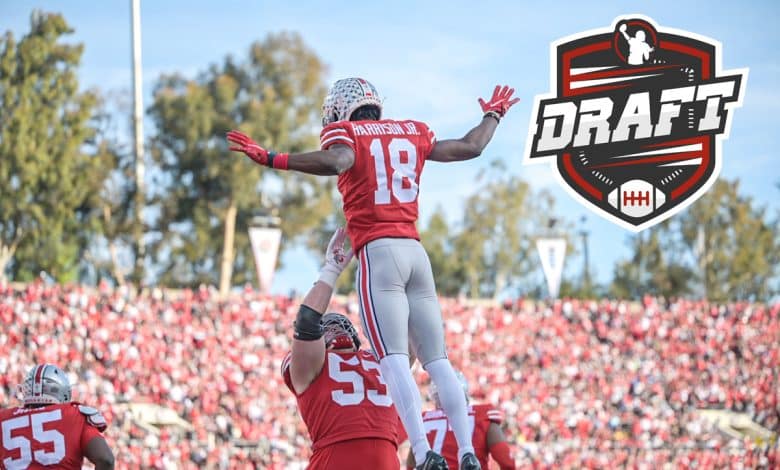 The university season begins this Saturday, August 26, 2023. 126 universities divided into 10 conferences (and 4 so-called independent universities, without affiliation to a conference). Twelve matches for each and when a team wins at least six then it participates at the end of the year in a prestigious match (Bowl Game). A committee votes to designate the four universities that compete in the playoffs.
The stars
The class of quarterbacks is promising. Caleb Williams (USC) is a dynamic pitcher reminiscent (a bit) of Patrick Mahomes with his ability to improvise in the pocket. Drake Maye (North Carolina) is tall, has a cannon arm and he knows how to be mobile wisely!
Behind the two monsters, the rest of the QB vintage offers talents that must be confirmed in 2023. Starting with Quinn Ewers (Texas), the highest-rated high school rookie in history! Jordan Travis (Florida State) lacks a bit of height but his dual-threat profile is exciting. JJ McCarthy (Michigan), Michael Penix (Washington), Sam Hartman (Notre Dame), Cameron Rising (Utah) and Bo Nix (Oregon) are in ambush.
The other offensive positions also offer potential future NFL superstars. Receiver Marvin Harrison jr (Ohio State) is the worthy son of his Hall of Famer of father while the tight end Brock Bowers makes enormous differences: 1800 yards and 20 touchdowns in two seasons! No Bijan Robinson as runner but many profiles who will come out of the 2024 draft on Friday (rounds 2 and 3): Raheim Sanders (Arkansas), Braelon Allen (Wisconsin), Blake Corum (Michigan), Will Shipley (Clemson) , Trey Benson (Florida State) or TreVeyon Henderson (Ohio State).
Regarding players who do not have the ball in hand, two positions are particularly rich: offensive tackle and edge rusher. To protect the quarterbacks, Joe Alt (Notre Dame), Olu Fashanu (Penn State), Kingsley Suamataia (BYU), JC Latham (Alabama), Amarius Mims (Georgia), Jack Nelson (Wisconsin) and Jordan Morgan (Arizona) are very promising. No Will Anderson, for the moment, but a very talented class at the position of Edge: Bralen Trice (Washington), Dallas Turner (Alabama), Jack Sawyer (Ohio State), Chop Robinson (Penn State) and Jared Verse (Florida State).
Favorites
Find the eight main ones in this article published yesterday. Unsurprisingly, Ohio State, Georgia and Michigan are among them. However, a usual favorite is not listed in the top eight!
Possible surprises
As in 2022 with TCU, the south of the country could provide the sensation 2023! The Texas Longhorns offense will liven up the Saturdays of college football : Quinn Ewers (QB), Xavier Worthy and Adonai Mitchell (WR), Ja'Tavion Sanders (TE), Jonathon Brooks (RB) and Kelvin Banks (OT). Something to delight the average 100,242 spectators!
Tipped to return to the front of the stage: the Florida State Seminoles. There too, a good quarterback (Jordan Travis), top receivers in Johnny Wilson and Keon Coleman, a good runner in Trey Benson and a versatile tight end in Jaheim Bell. With a defense led by linebacker Akeem Dent and a star in Jared Verse (Edge), Florida State could once again become a stronghold in 2023.
Other potential surprises: Penn State, Washington, Tennessee, Notre Dame, Oregon, Clemson and LSU.
the attraction
Deion Primetime Sanders was an incredible player (his portrait here). Coach for two seasons at the second university level (Jackson State), he now leads a Power 5 team (the 5 best conferences). And because college players can now change teams like shirts, he has completely rebuilt the Colorado Buffaloes squad: 16 new out of the 22 starters!
5-star cornerback in 2021, Travis Hunter surprised his world by joining Division 2, to follow in the footsteps of his coaching idol. He stays with his mentor by now studying in Colorado. Very rare at the university level, Travis Hunter is listed in defense… and in attack! He will play cornerback but sometimes also as a receiver.
Two sons of Deion Sanders are also making the journey from Jackson State (state of Mississippi) to Colorado. Shedeur Sanders will be the team's starting quarterback and Shilo Sanders a safety.
In defense, the Buffaloes rely on defensive end Jordan Domineck (7.5 sacks in 2022 with Arkansas), on linebacker Demouy Kennedy (4-star rookie who did not win in Alabama) and therefore on Travis Hunter. On offense, the main weapon is the formidable runner arriving from the University of Houston Alton McCaskill: 961 yards and 16 touchdowns in 2022. For the aerial game, Colorado has recruited a duo from South Florida with the explosive Jimmy Horn and Xavier Weaver (718 yards and 6 TD in 2022).
The key matches
Watching university games makes it possible to identify the best prospects for the 2024 draft. If the level of play is necessarily lower than in the NFL, certain oppositions are worth by their rivalries, for the level of play of the best programs or quite simply for the incredible atmosphere in the stadiums! Here are a few must-haves:
– Notre Dame against Navy, August 26: two universities with a strong identity but above all, for us Europeans, a match played in Dublin (Ireland).
– LSU against Florida State, September 3: two dynamic quarterbacks and two playoff contenders.
– Texas against Alabama, September 09: how did Alabama digest the departure of Bryce Young? Especially against a talented quarterback.
– Iowa against Penn State, September 23: a good opposition but above all the spectacular annual "White Out" of Penn State University with more than 100,000 spectators all dressed in white!
– Georgia vs. Florida, October 28: a historic rivalry and two programs that provide the NFL with a lot of players each year.
– USC against Washington, November 4: match between the two best teams on the Pacific coast. Opposition between two very talented quarterbacks.
– Clemson vs. North Carolina, Nov. 18: Two great quarterbacks and an ACC (Atlantic Coast Conference) rivalry game.
– Ohio State vs. Michigan, November 25: The Game! The most important rivalry at the university level. The equivalent of a Ravens-Steelers or a Cowboys-49ers in NFL.
The editorial staff of DNA of Sports will accompany you every Friday with an "NCAA-Draft 2024" podcast, and every Sunday with an article on the highlights of the day before.