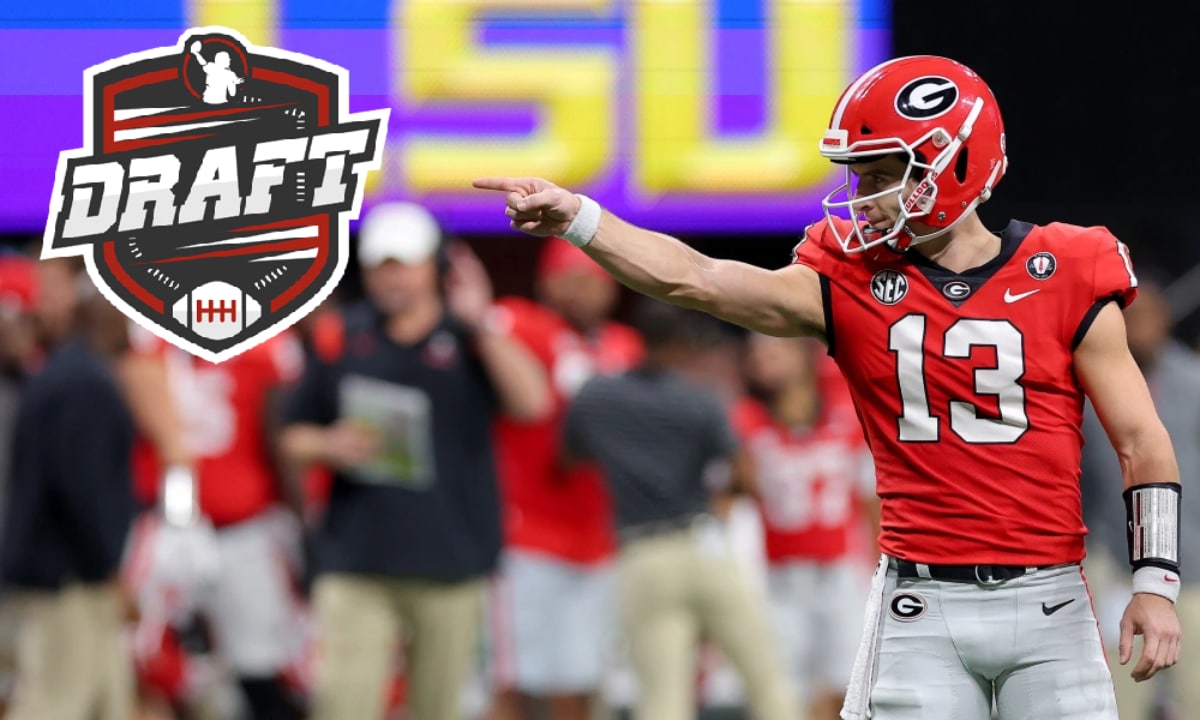 Every Sunday, the editorial staff of DNA of Sports offers you an update on university players. Who performed well and who disappointed? Here is a weekly focused on the individual performances of future NFL players. Only players eligible for the 2023 draft are listed here.
This week was the conference finals. In this article, we will not detail the matches but the performances of the players eligible for the 2023 Draft as mentioned above.
This is one of the last opportunities for players to show off before registering for the 2023 NFL Draft where many players have already declared themselves.
quarterback of the week
Stetson Bennett IV: 23/29, 274 yards, 4 touchdowns
Not having a scholarship compared to most athletes who commit to a university, Stetson Bennett IV is a player qualified as walk on in his freshman year at Georgia. Not playing, he transferred to Jones County Junior College. He has since earned a scholarship and returned to Georgia as Jake Fromm's understudy. Then, he took advantage of the injury of JT Daniels to become a starter where he won the university championship last season.
If he was under fire from critics last year after his failed game in the conference final against Alabama (loss 41-24), he made up for it this year by leading Georgia to victory against LSU 50- 30 with 4 touchdowns thrown and some nice reads.
This season, Stetson Bennett is in the candidates for the title of best college player. Less productive than last season in passing with 16 touchdowns and 6 interceptions, it was especially with his legs where he shone with 7 touchdowns.
As for the NFL Draft, he's drafted late in the draft due to a lack of size, power, and a very peculiar pitching mechanic. Will he have the same great history at the NFL level as at the university level? The future will tell.
Special Mentions:
Frank Harris (QB, UTSA): 32/37, 341 yards, 4 touchdowns
Cameron Rising (QB, Utah): 22/34, 310 yards, 3 touchdowns
MVP of the C-USA conference finals, Frank Harris could still return for a season in college. But, for the moment, at UTSA, it is he who holds the records in terms of yards in a season (3865) and in touchdown in a season (31).
Cameron Rising may have taken a big shock from Nick Figueroa but the Utah quarterback stood comparison with wonderkid Caleb Williams. He was elected MVP of the Pac-12 Conference Finals and also had a record season with 31 touchdowns (25 passing, 6 running).
Could Have Been Mentioned (Quarterback) : Grayson McCall (QB, Coastal Carolina)
Offensive Player of the Week
Zakhari Franklin (WR, UTSA): 10 receptions, 144 yards, 3 touchdowns
If an NFL team is looking for a player in an offense that favors aerial play, you're bound to need a receiver like Zakahri Franklin to win early downs. Hailing from Cedar Hill, Texas, he was just a 2-star rookie when he signed up for UTSA in 2019.
But, since the 2021 season when he set a university record in number (81) and receiving yards (1,027) and touchdowns (12), he did it again in 2022 with 86 receptions, 1,100 yards and 14 touchdowns. .
Privileged target of his quarterback Frank Harris, he scored a hat-trick in the USA conference final against North Texas. Having a good height at this position (1.85m), he also has a very good tree of layouts and good hands. Its weaknesses are in separation and acceleration.
We may have the opportunity to see him during the Senior Bowl to see if his rating could go up. He can be an interesting player towards the 3rd round.
Special Mentions:
Deuce Vaughn (RB, Kansas State): 26 carries, 130 yards, 1 touchdown
Tyjae Spears (RB, Tulane): 22 carries, 199 yards, 1 touchdown
Kayshon Boutte (WR, LSU): 6 receptions, 107 yards, 1 touchdown
He was the big architect of TCU's only loss this season, Kansas State running back Deuce Vaughn weaving all over the field, even catching fly balls. His 44-yard touchdown to sink TCU, before they returned to the game to snatch overtime, is a gem of agility and liveliness. Tyjae Spears was once again productive against UCF. He was not far from exceeding 200 yards for the second time in his career. Defeated in the league this season by this team, Tulane took revenge and won 45-28 in the AAC conference final.
Could have been mentioned (running backs) : Kendall Milton (RB, Georgia), Jordan Mims (RB, Fresno State)
Sure, LSU lost to Georgia but Kayshon Boutte showed up at the right time. In the SEC conference final, he scored a magnificent touchdown by beating Christopher Smith on the course and then breaking tackles from Malachi Starks and Kelee Ringo. In addition to that touchdown, he showed his potential for the NFL level against one of the best college defenses.
Could have been mentioned (receivers) : Charlie Jones (WR, Purdue), Josh Downs (WR, North Carolina), Thomas Yassmin (TE, Utah)
Defensive Player of the Week
Mouhamoud Diabate (LB, Utah): 8 tackles, 2 sacks, 1 forced fumble, 1 pressure
The player from Auburn was first used as a middle linebacker in Florida where he became a tackle machine (89 tackles). Transferred to Utah where he changed his defensive scheme – from a 4-3 defense at Florida to a 3-4 defense – Mouhamoud Diabate struggled to be productive, especially against the passing game where he was often beaten by the offensive lineman.
Against USC, the slender player (1.91m) of the Utes had his best game of the season, in particular with a strip bag on USC quarterback Caleb Williams. Utah defeats USC 47-24 and wins the Pac-12 conference, destroying any playoff hopes for USC.
We don't know yet if he will be in the Senior Bowl, but he will be a very interesting player to follow. He is expected around the 3rd round.
Special Mentions:
Trenton Simpson (LB, Clemson): 8 tackles (including 1.5 for loss), 2 pressures
Jalen Carter (DT, Georgia): 4 tackles, 1 sack, 1 pass defended
Dylan Horton (DT, TCU): 5 tackles, 2 sacks
Julius Brents (CB, Kansas State): 3 tackles, 1 interception, 1 forced fumble, 1 pass defended
Trenton Simpson 'blitzed' a lot in Clemson Tigers' ACC Conference Finals win over disappointments Tar Heels from North Carolina. One of his pressures to bring to pick six from cornerback Nate Wiggins.
Could have been mentioned (linebacker) : Dell Pettus and Carlton Martial (LB, Troy)
Jalen Carter made a sack by lifting LSU quarterback Jayden Daniels (!), a power monster. Dylan Horton was flawless against Kansas State, making 2 sacks including 1 intelligently on William Howard, Kansas State quarterback.
Could have been mentioned (pass rushers) : Felix Anudike-Uzomah (EDGE, Kansas State), Gabe Reid (EDGE, Utah)
In addition to Deuce Vaughn, Julius Brents was the other big man of the game against TCU for Kansas State. If he was beaten by Quentin Johnston on a reception of more than 50 yards early in the game, he then caught up well by forcing a fumble on the receiver and intercepting Max Duggan in the end zone. Cornerback with long arms, he may have raised his rating for next April. He should be a drafted player for the day on Saturday (4th-7th round).
Could have been mentioned (defensive backs) : Christopher Smith II (S, Georgia)
Disappointments of the week
USC players Tuli Tuipulotu and Jordan Addison
TCU players Max Duggan and Quentin Johnston
DJ Turner (BC, Michigan)
Unable to stop Utah's running game, Tuli Tuipulotu and USC failed in the ground defense, conceding 223 yards. Apart from a game for a big gain of 48 yards, receiver Jordan Addison was dominated by Clark Phillips.
Only 50% completed passes and one interception in the red zone. TCU quarterback Max Duggan wasn't decisive despite some great improvisations on the ground. He was also not helped by questionable play calls from his coach Sonny Dykes. His receiver Quentin Johnston exceeded 100 yards but only made 4 receptions. Additionally, he committed a fumble that cost his team dearly as TCU trailed. Not the best of demonstrations for a player projected in the 1st round next April.
Dominated by Purdue receivers Charlie Jones and TJ Sheffield, DJ Turner suffered despite 2 defended passes. The Michigan cornerback will have to show up during the combine if he wants to get a place among the best of a very promising cornerback vintage.
Coach of the week
You may not know this but Deion 'Prime Time' Sanders is a varsity coach at Jackson State, a 2nd division team. University followed by all the national media since his position, he led the Tigers to the title of champion in the SWAC conference (Southwestern Athletic Conference) after a season in which his team finished the regular season undefeated.
Next season, 'Coach Prime' will coach in the 1st division in the Pac-12 conference at the University of Colorado Buffaloes. He announced it to his players right after the SWAC conference final.
action of the week
Georgia is SEC champion and sometimes luck smiles on the daring. Ask Smael Mondon Jr. Player to Watch in the 2024 Draft.
GEORGIA INTERCEPTION!

The ball bounces off TE Jack Bech's head… and LB Smael Mondon Jr grabs it. 😱😱😱

Georgia Ball!

📺 @CBSSports pic.twitter.com/s0XUhn7Vw3

— TBP College Football (@thebluepennant) December 3, 2022