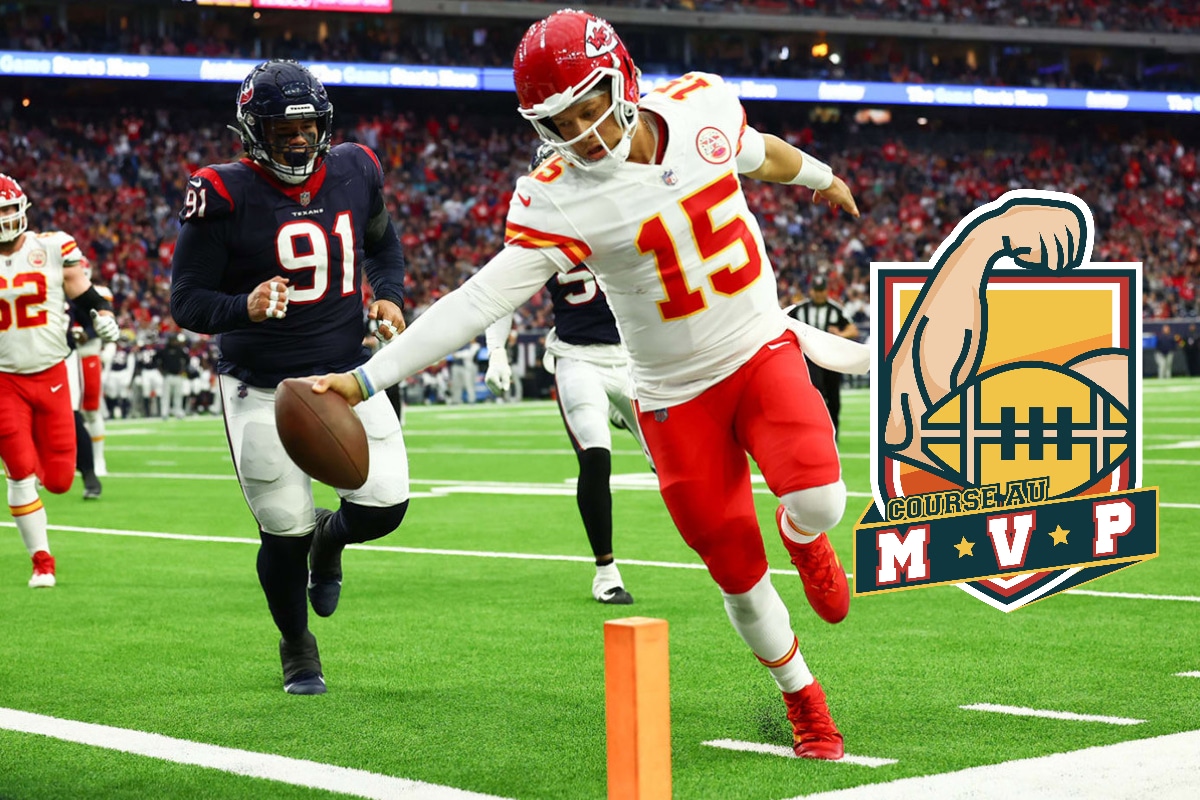 Thursday is MVP! Put in difficulty by a very good team from Houston, Patrick Mahomes had to release an MVP performance to get out of the Texas trap. Touched in the shoulder, Jalen Hurts has undoubtedly seen some hopes fly away this week, while waiting to know his final unavailability. Behind it is the status quo. Joe Burrow continues his rise, Josh Allen goes into playoff mode and Justin Jefferson into record mode.
1- Patrick Mahomes (-) Quarterback – Kansas City Chiefs (11-3)
14 games – 4,496 yards at 67.4% – 35 touchdowns, 11 interceptions – 313 rushing yards, 3 touchdowns – 105 rating
As he began to be seriously threatened by Jalen Hurts, Patrick Mahomes did not wait any longer to reaffirm his status as the best quarterback of his generation. Facing surprising Texans, Mahomes completed 36 of 41 passes for 336 yards and two touchdowns. The division now in the pocket, the Chiefs can focus on the first place in the AFC they dispute the Bills. Despite poor defense and few offensive playmakers besides Travis Kelce, the Chiefs will go as far as Patrick Mahomes can get them.
2- Jalen Hurts (-) Quarterback – Philadelphia Eagles (13-1)
14 games – 3,472 yards at 67.3% – 22 touchdowns, 5 interceptions – 747 yards, 13 rushing touchdowns – 104.6 rating
This week may remain as the major turning point in the race for the 2022 MVP. If Jalen Hurts alternated the good and the bad with his 315 passing yards but no touchdowns and two interceptions, he unfortunately hurt his chest. 'shoulder. An injury that could cost him at least one game and more if you like. The timing couldn't be worse in his frantic race against Patrick Mahomes with three weeks to go.
3- Joe Burrow (-) Quarterback – Cincinnati Bengals (10-4)
14 games – 3885 yards at 68.2% – 31 touchdowns, 10 interceptions – 242 yards, 5 rushing touchdowns – 102.6 rating
Unfortunately for Joe Burrow, the season started long before October. Because after an extremely difficult first month of competition, the quarterback of the Bengals shows himself totally at the level of the two men who precede him in this classification. Against the Buccaneers, Burrow completed 27 of 39 passes for 200 yards, four touchdowns and an interception, even allowing himself the luxury of coming back from a 17-0 deficit. To comfort himself with an MVP title that should elude him, he can tell himself that the equipment is totally there to seek a second consecutive appearance at the Super Bowl.
4- Josh Allen (-) Quarterback – Buffalo Bills (11-3)
14 games – 3,857 yards at 63.7% – 30 touchdowns, 11 interceptions – 705 yards, 6 rushing touchdowns – 97.3 rating
Is the best Josh Allen back? In any case, the progress seems to be confirmed at the best time for the Bills. Despite particularly capricious weather, Allen still managed a game over 300 yards and four touchdowns against a valiant Miami team who fought to the end. If it seems too late to conquer an MVP title, his return to the fore with a 100% shoulder is the best news in the world for Buffalo with the playoffs approaching.
5- Justin Jefferson (-) Receiver – Minnesota Vikings (11-3)
14 games – 111 receptions, 1623 yards at 14.6 yards per reception, 7 touchdowns – 4 carries, 24 yards at 6 yards per carry, 1 touchdown
No, Justin Jefferson will not become the first non-quarterback since Adrian Peterson to become MVP. However, he has become the number 1 favorite for the title of offensive player of the year which would already be a magnificent accomplishment for a receiver. But that's not all since a panoply of records are within reach of the Vikings receiver. The first of them should be beaten this week since he is only 10 yards away from becoming the player with the most receiving yards after three seasons in the league ahead of Randy Moss. And with 100 yards more than Tyreek Hill and 300 more than Steffon Diggs, the status of the league's best receiver seems to hang on his shoulders.
Special Mentions
Tua Tagovailoa (QB, Dolphins) – 3,238 yards at 64.8% completion, 24 touchdowns, 5 interceptions – 107.8 rating
Kirk Cousins ​​(QB, Vikings) – 3,818 yards at 65.3% completion, 24 touchdowns, 11 interceptions – 92 rating
Justin Herbert (QB, Chargers) – 4,019 yards on 67.5% completion, 21 touchdowns, 9 interceptions – 91.5 rating
AJ Brown (WR, Eagles) – 1,201 yards on 16.2 yards/reception, 10 touchdowns
Stefon Diggs (WR, Bills) – 1,299 yards on 13.1 yards/reception, 10 touchdowns
Tyreek Hill (WR, Dolphins) – 1,529 yards on 14 yards/reception, 7 touchdowns
Derrick Henry (RB, Titans) – 1,303 yards at 4.4 yards/rush, 12 touchdowns
Nick Chubb (RB, Browns) – 1,252 yards at 5 yards/rush, 12 touchdowns
Travis Kelce (TE, Chiefs) – 1,144 yards at 12.6 yards/reception, 12 touchdowns
Micah Parsons (LB, Cowboys) – 53 tackles, 13 sacks, 3 passes defended, 3 forced fumbles, 1 touchdown
Nick Bosa (DE, 49ers) – 37 tackles, 1 pass defended, 15.5 sacks, 1 forced fumble