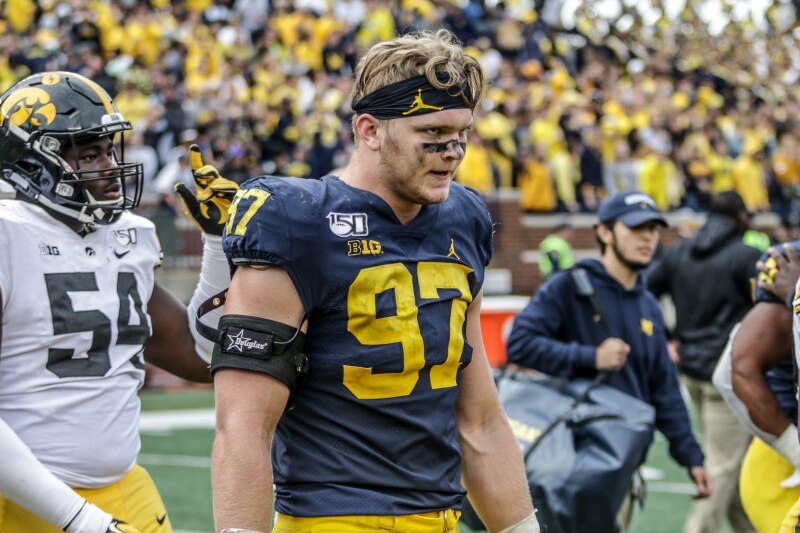 The end of the season approaches in college football as the NFL draws closer to the playoffs. So it's time to do a mock draft! The ranking of the teams takes into account
check-ups after week 15
and not a projection on how the 2021 season will end. The defensive vintage is superb and if the quarterbacks are not at the same level as some years, the value of the position as well as the needs of the franchises make them present. Some NFL franchises have several choices in the 1st round of 2022, in brackets the franchise having this choice before a trade.
1. Jacksonville Jaguars, Aidan Hutchinson, EDGE, Michigan
The Jaguars have needs everywhere (or almost), and taking the best player available makes sense. In an EDGE duel, it is Hutchinson who has the honor of being first choice after a stratospheric 2021 season. His duet with Josh Allen may become the driving force behind Jacksonville's defense.
2. Detroit Lions, Kayvon Thibodeaux, EDGE, Oregon
The other candidate for the first choice does not have to wait long! It must be said that the weak quarterback vintage does not encourage rushing, and the Lions also choose the best player available at a premium position. He will have the mission to become the leader of this defense, and his ability to help against the pass and the run will be invaluable.
3. Houston Texans, Kyle Hamilton, S, Notre Dame
A safety top 5 is not every day! It must be said that Kyle Hamilton is a physical phenomenon, as fast as it is powerful. Versatile, he can help on all attempts and in all gaming systems. A nugget like this cannot be refused for a franchise which has an interest in taking a gamble on David Mills.
4. New York Jets, Ikem Ekwonu, OT, NC State
Protecting a young quarterback is the Jets' mission. Mekhi Becton does a good job on the left when he's healthy, and Ekwonu can bring his skill and power to the right of the line. His arrival would also be great news for the racing game, as his ability to create spaces can help Michael Carter use his speed.
5. New York Giants (from Chicago), Evan Neal, OT, Alabama
The Giants have several problems, but the line is the main one. Apart from Andrew Thomas, everything needs to be rebuilt. It starts with the selection of Evan Neal, Alabama's powerful tackle. Whether it is guard or tackle, it represents a low risk bet on enormous athletic potential.
6. New York Giants, Tyler Linderbaum, IOL, Iowa
A center in 6th position, that may come as a surprise. The selection of Quenton Nelson to this position could also have surprised, however it is not sure that Indianapolis regrets. Linderbaum is the last born of the Kirk Ferentz school, he is a phenomenon which progresses every year. He's a ship captain, and understands the game faster than others, that's what New York needs.
7. Carolina Panthers, Charles Cross, OT, Mississippi State
Should Carolina take the risk with a quarterback? This is a legitimate question. Another choice is made in this draft with the selection of Charles Cross, a possible long-term solution to the position of tackle. With Taylor Moton on the right and Cross on the left, Sam Darnold / Cam Newton / PJ Walker / others will be well protected!
8. New York Jets (from Seattle), George Karlaftis, EDGE, Purdue
For the 7th time in 8 choices, the line is in the spotlight (and it is not finished). The Jets have protected the quarterback, it's time to (finally) have a decent pass rush. Carl Lawson will be back next season, and he could make a nice duet with the Purdue buff.
9. Atlanta Falcons, DeMarvin Leal, DL, Texas A&M
Atlanta needs a boost in defense, and although they already have Grady Jarrett, the addition of DeMarvin Leal seems obvious he is so dominant. Able to evolve inside and outside, he has a versatility that will make any defensive coordinator dream. A defense is built on the lines, it's a good start.
10. Washington, Matt Corral, QB, Ole Miss
The first quarterback of this draft! Washington has weapons in both attack and defense, but it lacks a quarterback. Matt Corral is improving every year, and he represents the best value for money in this draft yet. He will be lucky enough to have prime targets like Terry McLaurin and Curtis Samuel in his first year.
11. Philadelphia Eagles (from Miami), Andrew Booth Jr., CB, Clemson
D-Fense! The Eagles need to be better at defense, and the choice of a cornerback makes sense. Darius Slay is playing at an All Pro level in 2021, but the right side lacks a talented player. Andrew Booth is an athletic monster capable of starting in the first year. He will have the chance to learn from the best in the league.
12. Philadelphia Eagles, David Ojabo, EDGE, Michigan
Defense, again and again. Derek Barnett is out of contract, and Brandon Graham will return in 2022 from a major injury. Josh Sweat can't do it all alone, and the arrival of David Ojabo should help reinforce a fickle pass rush. Ojabo is still raw, but he will have at least a year to learn.
13. Denver Broncos, Carson Strong, QB, Nevada
Courtland Sutton, Jerry Jeudy, Tim Patrick, Noah Fant… This attack is a quarterback rookie's dream. Carson Strong isn't the most mobile in the draft, but he's definitely the best pitcher in the draft. Good news for his targets, and for him.
14. New Orleans Saints, Kenny Pickett, QB, Pittsburgh
Quarterback, episode 3. The Saints have no quarterback of the future, Taysom Hill having shown his limits. Kenny Pickett is the surprise this season, and his style of play could match what Sean Payton likes. A "win-win", as they say.
15. Cleveland Browns, Jordan Davis, IDL, Georgia
Cleveland lost their "mojo" in 2021, but it's still an excellent squad that doesn't lack much (apart from an elite quarterback). The lines are dominant, but adding Jordan Davis to Clowney and Garrett makes your mouth water. Physically dominant, he will help solidify the whole thing and bring insurance against the racing game.
16. Las Vegas Raiders, Kenyon Green, IOL, Texas A&M
Derek Carr needs a line, and it's getting urgent. Kenyon Green is the best guard of this vintage, and he could help Kolton Miller on the left side. To see him go down in this draft is a godsend, Las Vegas must take advantage of it.
17. Pittsburgh Steelers, Sam Howell, QB, North Carolina
Big Ben, it's over (or almost)! Mike Tomlin has to think about the future, and Sam Howell could be the pleasant surprise of this draft. Having undoubted advantage, he could bring a different approach to the attack, a game more varied between short game and long game.
18. Baltimore Ravens, Darian Kinnard, OL, Kentucky
The Ravens like to have a dominant line, and a versatile and efficient running player like Kinnard makes sense. In tackle or guard he is a big reinforcement and seeing him drop in 18 is a boon for Baltimore, although it may not be the main need at first.
19. Minnesota Vikings, Ahmad Gardner, CB, Cincinnati
Minnesota has a cornerback problem, fortunately for them there are some very talented ones in 2022. Ahmad Gardner is a complete player, able to defend area and cover man with equal efficiency. Fast and constant, he is a weight reinforcement for a defense that needs it.
20. Buffalo Bills, Trevor Penning, OT, Northern Iowa
Although coming from FCS, Trevor Penning well deserves a first round of college. Powerful and endowed with violent hands, he is a welcome reinforcement in a line far from waterproof this season.
21. Miami Dolphins (from San Francisco), Devin Lloyd, LB, Utah
Miami has a talented but incomplete squad. The linebacker committee is particularly weak, and Devin Lloyd is the most attractive player of this vintage. As effective against the race as he is on the cover, he is a talented playmaker and to see him come down in 21 is absolutely incredible. Miami is taking advantage.
22. Los Angeles Chargers, Travon Walker, EDGE, Georgia
Joey Bosa and… that's about it. Travon Walker is a high quality EDGE, and it will strengthen the line with its versatility. Capable of being a starter in 3 tech or away, he will bring talent to a line that is too fickle in 2021.
23. Philadelphia Eagles (from Colts), Nakobe Dean, LB, Georgia
Third choice for the Eagles, and it's still in defense. After cornerback and EDGE, this time the linebacker position is reinforced. Nakobe Dean can become the best player in the line in the first year but also the pack leader, as he does in Georgia. Talent and leadership, Philly needs both.
24. Detroit Lions (from Rams), Chris Olave, WR, Ohio State
Detroit has a pass rusher, let's attack! No quarterback that is worth it (to think about in 33) so Detroit takes the opportunity to choose the lookalike of Keenan Allen in the game: Chris Olave. An excellent tracker, he is therefore the first receiver on this list.
25. Cincinnati Bengals, Daniel Faalele, OT, Minnesota
Again and again the offensive line. Joe Burrow has targets, now he needs some decent protection. Daniel Faalele is a mountain, and a weight reinforcement that will do wonders on the right. Cincinnati is progressing, we must continue this intelligent construction.
26. Tennessee Titans, Treylon Burks, WR, Arkansas
Tennessee features Julio Jones and AJ Brown. But both accumulate injuries, and the first is not very young. Ryan Tannehill needs offensive weapons, and Burks is the very definition of a 'playmaker'. Strong and fast, he can help in short play, long play or even in trick play. A valuable addition for a team that needs it.
27. Arizona Cardinals, Derek Stingley Jr., CB, LSU
The Cardinals' defense is going well, but reinforcement at the cornerback position could help. Although injured too often, Derek Stingley is too talented to come out of the first round. Fast and athletic, he can follow any receiver in the NFL. A rare talent but a long term risk.
28. Tampa Bay Buccaneers, Garrett Wilson, WR, Ohio State
Tampa Bay has a very full squad, but receivers' contractual status makes it likely that the position will be a draft requirement. Garrett Wilson can do it all, just like a Jerry Jeudy, and he's a great deal in the 28th pick.
29. New England Patriots, Jameson Williams, WR, Alabama
Another receiver. Jameson Williams is the rising profile after a fabulous season in Alabama. An excellent tracker and capable of winning contested receptions, he could climb much higher with good playoffs.
30. Dallas Cowboys, Kaiir Elam, CB, Florida
Trevon Diggs is a playmaker, but he's far from being able to do it all on his own. Kaiir Elam is an exciting profile, falling to 30th only because of a wealthy class of cornerbacks. However, he is mobile and intelligent, enough to easily offer him the first round.
31. Kansas City Chiefs, David Bell, WR, Purdue
Travis Kelce and Tyreek Hill are amazing, but they are very lonely. David Bell is a physical and powerful receiver, who would bring variety to the Chiefs receiving committee. Rockets are good, having an extra control tower is better.
32. Green Bay Packers, Bernhard Raimann, OT, Central Michigan
It's the surprise of the first round (you have to take risks)! Bernhard Raimann has exploded this season at Central Michigan, combining athleticism and mobility. If he is still a little light for the NFL, there is no doubt that he will continue his progression and can quickly become a starting tackle in the big league.