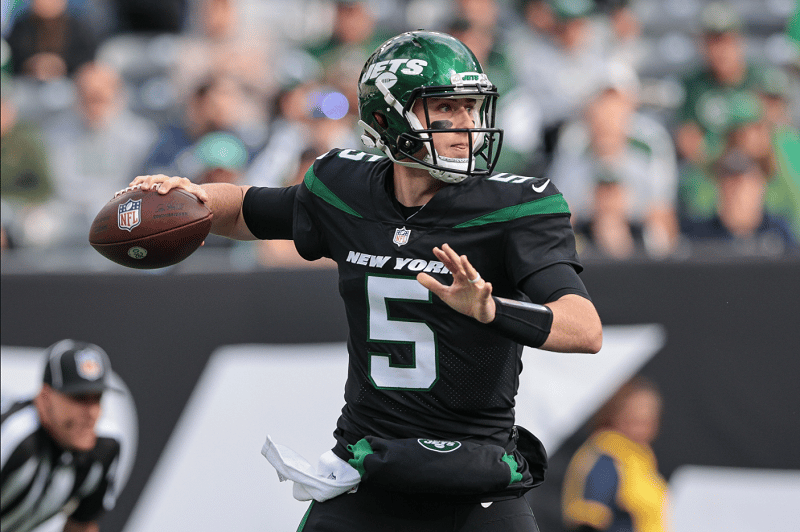 New York has made its choice.
So it's done. According to ProFootballTalk.com, Robert Saleh has confirmed a new start for Mike White at the helm of the Green Gang next week to face the Vikings. The performance of the young quarterback this weekend earned him all the consideration of his coach. With 315 yards and 3 touchdowns thrown, he won a resounding victory over Chicago in relief of Zach Wilson. The latter could however have a second chance, but for the moment he has work to do and leaves room for his understudy.
"We will assess our situation every week," Saleh told SNY. "There are things we would like Zach to accomplish for a quality fresh start. For now it's Mike White's opportunity, it doesn't change. Mike has the chance to replicate a great game this week. When we feel Zach is ready to come back, he will come back. »
In the meantime White takes advantage of his luck and his good outing against the Bears. A success that he built on his experience of last year.
"What I took away from my playing experience was how to deal with success. The game against Cincinnati, my first start, went really well," White told ProFootballTalk. "Then there was Indy and I got injured, and then Buffalo where it went badly. From the game against Buffalo, I learned above all that you shouldn't play the hero. Not looking to win the game on every throw, play as part of the offense whatever play is called, depending on what the defense dictates, I have to handle the ball and let the rest be on my own. »