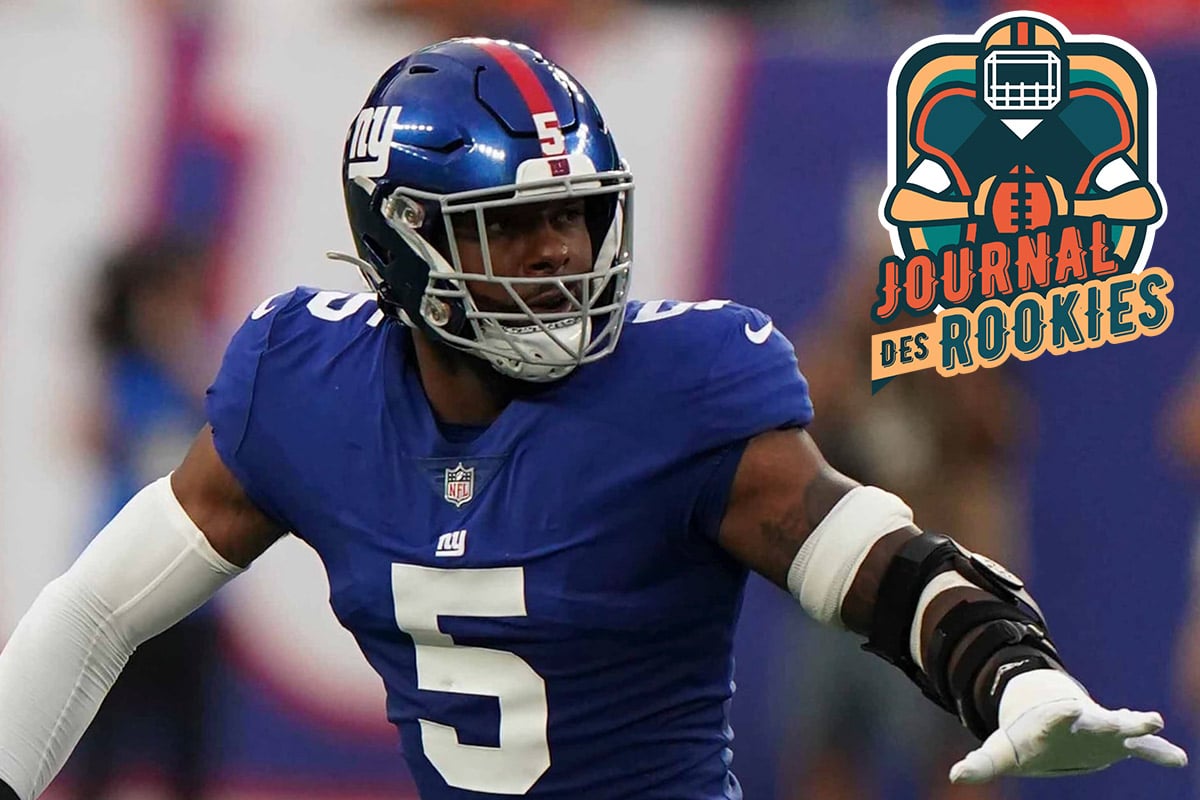 Every NFL Wednesday, the Rookie Diary honors the most prominent rookies. The best offensive beginner, his defensive alter ego, the action, the revelation of the week, the flop… And, to finish, the Power Rooking. Everything, you will know everything about the Rookies!
Offensive Rookie of the Week
Bailey Zappe – QB – New England Patriots (137th pick)
24/34, 309 yards, 2 touchdowns
Magnificent score played by the record holder for yards and touchdowns in university. Bailey Zappe rolled out against the Browns. Seriousness, application, intelligence, he showed what his talent can do. From there to question the hierarchy of pitchers in New England? Maybe not yet, but Mac Jones will have more pressure.
Special Mention: Kenneth Walker – RB – Seattle Seahawks (41st pick)
21 carries, 97 yards, 1 touchdown, 2 receptions, 13 yards
With Rashaad Penny's injury, he was expected. And it did not disappoint. The former Michigan State player made the Cardinals dizzy with his support and liveliness.
Defensive Rookie of the Week
Kayvon Thibodeaux – Edge – New York Giants (5th pick)
3 tackles, 1 sack, 1 forced fumble
If everything is not yet up to the height of his immense talent, Thibodeaux is slowly gaining momentum. And above all it is decisive. For his first career sack, the former Oregon leader could not have dreamed of better. A "strip sack" causing Lamar Jackson's fumble and at the same time offering a turnover synonymous with victory for his team.
Special Mention: Gardner Sauce – CB – New York Jets (4th choice)
After almost returning a pick six entry (cancelled for a foul), Sauce Gardner was intractable throughout the game including 2 defended passes and an impression of omnipresence in the defensive backfield of the Jets. Never taken in default, he perfectly limited the attack of Green Bay and Aaron Rodgers.
Revelation of the week
Brian Robinson – RB – Washington Commanders (98th pick)
17 carries, 60 yards, 1 touchdown
Assaulted by firearm barely six weeks ago, Brian Robinson is already back on the pitch despite two bullets received in the legs. An extraordinary feat to salute. The Commanders runner who had already carried a few balloons last week was aligned as a starter for the first time in his young career. A successful first. With his first touchdown, Robinson helped his team snatch victory over the Bears. He took over Antonio Gibson in the hierarchy of riders. A good omen for the rest of his season.
action of the week
Breece Hall – RB – New York Jets (36th pick)
Again monstrous with over 100 yards, the Jets runner martyred the Packers defense on their home turf. As a highlight of his beautiful evening, Hall offered a touchdown from 34 yards where he pierced the defensive curtain before holding back the return of De'Vondre Campbell.
And it's Breece Hall's turn to have fun with the Green Bay defense #NYJvsGB #TakeFlight

🎥 @NFL pic.twitter.com/SQX6dLK9vX

— DNA of Sports.com – NFL News 🏈 (@DNA of Sports) October 16, 2022
Offensive Power Rooking
1. Breece Hall – RB – New York Jets
6 games, 76 carries, 391 yards, 3 touchdowns, 19 receptions, 218 yards, 1 touchdown
2. Chris Olave – WR – New Orleans Saints
5 games, 25 receptions, 389 yards, 2 touchdowns
3. Dameon Pierce – RB – Houston Texans
5 games, 86 carries, 412 yards, 3 touchdowns
4. Drake London – WR – Atlanta Falcons
6 games, 25 receptions, 306 yards, 2 touchdowns
5. Daniel Bellinger – TE – New York Giants
6 games, 15 receptions, 139 yards, 2 touchdowns, 1 rush, 2 yards, 1 touchdown
Defensive Power Rooking
1. Tariq Woolen – CB – Seattle Seahawks
6 matches, 22 tackles, 4 interceptions, 5 passes defended, 2 fumbles covered
2. Gardner Sauce – BC – New York Jets
6 matches, 23 tackles, 1 interception, 8 passes defended
3. Devin Lloyd – LB – Jacksonville Jaguars
6 matches, 56 tackles, 2 interceptions, 6 passes defended
4. Jalen Pitre – S – Houston Texans
5 matches, 39 tackles, 1 sack, 2 interceptions, 2 passes defended
5. Jack Jones – CB – New England Patriots
6 matches, 14 tackles, 2 interceptions, 4 passes defended, 1 forced fumble, 1 covered fumble, 1 touchdown