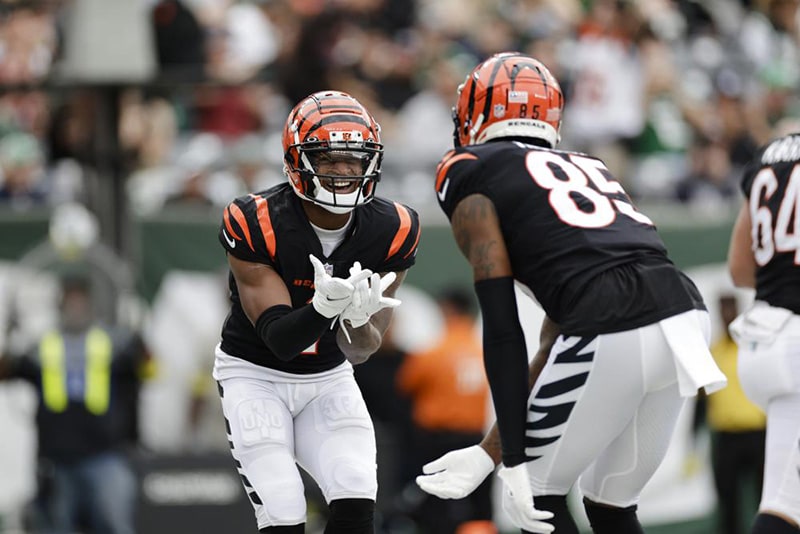 New York Jets (1-2) – Cincinnati Bengals (1-2): 12-27
After a disappointing start to the season, Joe Burrow and the Bengals were keen to get back on track. Opposite, the Jets hoped to capitalize on their great victory against another AFC North team, the Browns. In the duel of Joe, the logic was finally respected, and Cincinnati finds the smile with their first victory of the season.
After a complicated start to the season, Joe Burrow (23/36, 275 yards, 3 TD) finally showed himself at ease, involving as many targets as possible. Still perfectible, he took far fewer sacks than in previous weeks, but still suffered a lot of pressure from the New York defensive line. Burrow was well helped by these targets, despite a Joe Mixon (12 races, 24 yards) lacking inspiration, and an ugly fumble from Ja'Marr Chase. Tyler Boyd, in particular, was particularly comfortable with a touchdown from 56 yards.
Touchdown Bengals 🏈
This time it's the right one for the Joe Burrow-Tyler Boyd duo after a superb miss from the New York defense 🙃#CINvsNYJ #RuleTheJungle

🎥 @NFL pic.twitter.com/oFc2x18cqs

— DNA of Sports.com – NFL News 🏈 (@DNA of Sports) September 25, 2022
Defensively, Cincinnati has simply annihilated the hopes of the Jets, well led by a hot Trey Hendrickson (4 tackles, 2.5 sacks, 4 QB hits). Authors of 4 sacks, 2 fumbles covered and 2 interceptions, the defenders of the Bengals left no room for maneuver to an attack in total lack of inspiration.
The Jets out of inspiration
After two winning drives last weekend, Joe Flacco (28/52, 285 yards, 2 INT) this time showed his bad face. The former Ravens quarterback sank with his entire offense against an aggressive Cincinnati defense. The pitcher alone lost four balls, one interception and two fumbles. Admittedly poorly protected by his line, he still seemed without solutions, contenting himself with four distant field goals to score points.
Luckily for New York fans, it looks like Zach Wilson is ready to return to the field, possibly as early as next week, against the Steelers. During his interim, Joe Flacco will have managed to win a match, but still remains too limited in 2022 to be the leader of a team.
Offensive play calls also raise questions. How come Flacco averages over 50 passes per game, while talented young runners like Breece Hall and Michael Carter are waiting for their chance? These issues are going to have to be addressed by Robert Saleh and his staff quickly if the Jets still hope to get anything out of this season.
On the Bengals side, this victory finally launches the season after two avoidable defeats. The next few weeks will be key in Cincinnati's run for the playoffs, with back-to-back duels against two of the teams that are impressing this season, the Dolphins and the Ravens.