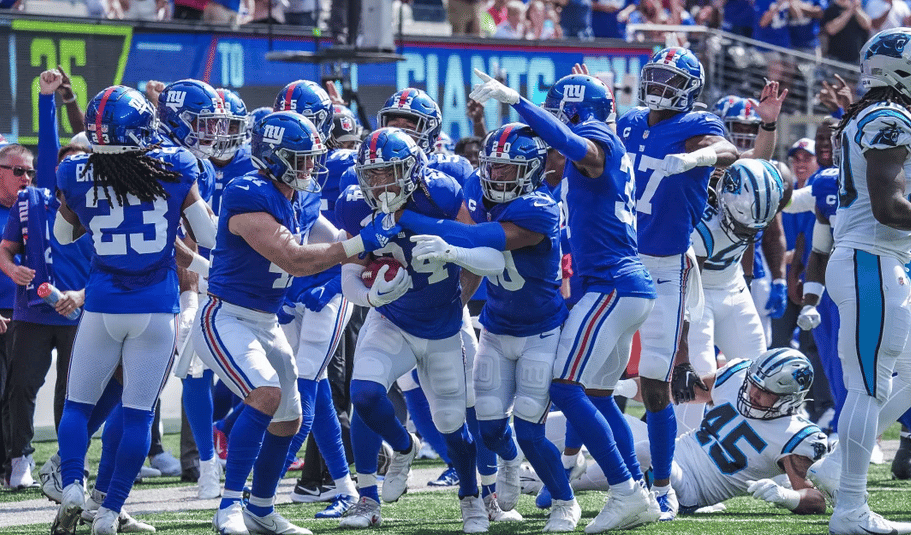 2 wins in a row for the Giants! Even Brian Daboll did not dream of it
New York Giants (2-0) – Carolina Panthers (0-2): 19-16
And 2! In a tight end to the game, the Giants went for victory on an 11-yard run from Daniel Jones (22/34, 176 yards, 1TD) in 3 & 6 with less than 2 minutes remaining. A first down that allowed New Yorkers to show off and win 19 to 16.
It's still not pretty in attack, but Brian Daboll's men continue to defend well and above all they find the taste of victory. Something far too rare in New York in recent years!
Struggling Attacks
"Champagne" football fan passed your way. In the first half, the two franchises offered a very sad spectacle with 4 first down and 60 yards for the Giants against 9 first down and a 2/7 in 3rd attempts for the Panthers…
In this game it is the Giants who can feed the biggest regrets. Indeed, while the defense forced two fumbles giving, each time to his attack, the ball in the opposing camp, Daniel Jones more than slowed down his own.
Unimaginative and unable to move forward on the ground (0 yards at halftime), the locals only scored 2 field goals after these turnovers to lead 6-0.
For their part, the Panthers came back to score (6-6) before halftime thanks to two kicks. Here too offensive inefficiency took precedence. Proof of this is that the Panthers took 13 plays to score their first field goal when the second came after a 10-play drive for only 34 yards gained…
A close end to the game
Back from the locker room, the attacks end up finding a bit of rhythm. It is first that of the Panthers which makes the difference thanks to a few flashes of Baker Mayfield (14/29, 145 yards, 1TD) including a 17-yard run and a nice touchdown pass (6-13) for DJ Moore .
Touchdown Panthers 🏈
On a Play Action, Baker Mayfield finds DJ Moore in the end-zone and Carolina takes the lead #CARvsNYG #KeepPounding

🎥 @NFL pic.twitter.com/mgDJo66V2W

— DNA of Sports.com – NFL News 🏈 (@DNA of Sports) September 18, 2022
A touchdown that wakes up the Giants and Daniel Jones. The quarterback managed a few interesting passes and a nice design play allowed him to find Daniel Bellinger, alone, for the touchdown from 16 yards (13-13).
Short-lived advantage for the Panthers. Daniel Bellinger scores a TD while diving on his 1st career reception 🏈 #CARvsNYG #TogetherBlue

🎥 @NFL pic.twitter.com/ztjw6LOLeC

— DNA of Sports.com – NFL News 🏈 (@DNA of Sports) September 18, 2022
Unfortunately, after this offensive improvement, the defenses resumed and forced 5 consecutive punts. The two teams each register a new field goal (16-16) before the last minutes.
New York takes a decisive advantage (19-16) 3 minutes from the end on a new kick from Graham Gano. Once again, coaching may regret a team unable to conclude after 7 minutes of possession…
The Panthers have the opportunity to try to come back but the Giants defense secures the blow with a sack from Julius Love 2 minutes from the end on a 3&6! Matt Rhule sends his special team for the punt but will never see his men with the ball again.
Still no victory for Baker Mayfield in his new colors. A Panthers team that seems more than stagnant for some time. A bit the opposite of the new dynamic instilled by Daboll in the Big Apple.