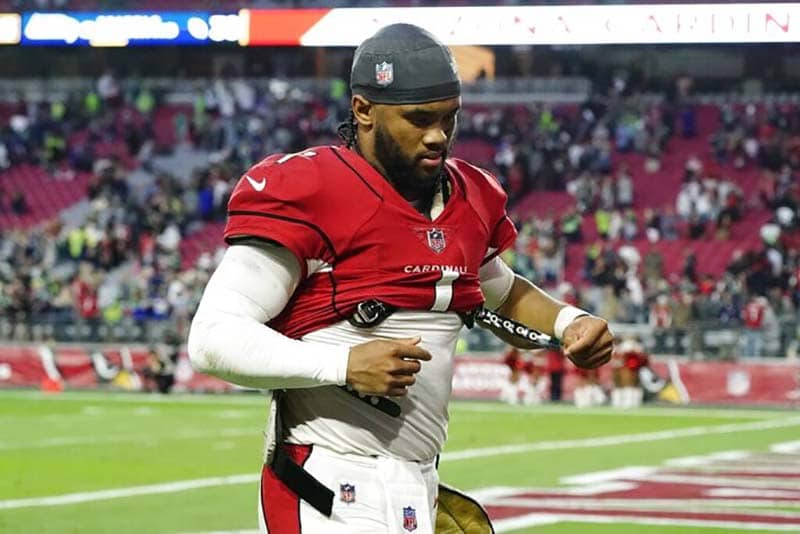 hot news
– [NCAA] Week 11 – CJ Stroud, number 1 next April?
[podcast]
Uncertainty among quarterbacks
– The Bills should have Josh Allen (QB, Bills) this Sunday against the Vikings. According to ESPN, the quarterback will be well activated despite pain in an elbow ligament.
– Ryan Tannehill (QB, Titans) is also expected to return after missing the last two games with an ankle injury.
– Will Kyler Murray (QB, Cardinals) face the Rams in the 10 p.m. session? Touched to a hamstring, the quarterback is still uncertain, and he will test himself just before the game to find out if he can play. Colt McCoy is his understudy.
– As of now, Matthew Stafford (QB, Rams) is not out of the game against the Cardinals, but NFL Media reports the odds seem slim of him recovering from his concussion in time. John Wolford would play in his place in case of absence.
Decision at the end of November for Odell Beckham?
In rumors almost every day for several weeks, Odell Beckham (WR) could finally have news by the end of November. According to ESPN, this is the deadline the player would like to stick to. Other parameters, he would like to play for a title contender, land a multi-year contract and around 20 million dollars per season.
The Cowboys, Bills, Chiefs, Giants and 49ers would be in the race.
If the start of the season seemed to evoke a Bills-Rams duel, many franchises in need of receivers have been linked to OBJ. The Giants, franchise of its beginnings are part of it. But it may be another NFC East team that could sign the whimsical receiver, rivals Dallas. Stephen Jones (CEO, Cowboys), interviewed on SiriusXM NFL Radio made his intentions clear:
"We are always open to improving our team. Having a guy like Odell, if he's recovered well from his knee injury – and it looks like he is – is a really good way to improve your team. As a free agent he can sign anywhere. That's why we want to present him with an irresistible offer. We are aware that it is just business sometimes. But hey, let's roll up our sleeves and see if we can put a star on Odell's helmet. »
Behind CeeDee Lamb (556 yards, 3 TD), Dallas' second-best receiver is Noah Brown (339 yards, 1 TD). The contribution of a fit Beckham would be undeniable.
injuries
– Barely back, soon gone: Shaquille Leonard (LB, Colts) is back on the injured list for a relapse of his spinal injury. The All-Pro linebacker has only played 3 times this season, including one starting game. ESPN reports that we may not see him again this season.
– Season ended for Donte Jackson (CB, Panthers), victim of a ruptured Achilles tendon against the Falcons. (ESPN)
– Minkah Fitzpatrick (S, Steelers) will be out for several weeks following an appendectomy. The good news to offset is that Pittsburgh has released TJ Watt (LB) from the injured list, (ESPN)
They are placed on the injured list and will miss at least 4 games: Shaquille Leonard (LB, Colts), Donte Jackson (CB, Panthers), Erik McCoy (C, Saints), Rodney Hudson (C, Cardinals)
They leave the injured list: Elijah Mitchell (RB, 49ers), Azeez Al-Shaair (LB, 49ers), Colton McKivitz (OL, 49ers), Jordan Willis (DE, 49ers), Treylon Burks (WR, Titans)
They will not play this Sunday
Bears: Kindle Vildor (BC)
Bills: Jordan Poyer (S), Greg Rousseau (DE)
Buccaneers: Russell Gage (WR), Luke Goedeke (G), JJ Russell (LB)
Broncos: Baron Browning (LB), KJ Hamler (WR), Andrew Beck (FB)
Browns: David Njoku (TE), Jeremiah Owusu-Koramoah (LB)
Cardinals: Max Garcia (L), Rodney Hudson (C)
Chargers: Mike Williams (WR), Keenan Allen (WR)
Chiefs: Mecole Hardman (WR)
Colts: Deon Jackson (RB), Shaquille Leonard (LB), Jelani Woods (TE)
Cowboys: Anthony Barr (LB)
Dolphins: Hunter Long (TE)
49ers: Javon Kinlaw (DT), Arik Armstead (DT)
Giants: Evan Neal (OT), Daniel Bellinger (TE)
Lions: Josh Reynolds (WR), Matt Nelson (OT)
Packers: De'Vondre Campbell (LB), Romeo Doubs (WR), Shemar Jean-Charles (CB), Eric Stokes (CB)
Rams: Malcolm Brown (RB), Travin Howard (LB)
Saints: Mark Ingram (RB), Marshon Lattimore (BC), Erik McCoy (C), Andrus Peat (L), Pete Werner (LB)
Seahawks: Cullen Gillaspia (LB)
Steelers: William Jackson III (CB), Akhello Witherspoon (CB)
Titans: Jeffery Simmons (DT), Bud Dupree (LB), Amani Hooker (S), Josh Thompson (DB)
Vikings: Cam Dantzler (BC), Dalvin Tomlinson (DT)
They are uncertain this Sunday
Cowboys: Ezekiel Elliott (RB, knee)
They should be able to play this Sunday
Buccaneers: Antoine Winfield (S)
Colts: Matt Ryan (QB)
Commanders: Jahan Dotson (WR)
Cowboys: Ezekiel Elliott (RB)
49ers: Deebo Samuel (WR), Elijah Mitchell (RB), Azeez Al-Shaair (LB), Colton McKivitz (OT), Jordan Willis (DE)
Giants: Kenny Golladay (WR),
Packers: Aaron Jones (RB)
Saints: Jarvis Landry (WR)
Steelers: TJ Watt (OLB)
Texans: Brandin Cooks (WR, wrist)
Transactions
The main cups of the day: Jerry Tillery (DT, Chargers), AJ Parker (CB, Lions)
Edith Piaf Tom Brady has no regrets
He retired, then came back, and now has a 4-5 record. Since the start of the season, Tom Brady and the Buccaneers have struggled to keep their heads above water and have not even been able to break away from the other 3 NFC South teams, although they are much lower on paper. So when ESPN frankly poses the question of regrets to Terrific Tom, the ex-Patriot does not have an ounce of hesitation:
"(Regrets?) Zero, none. Absolutely not. I came back because I wanted to compete. I told the team about it and they were happy to have me back. I'm not one to regret that sort of thing. I think when I invest myself in something, I really go for it, and I give everything I have. »
Against the Packers, Micah Parsons will not have 30 million friends
This Sunday, the Cowboys will challenge the Packers on their home turf. In bad shape since the start of the season, Green Bay is far from favorite against the impressive defense of the Cowboys, symbolized by their star Micah Parsons. In an interview published on Yahoo Sports, the Dallas linebacker/edge rusher/safety/defensive tackle tried a daring metaphor to describe the Packers, whom he certainly does not want to underestimate.
"My grandmother used to tell me: if you see a cockroach and it is dying, do you crush it, or do you let it regain its strength and come back to life? You crush it. I live my life without mercy. You cannot have pity in this sport, otherwise you will pay for it one day. »
If Parsons is as impressive this Sunday as since the start of the season, Aaron Rodgers is indeed likely to have the blues.
Jabrill Peppers loves banging
The league attempts to protect players from serious injury. Everyone should rejoice. But Jabrill Peppers (S, Patriots) isn't everyone. Interviewed by MassLive.com, Peppers played it nostalgic (and very manly).
"I turned off the lights for a bunch of guys. Sometimes it wasn't even tackles. Guys who came to block me, either at the time when blocks in the blind spot were authorized. Now the rules are for the fragile, as not possible. As soon as you touch someone and it seems too physical to them, they send a flag. I had to change my game to adapt. When I have the possibility to send a cinder block to another player, I do it. But it's difficult in today's conditions. »
Peppers adds a layer on the intentions of the league, and its consequences.
"I imagine they want to do this because of all the concussions and stuff. They think they have made the game safer. But to me, we're all guys who've been playing this game since we were 6, 7. We know what we risk. They made it a game of fragile. Receivers are no longer afraid to cross midfield because they know they can only be tackled a certain way. Before, receivers were freaked out about coming to midfield because they knew the punishment was coming. It's a completely different game, they just want to see points scored, not good defenses played. »
Support DNA of Sports
Don't forget to follow us on social networks by clicking on the links: Twitch – Twitter – Instagram – Facebook – TikTok
You can support us directly on Tipeee.
Or by betting at Unibet.
Or by subscribing to NordVPN through this link