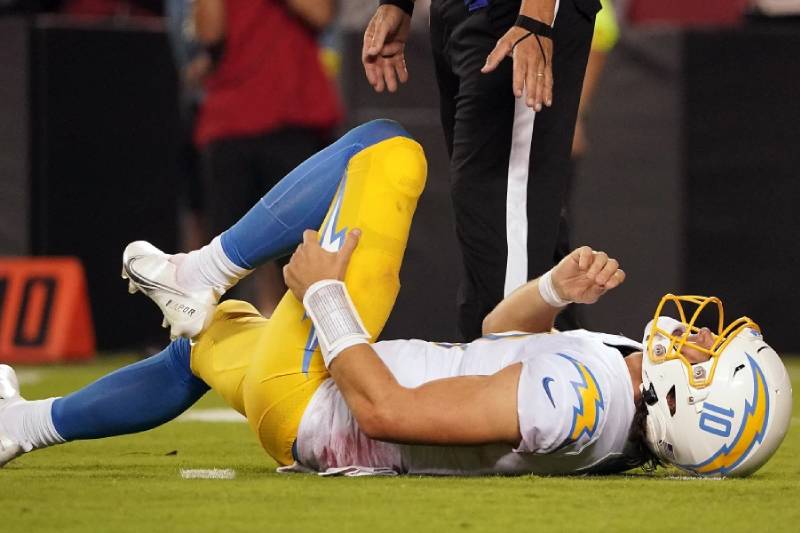 hot news
– [Preview] Week 2: a weekend to see more clearly
– [NCAA] Week 3 – Rattler misses, Corum walks on the lake
– S2 predictions: Cardinals, Bengals, 49ers and Raiders to raise?
Podcast – Retro: Michael Vick and the 100 million dollars
Justin Herbert hit in the ribs
Justin Herbert (QB, Chargers) suffers from a broken rib cartilage. The problem is not too serious, since Brandon Staley, his coach, announced to the press that the quarterback should be back any day.
Chargers doctor attacked by Tyrod Taylor
If Justin Herbert is the holder of the Chargers, it is in particular because a doctor of the team pierced the lung of Tyrod Taylor (QB) last year. David Gazzaniga, the doctor in question, is now being sued by Taylor, according to ESPN. The launcher claims at least 5 million dollars, according to the documents obtained by our colleagues.
The procedure was launched in May 2021, and the two camps agreed to postpone the trial until April, after the season.
Gazzaniga is still employed by the franchise, and it is he who will take care of Herbert's latest injury…
One day off a week for Tom Brady
After taking a big ten-day absence during the preparation, and while rumors of big problems in his family life are spreading in the tabloids, Tom Brady (QB, Buccaneers) will be free every Wednesday. This is announced by NFL Network.
Every Wednesday, it will therefore be Blaine Gabbert who will work with the incumbents.
injuries
– Shot in the legs barely 3 weeks ago, the promising rookie from Washington Brian Robinson (RB) appeared in form in a video posted by the player on Instagram this Friday
Brian Robinson is back on the field just 3 weeks after getting shot in the leg twice during an attempted robbery.

Legendary recovery skills! @Barstooldmv pic.twitter.com/f9S4Yi9KJc

— Barstool Sports (@barstoolsports) September 15, 2022
They won't play this Sunday (official, unless it says "press", which means the info is reported by ESPN or NFL Media but not yet official)

– 49ers: George Kittle (TE, press)
– Broncos: KJ Hamler (WR)
– Cardinals: Rondale Moore (WR), Andy Isabella (WR)
– Colts: Shaquille Leonard (LB), Michael Pittman (WR, quads)
– Falcons: Damien Williams (RB)
Lions: Frank Ragnow (C, adductors/foot)
Ravens: JK Dobbins (RB, knee, press)
Saints: Alvin Kamara (RB, Saints, odds, press)
– Texans: Justin Britt (C)
They are uncertain this Sunday

– Bengals: Tee Higgins (WR)
– Bills: Ed Oliver (DT), Gabriel Davis (WR, ankle)
– Buccaneers: Chris Godwin (WR), Donovan Smith (LT), Julio Jones (WR)
– Broncos: Randy Gregory (DE)
– Colts: DeForest Buckner (DT), Michael Pittman (WR)
– Giants: Kadarius Toney (WR), Kayvon Thibodeaux (OLB)
– Jets: CJ Uzomah (TE)
– Rams: Leonard Floyd (LB)
– Saints: Alvin Kamara (RB), Paulson Adebo (CB)
They should take their place
Bengals: Tee Higgins (WR, concussion, press)
Buccaneers: Mike Evans (WR, calf), Leonard Fournette (RB, hamstring)
Cardinals: JJ Watt (DE, calf, limited according to the press)
Giants: Kadarius Toney (WR, hamstring)
Lions: D'Andre Swift (RB, ankle)
Packers: Allen Lazard (WR, press)
Ravens: Marlon Humphrey (CB, adductors, press)
They are on the injured list and will miss at least 4 games: Austin Jackson (RT, Dolphins), Damien Williams (RB, Falcons)
Transactions
– Always free agent, Cole Beasley (WR) would be in the small papers of several teams in the league, eager to strengthen their corps of receivers. (Pro Football Network)
– The 49ers signed a 4-year contract extension to Mitch Wishnowsky (P), their punter. The deal is for a total of $13 million.
The main signatures : Daryl Worley (Db, Ravens), Takk McKinley (DE, Titans, PS)
The main cuts : David Moore (WR, Bears), Tavon Young (DB, Bears)
Bill Belichick compares Chase Claypool to the Gronk
There's worse than being compared to one of the best Tight Ends in history by one of the best coaches in history. Although he is officially the receiver, Chase Claypool (WR, Steelers) will certainly not sulk his pleasure in listening to the praises made by the coach of the Patriots in the pre-game press conference.
"He's tall, fast, with very good hands, a great span. He has an ability to always stand out. A bit like Gronkowski, no matter where his defender stands, there is bound to be a place where only he can get the ball. "
In the first week, Claypool received only 4 passes for 18 yards, plus 6 races for 36 yards.
Jerry Jones pressures CeeDee Lamb
Targeted eleven times by Dak Prescott, but author of only 2 receptions for 29 yards, CeeDee Lamb (WR, Cowboys) did not have a fanfare start to the season, to put it mildly. The fault may have been a rather weak set of targets that made it easier for the Buccaneers, who focused on Lamb. As he knows so well, franchise owner Jerry Jones hastened to make a statement that is sure to bring some peace of mind. to a squad that has just lost its quarterback.
"People are going to cover your best receiver. That's life. So what do we do ? Well we do with it and we play despite being covered. You have to catch the ball even when you are covered. We cannot, just because we have the excuse of being marked by two players, not produce yards.
So charge Lamb to do better this Sunday against the Bengals, with Cooper Rush in charge, and still without many alternative options to divert attention from opposing defenses.
Asante Samuel

spoof

his son on his almost-interception
Unhappy author of a released interception and therefore deemed incomplete pass, Asante Samuel Jr (CB, Chargers) won't be able to go to his legend dad for comfort. On Twitter, the father was rather amused by the situation.
"If I was one of his teammates, I would whisper in his ear, 'You just released a million dollars.' "
Asante Jr may be able to remind him that missing interceptions is obviously in the genes, evidenced by the Superbowl 42.
Jaylen Watson (Chiefs) has a crystal ball
Unexpected hero of the Chiefs' victory against the Chargers on Thursday, Jaylen Watson sealed the game by intercepting Justin Herbert 1 yard from in-goal, then returning his grip on 99 yards for a touchdown. Holder in place of the rookie cornerback of the first round injured Trent McDuffie, Watson had yet predicted everything in advance, as he told the LA Times on Friday.
"I woke up knowing I was going to make an interception. I knew that being a rookie drafted in the 7th round, I was going to be targeted a lot. I just felt like I was going to have an interception. "
Elementary my dear Watson.
Support DNA of Sports
Don't forget to follow us on social networks by clicking on the links: Twitter – instagram – Facebook
You can support us directly on Tipeee.