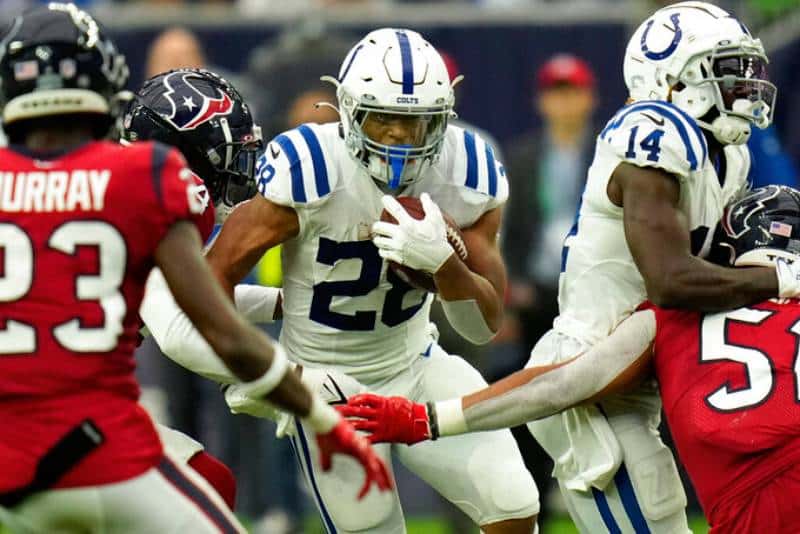 hot news
– [NCAA] Week 10: Jeffrey Mba shows up, Josh Downs elusive
– [Preview] Week 9: Bucs-Rams, the game of fear
– S9 predictions: favorites everywhere, surprise for the Cardinals?
[podcast] Retro – Draft 2015: when Jameis Winston and Marcus Mariota had to save the NFL
The Jaguars are not allowed to speak to Calvin Ridley
Setting up an exchange for a player suspended all season was already daring. But the conditions under which Calvin Ridley (WR) arrives at the Jaguars are just as important. According to ESPN, the Jacksonville franchise has still not had any contact with its new player. And for good reason, it is forbidden for a suspended player to communicate with his team, even in the event of a transfer.
The leaders of the Jaguars therefore had to go through circuitous routes to make sure that Ridley is well maintained and that he will be ready to play at the end of his suspension. The catcher hasn't played since Oct. 24, 2021, and is suspended for the entire 2022 campaign after placing a bet on his own team while in Atlanta.
Rumors
– Even more time for discussions? According to ESPN, several teams have contacted the NFL to inquire about the possibility of extending the transfer deadline in the future, such as after Week 10 or Week 12. The matter could be discussed at the next managers' convention. the league in December. Then we should talk to the owners about it at their spring meeting. In 2012, the transfer deadline had already been pushed back from the end of Week 6 to the end of Week 8, its current location.
– The Rams reportedly offered two first-round picks and one second-round pick to the Panthers for Brian Burns before the transfer deadline. Carolina therefore refused. Another failure for Christian McCaffrey. There, Los Angeles would have put 2nd, 3rd and 5th round picks, with Cam Akers as a bonus. Also failed. (CBS/ESPN)
– Failures for the Packers too. ESPN reports that Green Bay has offered a 2nd round pick and a late draft pick for Chase Claypool. But Pittsburgh would have considered the second-round pick offered by Chicago to be higher in the Draft. The Packers also went to inquire about Darren Waller, but soon discovered they weren't willing to pay what the Raiders would have accepted.
injuries
– Absent last week during the victory of Tennessee, Ryan Tannehill (QB, Titans) could return this Sunday against the Chiefs. His participation in the match will be decided at the last minute. (ESPN)
– Cordarrelle Patterson (RB / WR, Falcons) is off the injured list. Touched in the knee and absent from the last four meetings, he will therefore bring an additional offensive option of weight to Atlanta.
– Calais Campbell (DE, Ravens) told the press that he missed the game against the Buccaneers due to an infection which had to be removed by surgery. After antibiotic treatment, he assured ESPN that he is fully recovered.
They were uncertain but should play this Sunday
Bills: Von Miller (OLB)
Buccaneers: Akiem Hicks (DT), Carlton Davies (CB), Sean Murphy-Bunting (CB)
Chiefs: Kadarius Toney (WR)
Rams: Cooper Kupp (WR)
Titans: Derrick Henry (RB)
They are uncertain
Bills: Matt Milano (LB, obliques)
Lions: D'Andre Swift (RB, ankle), Josh Reynolds (WR, back)
Jets: James Robinson (RB, knee)
Packers: Allen Lazard (WR, shoulder), Christian Watson (WR, concussion), Preston Smih (LB, shoulder)
Patriots: Damien Harris (RB, hamstring)
They will not play this Sunday
Bengals: Mike Hilton (BC)
Bills: Jordan Poyer (S, elbow)
Buccaneers: Antoine Winfield Jr (DB), Luke Goedeke (L), Cameron Brate (TE), Russell Gage (WR)
Chargers: Keenan Allen (WR), Mike Williams (WR), Jerry Tillery (DL, back), Dustin Hopkins (K, hamstring)
Colts: Jonathan Taylor (RB, ankle), Matt Ryan (QB, shoulder)
Commanders: Chase Young (DE), JD McKissic (RB, back), Jahan Dotson (WR, hamstring)
Falcons: AJ Terrell (BC)
Jets: Corey Davis (WR, knee)
Packers: De'Vondre Campbell (LB)
Panthers: Chuba Hubbard (RB), Rashard Higgins (WR, sick), Juston Burris (S, concussion), Donte Jackson (CB, ankle)
Patriots: David Andrews (C), Marcus Cannon (OT), DeVante Parker (WR)
Seahawks: Marquise Goodwin (WR)
Vikings: Dalvin Tomlinson (DT)
They are placed on the injured list and will miss at least 4 games: Chidobe Awuzie (CB, cruciate ligament rupture, end of season), Marcus Cannon (OT, Patriots), Donald Parham (TE, hamstring)
They come off the injured list (IR): Bears: Cody Whitehair (G), Krus Barnes (LB, Packers)
Transactions
The main signings of the day: Bruce Irvin (OLB, Seahawks)
In short
A Washington legend dies
Craftsman of two of the three Super Bowls won by Washington (1982, 1987), defensive end Dave Butz died at the age of 72 on Friday. A double All-Pro, he also finished third in the vote for Defensive Player of the Year in 1983. His exceptionally long career (16 years!) ended in 1988 after 14 years with the late Redskins, of which it is part of the Ring of Honor. He is also in the NCAA Hall of Fame for his years at Purdue. He was drafted 5th in the 1973 draft.
Nick Sirianni has rich issues
Exchanged for a fourth round pick two weeks ago, Robert Quinn (DE, Eagles) was only allowed 7 snaps on Thursday against the weak Texans. It's not much for a player who finished with 18.5 sacks last season (2nd in the league behind TJ Watt). The fault has a workforce full of talent, according to Sirianni (HC, Eagles), interviewed at a press conference.
"The number of snaps depends on what defensive plays are called. We had planned to put Robert in only certain formations, but we called more often those in which he was not. Does he deserve to have more playing time? Definitely, and besides, we are somewhat in the same situation with Brandom Graham, who did not have much playing time earlier in the season because of the same problem. It's not easy to follow the playing time of each player for Jonathan Gannon (note: defensive coordinator) when he must at the same time focus on the game plan and call the best plays possible. »
DJ Moore has no regrets
Guilty of a severe unsportsmanlike foul last Sunday after scoring a touchdown on an Ave Maria in the dying seconds of the game, DJ Moore (WR, Panthers) responded coldly to questions from ESPN about the penalty.
"I was like… Wow, I guess no one should ever feel emotions! And I grant you, in general I do not pour too much into emotion, but here, it must be said that it was still a rather exceptional context. »
So, does the missed extra point and the defeat leave him with a bitter taste?
" Regrets ? Nope ! Should I not have done this? In effect. Did I? Yes. And I assume it. It's just something that happened at the time. Can I say that today I would do differently if it happened to me again? Probably not. »
Elijah Moore not resentful
He had asked to be traded, but ended up staying in New York. Elijah Moore (WR, Jets) did not see his wish granted but that does not mean that he will remain sulky in his corner. Asked by NJ.com, the receiver said he was ready to play on Sunday.
"I am here, and I will stay here. So why not be super positive? »
Rather critical of his quarterback Zach Wilson recently, Moore watered down his wine and made his mea culpa.
"I'm just human. I have moments lower than others. But every day I wake up and it's a new day. I feel good right now. We had a good week of training, I'm confident about our game plan, I'm just ready to play on Sunday! »
Moore has caught only one pass in total, for 11 short yards, in the last 3 games.
Support DNA of Sports
Don't forget to follow us on social networks by clicking on the links: Twitch – Twitter – Instagram – Facebook – TikTok
You can support us directly on Tipeee.
Or by betting at Unibet.
Or by subscribing to NordVPN through this link