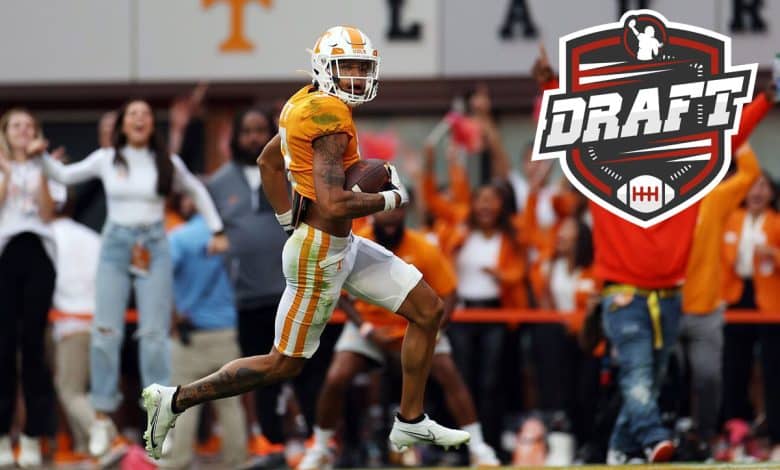 While waiting for the post-season draft sheets, the editorial staff of DNA of Sports offers you, every Tuesday, a spotlight on the future nuggets who will join the NFL in 2023.
Jalin Daveon Hyatt
Born September 25, 2001 in Irmo, South Carolina
1m83 for 80 kilos
Receiver, Tennessee, junior
Jalin Hyatt is not a so-called "number 1" receiver. He is more the type to complete a player who regularly advances the chains. Jalin Hyatt is that type of WR2 gaining a lot of ground all at once, a few games per game.
If I were a quality: fast
With an impressive average of 19 yards per reception, Jalen Hyatt knows how to punish the opponent. All of a sudden: sudden and brutal! In his 12 games in 2022, he signed 67 receptions: 20 bringing in 20 yards or more!
Including 11 receptions of 40 yards or more!
This ability to punish the opponent is valuable in the NCAA and even more so in the NFL: gaining 40 yards on a single play can change the course of a match.
If I were a defect: physical
Rather frail and taking advantage of cornerbacks busy defending the beefy Cedric Tillman and Bru McCoy, Jalin Hyatt has most often faced a nickel cornerback: the smallest of the three. In NFL, even in the slot, he will face a physical fight to escape from the marking and then impose himself towards the ball: he must therefore strengthen his game!
The best universities have top-level sports facilities: the 1.13-minute tour at the end of the article is worth it. Jalin Hyatt took advantage of this, especially in the weight room but also in the canteen. During the 2022 off-season, he restricted himself to six meals a day and all of them, of course, rich in protein: he thus gained 8 kilos in six months and it is not fat!
If I were a date: October 15, 2022
It was THE appointment for his university and therefore for him too. Meeting the University of Alabama is always both prestigious and difficult. Tennessee won and Jalin Hyatt more than shone: only 6 receptions but 5 giving a touchdown. 207 yards in just 6 receptions? That's an average of 34.5 yards per reception!
Everyone was impressed with his performance. Basketball player Kevin Durant tweeted and another college alum offered him a cigar after the game.
If I was an NFL player: Will Fuller (ex-Texans)
In 2015, Will Fuller caught 65 balls with Notre Dame averaging 20 yards per reception. In 2022, Jalin Hyatt caught 67 passes averaging 19 yards. Size, style of play, the similarities exist between the two players.
Numerous issues with various injuries prevented Will Fuller from justifying his status as a 1st round pick. However, he is a name known to all, thanks to the big winnings he has signed, thus making an impression.
If Jalin Hyatt confirms his speed during the 40-yard NFL Combine, as Will Fuller did (4.32 in 2016), then his chances of being chosen in the 1st round will be even greater. Justified or not, his sprint time will have an impact on his position in the 2023 draft.
If I was a draft pick: 25-45
Jalin Hyatt's superb season enabled him to win the Biletnikoff Award: a trophy given to the person voted best receiver of the year. If he seems less complete than the 2021 winner, Jordan Addison (USC), this still signals his quality.
Especially since he has for him to have achieved his performances in the highest conference in the country. Another plus for NFL evaluators: Hyatt is used to playing in front of 50 to 100,000 spectators! If the level will be even higher in the NFL, the stage will not be too big for him.
So in an average vintage at the post, Jalin Hyatt could be selected relatively early. End of 1st round or a little later? Answer at the end of April 2023.
If I were an NFL team: Los Angeles Chargers
Only 26th attack in yards by completion! The Chargers certainly benefit from the talents of Keenan Allen, Mike Williams and Joshua Palmer but they must add a fast receiver. To diversify their attacks and to optimize Justin Herbert's powerful arm.