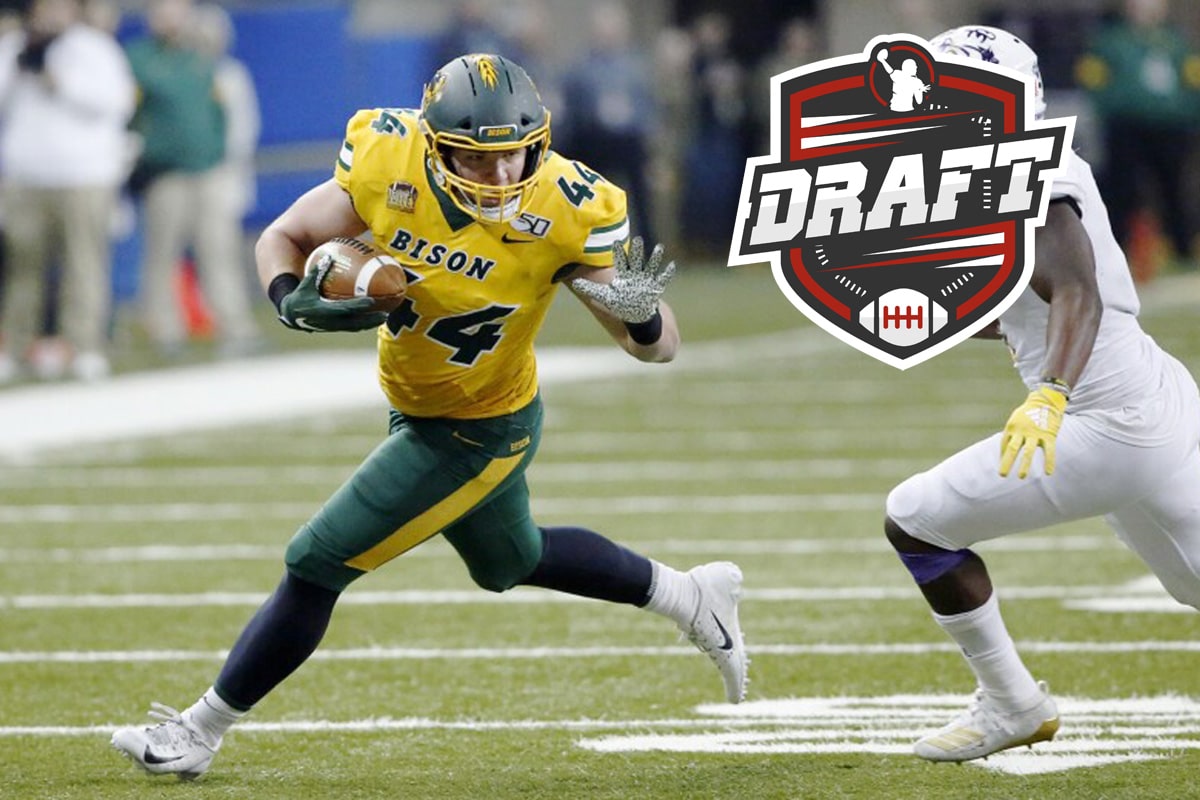 While waiting for the post-season draft sheets, the editorial staff of DNA of Sports offers you, every Tuesday, a spotlight on the future nuggets who will join the NFL in 2023.
Hunter Luepke
1m85 for 107 kilos
Fullback, North Dakota State, senior
Fullback, a position that seems to come from another time. In 2022, only half of the NFL teams have one in the workforce! And if Ravens, 49ers and Raiders use them a lot in their attacks, the others only play between 5 and 7% of offensive games like the Lions, Steelers or Chiefs.
But is Hunter Luepke really a fullback?
If I were a course
Hunter Luepke grew up in Spencer, Wisconsin. A village which in 2010 had less than 2000 inhabitants. In fact, in order to be able to play football, his high school in Spencer was twinned with another to have enough players! He therefore teamed up with high school students from columbus catholic of the "giant" Marshfield 15 kilometers away: less than 20,000 inhabitants.
And of course, he played multiple positions and on the three phases of this game: runner in attack, linebacker or defensive-end in defense. He also sometimes returned the kicks! The best player in the area but not enough for his reputation to reach the city of Madison and the prestigious University of Wisconsin.
He receives only two scholarship offers and two from universities with a second-level varsity football program. However, North Dakota State is the "Alabama" of this level: Hunter Luepke was able to be champion there twice! And NFL players like Carson Wentz (Commanders), Christian Watson (Packers), Trey Lance (49ers) or Cordell Volson (Bengals) came from there.
If I were a quality: handyman
Hunter Luepke is listed as a fullback because it matches his size. But also in a position he knows well: when the ball is kicked in, he makes his way through the giants of the trenches, in order to counter a linebacker or a safety, and thus open up additional space for the runner following him. .
But it is so much more than that!
Combining the 2021 and 2022 seasons, he played 19 games: 1162 yards and 17 touchdowns on the ground! He is therefore also a running-back. And also a receiver: 7 touchdowns after receptions over the same period. Opposing defenses can't predict why he's on the pitch: will he block, run with the ball or step out to receive a pass?
Football is the sport of tricks par excellence! With a creative offensive coordinator, Hunter Luepke could be formidable in the NFL.
If I were a fault: good in everything, excellent in nothing
If he knows how to do everything, he cannot be as good in each field as the specialists of a position. Stand out, catch the ball and gain yards after receptions, he knows how to do it. But if a team is looking for a receiver, they will look to a player in that position instead. Running, he has shown all his effectiveness in doing so. But is he as explosive as most runners available in the 2023 draft? No.
If Hunter Luepke helps his team in many ways, he does not offer a specialty where he would be excellent. If he looks like a queen on a chessboard in his many ways of moving, he will never be as important as a bishop or a rook, a runner or a receiver.
If I was an NFL player: Kyle Juszczyk (49ers)
This comparison is so obvious! Hunter Luepke has the same size and the same characteristics as the San Francisco player. For an NFL attack, he can protect the quarterback, block for a runner, carry the ball or capture it.
If I was a draft pick: 80-120
Kyle Juszczyk was selected by the Ravens in the 4th round of the 2013 draft: pick 130. Hunter Luepke has a chance of being picked a little higher. A hybrid player, he could benefit from a 2023 class of relatively average tight-ends: if a TE must know how to block and catch the leather, Hunter Luepke can also do that and in addition, he can also run and gain yards on the ground !
He will nevertheless have to seduce the NFL staff who will be present during the Senior Bowl 2023, where they will see him up close and will also be able to talk to him. But if he can make it into the top 100, it's unlikely to be before pick 80. In any case, that's what's looming for now: but a lot of things will still change between now and the month. of April.
If I were an NFL team: Kansas City Chiefs
No, the Chiefs are not going to rush on Hunter Luepke during their home draft: their fullback, Michael Burton, only plays on 6% of offensive calls! Admittedly, he will be out of contract after this season but replacing him cannot be at the top of their game. wish list.
But in a team with already a lot of quality players, and after having addressed one or two more significant needs, a player as complete as Hunter Luepke would be a real added value for them: in 2022, among the 5 players with the most receptions in Kansas City, there are only 2 receivers!
Two tight-ends and also a runner are in the top 5 most targeted players by Patrick Mahomes. So there is no doubt that Hunter Luepke would find a special place there: probably not that of a queen in chess, but perhaps like a horse who knows how to render many services.