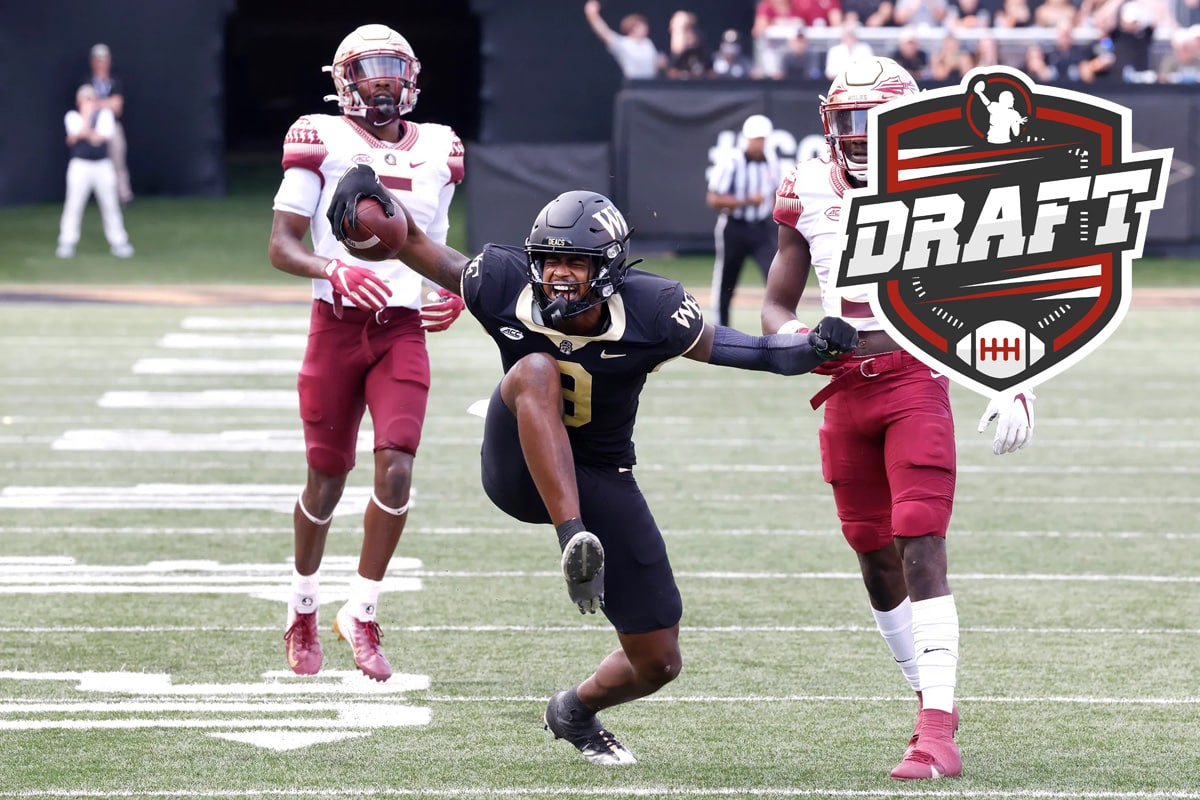 While waiting for the post-season draft sheets, the editorial staff of DNA of Sports offers you a spotlight on the future nuggets who will join the NFL in 2023.
Atorian Perry
Born October 26, 1999 in Lake Worth, Florida
1m96 for 93 kilos
Receiver, Wake Forest, senior
AT Perry stood out in 2021 with 1293 yards and 15 touchdowns in 14 games! In 2022, his association with quarterback Sam Hartman continues to cause a stir.
If I were a quality: big and fast
Almost two meters under the fathom, which already gives him an advantage in this area against defenders. In addition, AT Perry also has very long arms: longer than those of Drake London (Falcons) and Chase Claypool (Bears). An advantageous asset during contested catches in the air.
Despite his size, AT Perry is fast. Obviously he is not the explosive type like smaller receivers, but his top speed allows him to punish the opponent on a long game. Against Vanderbilt in 2022, he sowed his defender for 40 yards before receiving the ball, then running the remaining 28 yards to reach the end zone.
Marked, chased, but not caught! (see at the end of the article, end of the 1st quarter)
If I were a fault: block
Yes we are talking about a receiver and not a tight-end. However, the receivers also must know how to block: when a partner receives a screen pass or when the play called is a race. Knowing how to prevent the cornerback from helping the run stop is part of a receiver's mission.
This kind of duel can be similar to those of two wrestlers and it requires two qualities: a certain power of the upper body but above all knowing how to play low on your supports, so as not to be pushed. His slender physique gives him neither great power nor an advantageous center of gravity. But with technical work, he can only progress in this area.
If I was an NFL player: Tee Higgins (Bengals)
Tee Higgins should have been a 1st round pick in 2020. It all happened as he was the first pick in the 2nd round that year.
After his studies at Clemson, Tee Higgins also offered the profile of a tall receiver yet capable of attacking depth. Like him, AT Perry knows how to be a weapon in the end zone but also a solution for an impact game: 18 yards on average per reception for Tee Higgins with Clemson and 17 for Perry.
If I was a draft pick: 20-40
Extremely deep for two seasons, the 2023 class of receivers is correct, nothing more. Not better with the players that will be available during the market. Possessing size and production, AT Perry could benefit from these two limits to be among the first 32 players chosen.
If I Was Revenge: AT Perry vs Florida
AT Perry was born and raised in Florida. Along with Texas and California, this southeastern state is most renowned for supplying soccer players. During this NFL season, 202 players come from Florida! Matthew Stafford (Rams) and Lamar Jackson (Ravens), Derwin James and Khalil Mack (Chargers) come from there.
With no less than 7 universities at the 1st university level, the many young talents in the area are scrutinized. Yet the star of his high school 100 kilometers north of Miami, AT Perry has not received any scholarship offers from his state. So when on September 18, 2021, he was finally able to face a team from his region, he signed 155 yards and 1 touchdown against Florida State. Same opponent the following season and same punishment (91 yards and 1 TD).
If I were an NFL team: Jacksonville Jaguars
If still available at the start of the second round, a Florida team could finally be interested in him. At the Jaguars, AT Perry would be complementary to Christian Kirk and Calvin Ridley, while Marvin Jones will be out of contract. After returning his Travis Etienne from Clemson, the staff could give him his new Higgins Tee.