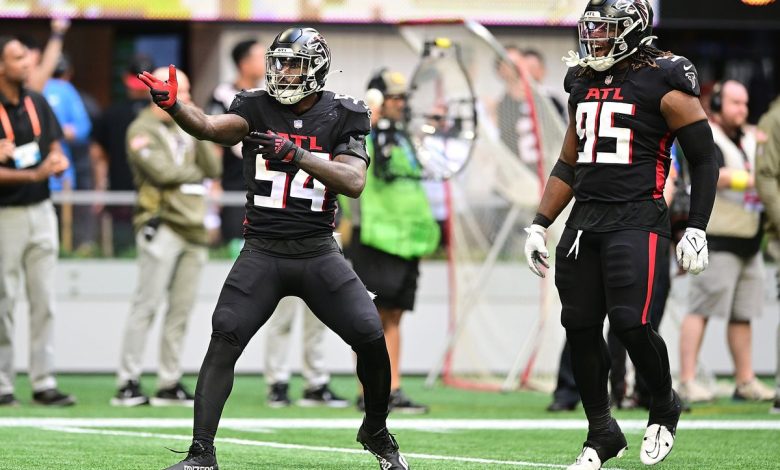 For the resumption of training camps, NFL franchises have something to improve their workforce. After the best players available in attack, here are the best defenders still on the market.
1- Yannick Ngakoue, DE
Often putting the opposing quarterback on the ground is essential to any good NFL defense: the two best in 2022, Eagles and Chiefs, met at the Super Bowl! These two franchises also went there thanks to their offensive weapons but this specialty is very impactful.
Yannick Ngakoue is impressively consistent in the field of sacks: 8, 12, 10, 8, 8, 10 and 9.5 for his seven NFL seasons. He has yet played for five different franchises, demonstrating his ability to adapt to be effective upon his arrival.
Possible destinations: Chicago Bears, Green Bay Packers, Carolina Panthers, Jacksonville Jaguars
In the 2023 draft, everyone expected to see the Bears take over the Defensive End position. Chicago instead focused inside the D-line with Gervon Dexter and Zacch Pickens. With just 20 sacks produced in 2022 (last in the NFL), the Bears badly need to add talent to this position. They have the money to do it because no other franchise has more space on their payroll.
To help Jordan Love, the Green Bay defense must raise its level: 27th NFL in number of sacks in 2022. If Preston Smith is effective, on the other hand, Rashan Gary is still recovering from an injury and it seems too short to regain sufficient form from the first matches of 2023. Lukas Van Ness, chosen in the 1st round of the draft, is used to playing higher and more inside than an edge in a 3-4 configuration. Signing a reliable player like Yannick Ngakoue would immediately improve the much-needed pressure from opposing quarterbacks.
Jacksonville will refocus Travon Walker more often in 2023, which should help the number 1 in the 2022 draft. With Arden Key and Dawuane Smoot gone, an experienced player like Yannick Ngakoue would do good, unlike Josh Allen (the other). The environment would be familiar for a player drafted by the Jaguars in 2016 where he produced 4 seasons for 38 sacks!
2- Rashaan Evans, LB
Rashaan Evans produced his best statistical season in 2022 with 159 tackles. Often in difficulty in cover, it is on the other hand formidable to chase the opposing runners.
Possible destinations: New York Jets, Dallas Cowboys, Arizona Cardinals, Pittsburgh Steelers
The Jets are ambitious with Aaron Rodgers leading and they have the cash to continue improving the team. In 2022, the 11 type in defense included three linebackers (in snaps played): CJ Mosley and Quincy Williams but with whom in 2023? The 3rd in 2022 was Kwon Alexander, also looking for a contract. Rashaan Evans looks at least as good as the two starters and in any case better than the other players in the LB squad.
Anthony Barr left free, Dallas needs a linebacker alongside Leighton Vander Esch. So far, the candidates are mediocre: Damone Clark, Jabril Cox and rookie DeMarvion Overshown. Recruiting Rashaan Evans would be a major addition to the NFC East division: their three rivals were all in the top 8 NFL by number of runs in 2022!
The Cardinals' two inside linebackers switch positions in 2023: Zaven Collins moves to the outside and Isaiah Simmons returns to safety. A Kyzir White – Rashaan Evans duo would be complementary on the second curtain.
3- John Johnson, S
In 2022, it was the third time in six years that John Johnson exceeded 100 tackles in the season! Yet the Browns preferred to let him go, to sign Juan Thornhill who is better on the cover. If he is not a player capable of pulling others up, his level nevertheless makes him a solid starter in the NFL.
Possible destinations: Indianapolis Colts, Green Bay Packers, Los Angeles Chargers
Rodney McLeod having joined the Browns, John Johnson could play musical chairs with him by joining Indianapolis. The Colts have a comfortable payroll and their safety does not impress anyone: Julian Blackmon, Nick Cross and Rodney Thomas.
Speaking of troubled units, the Packers' center backline positions are held by Darnell Savage and Rudy Ford! Can Green Bay really start the season with such a weak pair? Admittedly Tarvarius Moore arrives from San Francisco, but in 2022 he mainly played in the special team: 13 games, 57% of the games in the special team and only 4% of the defensive snaps! There is no doubt that John Johnson would be welcome in Wisconsin: especially since he is only 27 years old!
Alohi Gilman should accompany Derwin James to Los Angeles but adding John Johnson would be smart for the Chargers. Anyone who has played 4 seasons for the Rams would not have to adapt to a new environment: a factor that nobody talks about but which still has an impact on a player's immediate performance.
4- Jadeveon Clowney, DE
Announced as a generational player in 2014, Jadeveon Clowney disappointed. A few injuries but above all a production that does not pay tribute to his status as number 1 in the draft! Now 30, he can still bring things into a rotation, however.
Possible destinations: Houston Texans, Carolina Panthers, Chicago Bears
Rookie Will Anderson is a fantastic player, but in 2023 he'll just be an NFL rookie. And if Jerry Hughes signed 9 sacks in 2022, he will be 35 in a month. Adding Jadeveon Clowney to these two players (and Jonathan Greenard) would be welcome for a new coach accustomed to having a quality rotation on the defensive line. He could thus return to where it all began in the NFL, but with another status.
New cycle in Carolina with a rookie quarterback and new coaches.
Born 50 kilometers from Charlotte and having studied in South Carolina, Jadeveon Clowney could come full circle by signing with the Panthers. Brian Burns is a major player but opposite Yetur Gross-Matos, and his incredible life story, hasn't confirmed since his draft (pick 38) in 2020.
Amare Barno (2nd year) and DJ Johnson (rookie) have qualities but are young and the Panthers have the salary margin to be able to spend: especially since Jadeveon Clowney can no longer claim a substantial contract (6 million over a season?) .
If he does not seem to correspond to the system of the new defensive coordinator Ejiro Evero, follower of the 3-4, his contribution against the run would however be invaluable in the NFC South division, in particular against the Falcons (1st NFL in ground attempt in 2022 ). The Saints will also go through the ground a lot with the explosive Alvin Kamara and the robust Jamaal Williams (17 touchdowns on the ground in 2022).
5- Marcus Peters, BC
How far away the 2015 and 2016 seasons seem for Marcus Peters (8 and 6 interceptions)! Since then, with three different teams, he has not confirmed being a top 3 in his position.
There are two types of very good cornerbacks in the NFL: regulars like Darius Slay (133 passes defended), Stephon Gilmore (127) or James Bradberry (99).
And there are those capable of being decisive in certain specific games. His 32 interceptions rank him second among cornerbacks still active!
Marcus Peters is still out of contract but the importance of the position and his potential for playmaker means that he will find a team before the start of the season.
Possible destinations: Las Vegas Raiders, Indianapolis Colts, Arizona Cardinals
The Raiders' roster of cornerbacks puts a smile on the faces of Patrick Mahomes, Russell Wilson and Justin Herbert of the AFC West division. Hailing from Oakland, his emotional connection to the Raiders is evident, even though the franchise has since moved to another city. To reap the rewards of pressure from Mad Maxx Crosby and rookie 2023 7th draft pick Tyree Wilson, Marcus Peters would be an ideal addition to that defense. The problem being the little salary margin available in Las Vegas.
The Colts, on the other hand, have cash and a position too poor to hope for results: Kenny Moore (worse in 2022) and rookies Julius Brents (2nd round), Darius Rush (5th round) and Jaylon Jones (7th round) . An experienced player would be welcome in this squad. The Cardinals also have money available and their need for this position is just as glaring.
Others
Justin Houston (DE), Troy Hill (CB), Anthony Brown (CB), Deion Jones (LB), Kwon Alexander (LB), Ronald Darby (CB), Dawuane Smoot (DE), Shelby Harris (DL), Landon Collins (S), PJ Williams (DB), Matthew Ioannidis (DT), William Jackson (CB), Casey Heyward (CB), Akiem Hicks (DT), Duran Harmon (S), Robert Quinn (DE), Anthony Barr (LB )