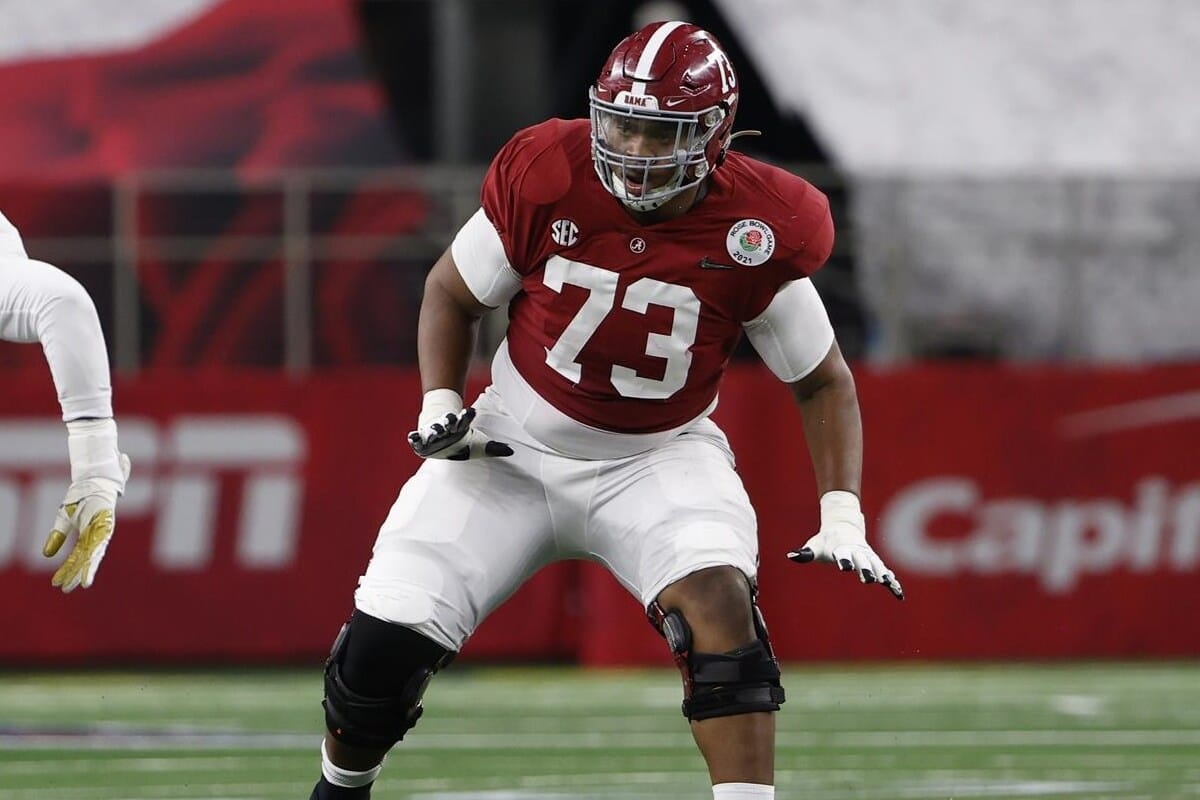 Evan Neal – Tackle – 21 – Junior – Alabama
Cut : 2m01
Weight : 163kg
Estimated draft position: Top 7
NFL Comparison: Jordan Mailata with experience
Strong points
– Athletic Monster
– Mobility
– Power
– Versatility
Today's NFL chooses players primarily on physical and athletic abilities. That's good, it's the main quality of Evan Neal. Sometimes a picture is worth more than words:
Always looking to one up myself! @MattRheaPhD @UA_CoachBallou pic.twitter.com/mEkce64Eqy

— Evan Neal (@ENeal73) July 12, 2021
That a player of 163 kilos is able to do such feats says a lot about projection in the NFL: hard to imagine such a mountain not making a place for itself in the NFL. What's even more surprising is that his mobility is quite incredible for his size, moving like a 300-pound tackle, being able to follow patterns with ease. Unsurprisingly, he is also powerful, blessed with violent hands and capable of winning any physical duel.
Alex Leatherwood has shown it in spite of himself this season, it is reassuring for a tackle to be versatile in the event of poor performance, and to be placed on the inside of the line (or on the right in certain cases). He played 1,71 games at left tackle (2021), 765 at right tackle (2020), 723 at left guard. This versatility is an asset and will work in his favor when competing against tackles like Charles Cross.
Weak points
– Balance
– Technical
– Football IQ
If Neal is powerful and dominant, he is sometimes too easy and enthusiastic. Instead of putting his feet on the ground, he stands on his tiptoes too quickly and loses his balance in duels that he must dominate. With a good coach, he will be able to correct this, but today it is his main fault, and it is very visible.
The technique as a whole is a line of work, its bad positioning leading to an uncertain placement of the hands. Despite a lot of gaming experience, he still seems too raw, and sometimes too naive. The recognition of the blitz, in particular, seems weak, which may raise questions about its adaptability and its ability to read the game.
Possible destinations
Jacksonville Jaguars, Houston Texans, New York Jets, New York Giants, Carolina Panthers
Who wants a dominant tackle? Almost the whole league. Cam Robinson's tag in Jacksonville cast doubt on the franchise's desire to sign a first-round tackle. If he passes the first pick, he will then become a target for Gotham teams. After a convincing sophomore year, Andrew Thomas would surely not take a dim view of recruiting a mountain on the right. Carolina might also want to bolster the line, but it's unlikely to drop any lower.