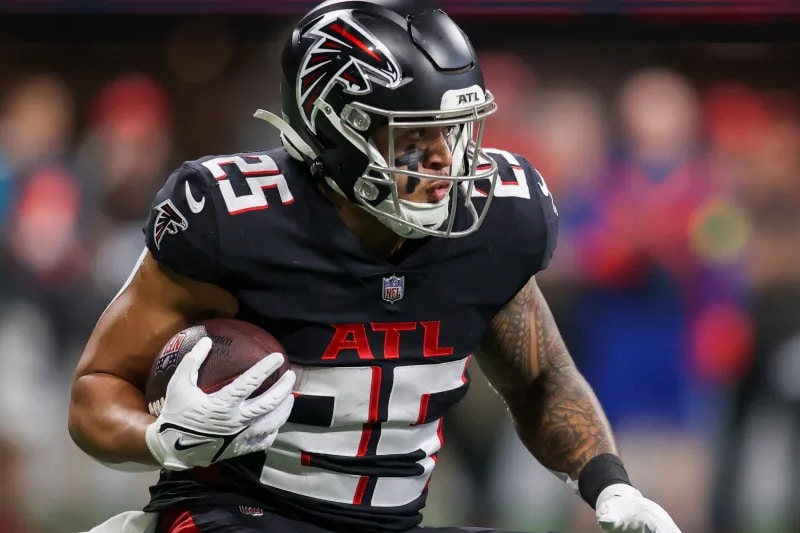 Difficult first for Bryce Young, successful for Bijan Robinson. The 2 stars of the last Draft have experienced varying fortunes.
Atlanta Falcons (1-0) – Carolina Panthers (0-1): 24-10
The last 1st pick of the Draft Bryce Young made his debut. After 60 minutes of play, the Panthers' new quarterback still has work to do. Same thing for coach Frank Reich, in a Carolina team that looked for its rhythm on offense, without managing to find it. In Atlanta, the playing identity based on the running game promised in the offseason was respected. More yards rushing than receiving in the end. We were waiting for Bijan Robinson, he did not disappoint, and seems promising. But, the man of the match is another running back: Tyler Allgeier.
Jessie Bates III, Bryce Young's nightmare
The first offensives are difficult on both sides, with some surprising things. On the Atlanta side, a pass from Desmond Ridder (15/18, 115 YDS, 1 TD), captured by… Desmond Ridder himself. On the Carolina side, a 4th failed attempt 12 yards from the end zone, then an interception of Bryce Young (20/36, 146 YDS, 1 TD, 2 INT) by new Falcons safety Jesse Bates III (10 tackles , 2 INTs), author of a boss match. Having gained confidence, it was the moment that Arthur Smith chose to put Bijan Robinson into orbit (10 races, 56 YDS – 6 REC, 27 YDS, 1 TD). The running back dodges 3 defenders, and goes to the promised land for his first NFL career touchdown. Opposite, Bryce Young will imitate him by finding Hayden Hurst (5 REC, 41 YDS, 1 TD).
Tyler Allgeier steals the show
In the second half, the Panthers made more mistakes. Bryce Young throws the same type of interception to Jessie Bates. Then, Miles Sanders will commit a fumble which will benefit Atlanta, which will not give up the match. The Falcons take the lead on a Tyler Allgeier rushing touchdown. The former BYU running back will definitely seal the game with 5 minutes remaining.
Welcome to the @NFL, @Bijan5Robinson!

📺: FOX | NFL+ pic.twitter.com/yHKxx8fed4

— Atlanta Falcons (@AtlantaFalcons) September 10, 2023