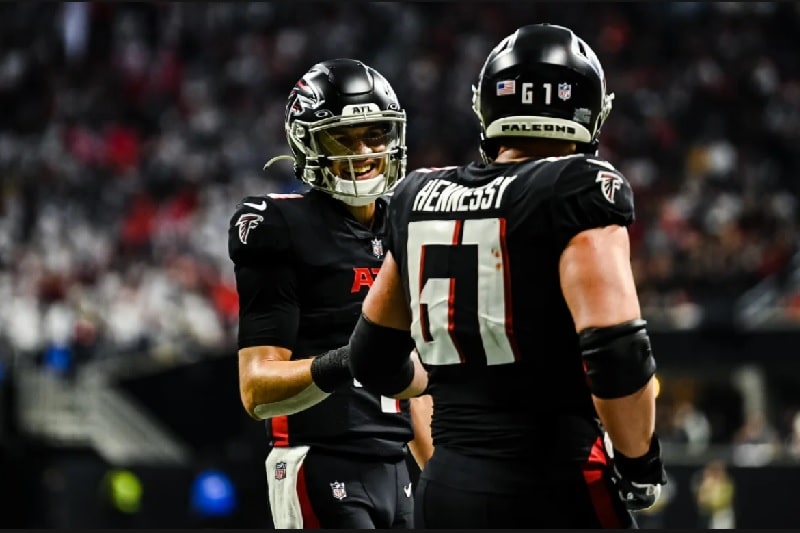 Atlanta Falcons (7-10) – Tampa Bay Buccaneers (8-9): 30-17
Preseason game this Sunday in Atlanta. If the two teams are no longer playing anything mathematically, this is an opportunity for the locals to continue to see the progress of Desmond Ridder. For the Buccaneers, the objective is to prepare for the first round of the playoffs without too much damage: some players are preserved, including Tom Brady who will only play a few series.
Quarterback Carousel in Tampa Bay
At the start of the game, the Buccs start Tom Brady (13/17, 84 yards, 1 TD), who brings 10 points in the pocket of Florida in five possessions, thanks in particular to a touchdown from ex-Viking Kyle Rudolph.
At the end of the first period, the reins of the attack are entrusted to veteran Blaine Gabbert (6/8, 29 yards, 1 TD), who sends a nice pass to Russel Gage for a touchdown. The only points scored by Gabbert in 3 sets, the next two ending in 3&out.
At the end of the match, yet not off the hook, the Buccs allow Kyle Trask, drafted second in 2021, to make his league debut. The result is more than mixed: 3/9, 23 yards, and no points.
Atlanta capitalizes on youth
The season has not been great in Atlanta, but we must recognize that it will have had the merit of testing some young players who could be the future of the franchise. Again, Drake London (6 receptions, 120 yards) showed up, as did a valuable Tyler Allgeier (24 races, 135 yards) on the ground. With Kyle Pitts returning next season, it's a promising attacking cast.
At the helm, will the quarterback be Desmond Ridder? It's not sure, but tonight the rookie delivered a solid performance that could tip the balance in his favor: 19/30, 224 yards, 2 TD. By far his best performance in the jersey of the Georgia franchise.
The site is no less important for the Falcons whose workforce still lacks the talent to play the leading roles.
For its part, Tampa Bay will receive the Cowboys in the playoffs.