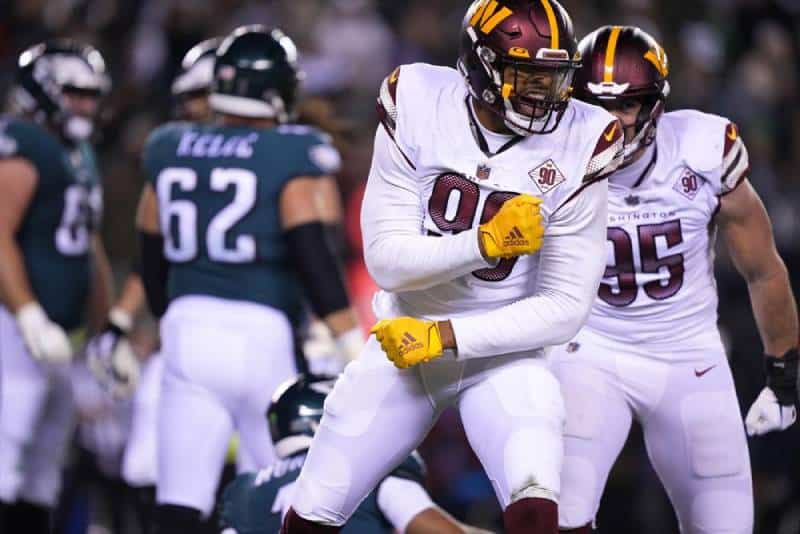 Philadelphia Eagles (8-1) – Washington Commanders (5-5): 21-32
The Eagles had lost only three balls since the start of the season. They lost four on Monday night. Add to that an attack from Washington who intelligently confiscated the ball (40 minutes of possession), a decisive Commanders defense at the end of the match and Philadelphia lost for the first time in the 2022 season.
After a strong start to the game, Jalen Hurts and his teammates lost momentum, going from error to error. Led 23-21 then 26-21 in the last quarter, they had the ball three times to win. The key: fumble, fumble and punt.
Washington stretches time
Philadelphia has a fire attack? Yes. The proof with touchdowns from Jalen Hurts and Dallas Goedert on their first two possessions. So what to do? Keep the leather. After a fumble on their first offensive, the Commanders regain their senses and place a possession of 13 actions to pass more than 7 minutes, with a touchdown from Antonio Gibson. Then it's more than six minutes to get a field goal (14-10). The defense takes over by intercepting Hurts, and the offense continues its cannibal number of the clock. Brian Robinson continues the small gains. Taylor Heinicke wins the first downs it takes.
Seven new minutes later, touchdown Robinson, here is the team of the capital in front! She even adds a field goal to lead 20-14. At the break, the Eagles only had the ball for 6:11, compared to 23:49 for their opponents.
So near, so far
And the rhythm does not change when we return from the locker room. Philadelphia punt quickly, and Washington leaves for more than 8 minutes, with another kick in the key (14-23). Nick Sirianni's men finally react with a touchdown from DeVonta Smith (21-23), then the defense intercepts Heinicke. With 12 minutes to play, the unbeaten seem to have turned the tide? It was actually the swan song.
Dallas Goedert lets the ball escape in his own half of the field, and Washington takes the opportunity to dig the advantage at the foot (21-26). It is then the turn of Quez Watkins to lose the leather. Washington is no longer advancing, but it doesn't matter. The defense takes over when the Eagles have a new ball with just over three minutes left. Hurts is sacked, then finds himself with a 4th and 18 far in his part of the field. It will be a punt. The last ball is all the same for Philadelphia. A desperate attempt 5 seconds from the buzzer. New fumble, returned for a touchdown that gives Commanders a wide end result.
End of dreams of invincibility for Philadelphia, which is now tied for the top of the NFC with the Vikings.