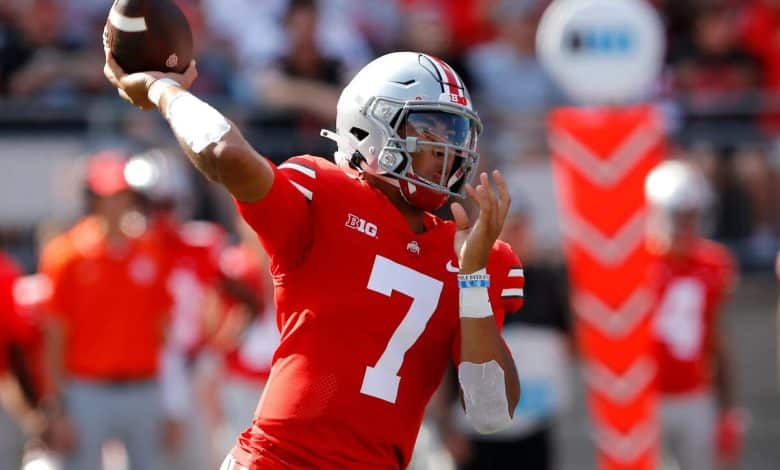 Three years in college and they're coming to the NFL. The NFL has released the list of players who have been cleared to run in the next Draft after just three years in the college ranks. They are 69, including CJ Stroud, a quarterback who should be selected very high in the first round.
In addition, 13 additional players will be present without having spent four years at university. But they managed to graduate. A list in which we find Will Anderson and Bryce Young, candidates for first place overall.
It's a formality for the NFL to allow players to appear in the Draft after three years of college, but the list has the merit of formalizing things.
Players authorized to appear in the Draft without having completed their university course
| | | | |
| --- | --- | --- | --- |
| | Name | Pos | Middle school |
| 1 | Abanikanda, Israel | RB | Pittsburgh |
| 2 | Achane, Devon | RB | Texas A&M |
| 3 | Addison, Jordan | WR | Southern California |
| 4 | Anderson, MJ | OF | Iowa State |
| 5 | Anudike-Uzomah, Felix | OF | kansas state |
| 6 | Austin, Alex | DB | Oregon State |
| 7 | Banks, Deonte | DB | Maryland |
| 8 | Bigsby, Tank | RB | Auburn |
| 9 | Boutte, Kayshon | WR | USL |
| 10 | Bradford, Anthony | G | USL |
| 11 | Branch, Brian | DB | Alabama |
| 12 | Bresee, Bryan | DT | Clemson |
| 13 | Carter, Jalen | DT | georgia |
| 14 | Dexter, Gervon | DT | Florida |
| 15 | Downs, Josh | WR | North Carolina |
| 16 | Evans, Zach | RB | Mississippi |
| 17 | Forbes, Emanuel | DB | Mississippi State |
| 18 | Gibbs, Jahmyr | RB | Alabama |
| 19 | González, Christian | DB | Oregon |
| 20 | Harrison, Anthony | T | Oklahoma |
| 21 | Herbig, Nick | LB | Wisconsin |
| 22 | Hill, Brandon | DB | Pittsburgh |
| 23 | Hyatt, Jalin | WR | Tennessee |
| 24 | Jarrett, Rakim | WR | Maryland |
| 25 | Johnson, Antonio | DB | Texas A&M |
| 26 | Johnston, Quentin | WR | UCT |
| 27 | Jones, Broderick | T | georgia |
| 28 | Jones, Jaylon | DB | Texas A&M |
| 29 | Joseph, Brandon | DB | Our Lady |
| 30 | Kancey, Calijah | DT | Pittsburgh |
| 31 | Kraft, Tucker | YOU | south dakota state |
| 32 | Mayer, Michael | YOU | Our Lady |
| 33 | McBride, DeWayne | RB | Alabama-Birmingham |
| 34 | McKee, Tanner | QB | Stanford |
| 35 | Miller, Kendre | RB | UCT |
| 36 | Mims, Marvin | WR | Oklahoma |
| 37 | Mitchell, Cameron | DB | Northwestern |
| 38 | Mitchell, Keaton | RB | east carolina |
| 39 | Murphy, Myles | OF | Clemson |
| 40 | Nichols, Lew | RB | Central Michigan |
| 41 | Ojulari, BJ | OF | USL |
| 42 | Pelley, J-Min | DT | Calgary (Canada) |
| 43 | Phillips, Clark | DB | Utah |
| 44 | Porter, Joey | DB | Penn State |
| 45 | Richardson, Anthony | QB | Florida |
| 46 | Ricks, Eli | DB | Alabama |
| 47 | Ringo, Kelee | DB | georgia |
| 48 | Robinson, Bijan | RB | Texas |
| 49 | Roy, Jaqueline | DT | USL |
| 50 | Sanders, Drew | LB | Arkansas |
| 51 | Scott, Tyler | WR | Cincinnati |
| 52 | Sewell, Noah | LB | Oregon |
| 53 | Skoronsky, Peter | T | Northwestern |
| 54 | Smith, Cam | DB | south carolina |
| 55 | Smith-Njigba, Jaxon | WR | Ohio State |
| 56 | Strange, Brenton | YOU | Penn State |
| 57 | Stroud, CJ | QB | Ohio State |
| 58 | Tippman, Joseph | VS | Wisconsin |
| 59 | Torrence, Rashad | DB | Florida |
| 60 | Tucker, Sean | RB | Syracuse |
| 61 | Tuipulotu, Tuli | OF | Southern California |
| 62 | Valentine, Carrington | DB | Kentucky |
| 63 | Van Ness, Lukas | OF | Iowa |
| 64 | Vaughn, Deuce | RB | kansas state |
| 65 | Washington, Darnel | YOU | georgia |
| 66 | Washington, Parker | WR | Penn State |
| 67 | Williams, Garrett | DB | Syracuse |
| 68 | Wooden, Colby | OF | Auburn |
| 69 | Wypler, Luke | VS | Ohio State |
They didn't spend 4 years in college but graduated and will be candidates for the Draft
| | | | |
| --- | --- | --- | --- |
| | Name | Pos | Middle school |
| 1 | Anderson, Will | LB | Alabama |
| 2 | Douglas, Demario | WR | Liberty |
| 3 | Foskey, Isaiah | OF | Our Lady |
| 4 | Hickman, Ronnie | DB | Ohio State |
| 5 | Hull, Evan | RB | Northwestern |
| 6 | Johnson, Paris | T | Ohio State |
| 7 | McClendon, Warren | T | georgia |
| 8 | Morris, Mike | OF | Michigan |
| 9 | Simpson, Trenton | LB | Clemson |
| 10 | Smith, Mazi | DT | Michigan |
| 11 | Spears, Tyjae | RB | Tulane |
| 12 | Turner, DJ | DB | Michigan |
| 13 | Young, Bryce | QB | Alabama |