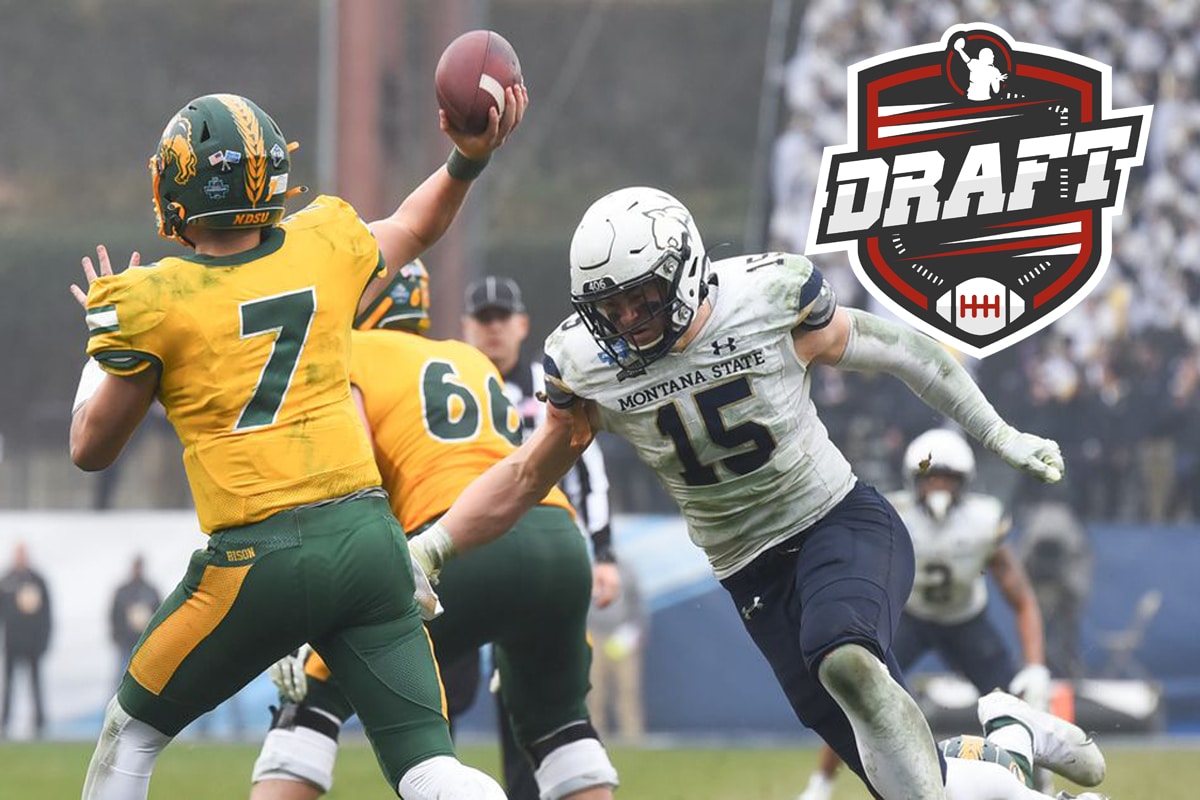 troy andersen – Linebacker – 22 years – Senior – Montana State
Cut : 1m93
Weight : 107 kg
Estimated draft position: 3rd round
Stats 2021 : 15 matches, 147 tackles, 2 sacks, 1 forced fumble, 2 interceptions
NFL Comparison: –
Strong points
– Total versatility
– Physical/athletic qualities
– Engine
–Leadership
Troy Andersen is a UFO in modern football. Recruited to play running back, lined up as a quarterback, passed on the other side of the ball before becoming a runner again and finally revealing himself as a linebacker in 2021, he performed in each position. He even received the honors of a selection in the typical team of his conference as a quarterback (2018) and as a linebacker (2019, 2021). If his NFL future seems to be in the second defensive curtain, it would not be surprising if a creative staff uses him in certain offensive plays. A rarity from another era. And when we talk about a versatile linebacker, we think special teams. Andersen has all the qualities to become a key player in these phases of the game.
It must be said that the Montana player has perfect physical qualities to perform in different phases of the game. Extremely fast, as proven by his time of 4.42 seconds at 40 yards of the combine, Andersen offers a combination, size, speed , extremely attractive explosiveness for recruiters. Athletic skills that translate into relentless activity throughout the game. A very big engine that he deploys both against the run and in cover allowing him to play on three attempts. Praised by his coaches for his leadership and his character, he is also a team captain who has always responded to all the roles he has been asked to take on, as evidenced by the success of his so atypical career.
Weak points
– Experience
– Objection
Despite all the qualities seen as a linebacker, Andersen inevitably suffers from a lack of experience on the job. With only two full seasons, interspersed with a season as a runner, he is paying for his versatility. If he has shown good instincts, he will still have to work on his intelligence and his reading of the game. He remains very raw and learning will take time. Especially since he comes from a 2nd level university. Although Montana State has participated in the playoffs 3 times during its passage, the level is still lower, especially compared to the Big Five programs (SEC, ACC, Big10, Big12, Pac12). The transition to the NFL will require him to change gears to respond to adversity.
Possible destinations
Seattle Seahawks, Las Vegas Raiders, Chicago Bears, Washington Commanders
Thanks to a brilliantly successful Senior Bowl, Andersen has seen his rating climb in recent weeks to the point of being projected on the 2nd night of the draft. The physical potential, the energy deployed and its atypical versatility make it an attraction that intrigues the front offices a lot. Despite his inexperience and the level of his university, he should easily find a place in the big league. His ability to chase the quarterback and cover could give him a future as an outside linebacker in a 43 system.